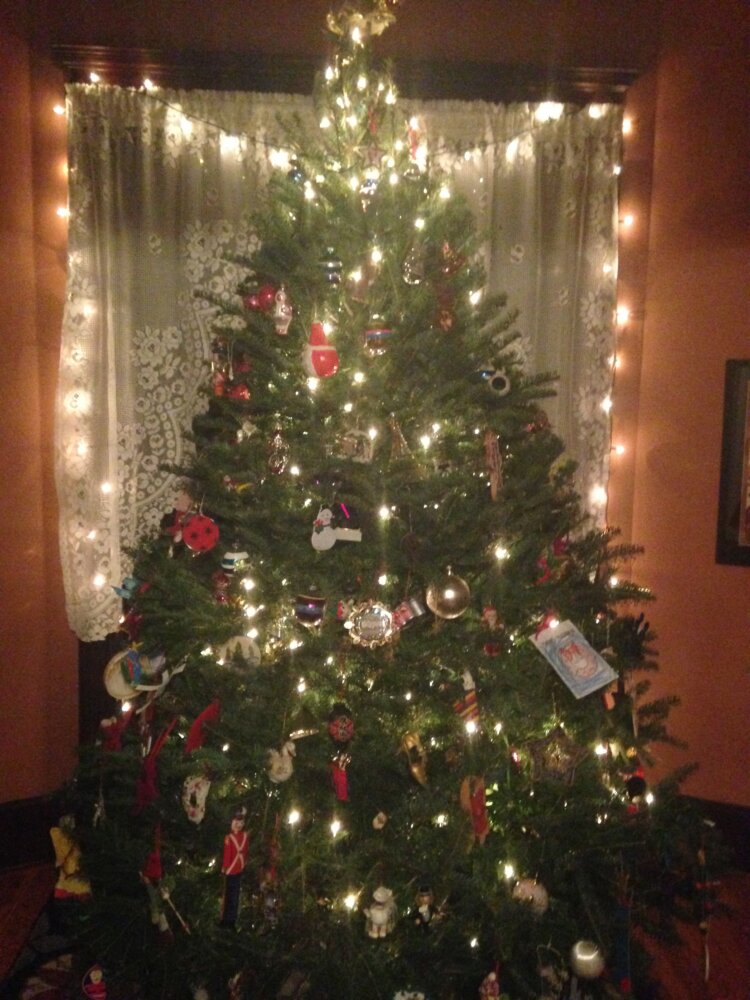 Greetings, friends. How are the holidays treating you? I celebrate Christmas, and I am totally all finished decorating, shopping and wrapping! Kidding! I haven't bought one gift. Luckily, I need look no further than my daughter's list and Grok Nation's gift guides, to get it all done: The best holiday gifts for $25 and under, 9 perfect gifts for teachers, subscription service and DIY gift ideas.
I do love Advent, and I put out our Advent wreath yesterday. It's one that our children made at church when they were small. It was the first Sunday of Advent, and so we lit the candle of Hope, and we'll light the next three—Peace, Joy and Love—on the next three Sundays. We'll get our tree when our freshman son comes home from college on Dec. 13 (I'll reread this post on how to get along during the visit before he arrives). We buy a real tree, always at the same place. I love the piney fragrance, and we tend to take the first or second one the salesman shows us, which is a reaction to my mom's extreme pickiness when our family shopped for trees. She'd have us driving all over the area before she'd settle on one. I'm such a real tree snob that I was very interested that the vast majority of Americans use an artificial tree, which I learned in this New York Times article about which choice is better for the environment. That's what inspired today's question of the week about Christmas trees.
Members of the Grok Nation staff celebrate Christmas and Hanukkah. Here are some of their traditions. Our founder, star of The Big Bang Theory Mayim Bialik, says she "bakes for the gardeners and trash men, and this year I got them little chocolate gifts I leave on the trash cans and in the mailbox for when they come."
Our managing editor, Dalene, celebrates Christmas—sans Santa Claus. "My mom said she wanted all the credit for the gifts she buys (and puts her and our dad's name on)," she explains. "When we were young, she made sure we knew other kids believed in Santa Claus, so we weren't allowed to tell them he wasn't real. I felt so powerful having this knowledge and keeping it a secret from my friends! But the best part was—and still is—that we get to open all our presents on Christmas Eve, which is great if you're impatient (as a kid) or like to sleep in (as an adult)!"
"Our biggest family tradition is actually reading the Christmas story and singing hymns around creche/tree the night before Christmas," says Jossie, our new integrated marketing manager. "We also go out as a family and chop down a tree, as my grandfather grew a bunch of trees just for Christmas!"
"My dad would always drag out our giant boxes of Christmas decorations and then we'd spend the rest of the day decorating the house," says Natalie, our social media manager. "We would play Christmas music or movies while we put each ornament on the tree. My favorite part was watching my mom wrap garland and ribbons around the banister because that always seemed extra festive and transformative. Once we were done it was like a winter wonderland!"
Avital, our contributing writer and editor, celebrates Hanukkah but also enjoys Christmas decorations. "We have a tradition of making thermoses of hot cocoa and driving around to look at all the lights each year even though we don't really have any ourselves," she says. "(I'll occasionally put up fairy lights in tall glass jars in the winter.)"
Whatever you celebrate, I wish you happy holidays. Keep coming back throughout the month, because we have lots more holiday posts still to come, including more gift guides, touching personal essays and advice on how to have a great holiday season.