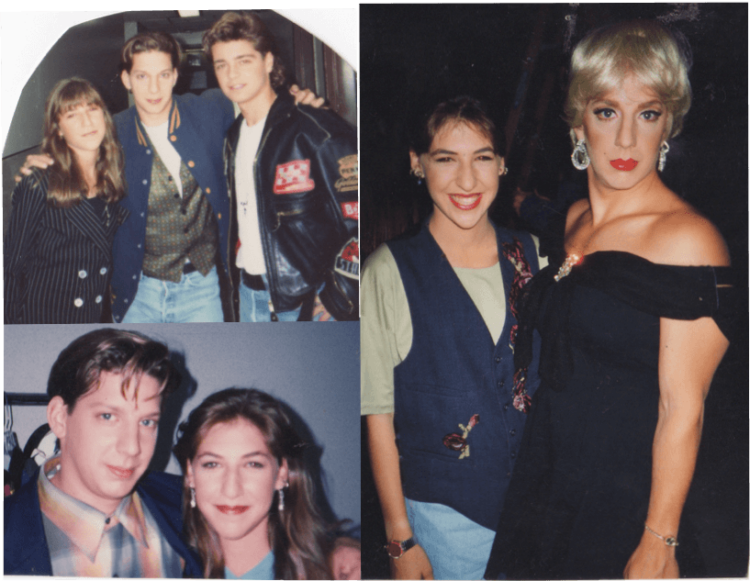 On Mayim's trip to New York to promote her book Girling Up, she made time for family—her "TV brother" Mike Stoyanov, who told her what he's been up to since Blossom ended 22 years ago. Read their interview here…
Mayim Bialik: Obviously, many people may recognize you from playing Anthony, Blossom's older brother on Blossom. How old you were when we were on the show, and what has your life been like since?
Michael Stoyanov (or as Mayim calls him, "Mikey"): I had an amazing time on Blossom; it was my first big break as an actor. I was 19 when it started and 24 when it ended. After that incredible experience, I ended up going to New York and embarking on a career as a writer, mostly comedy, mostly late-night television. I started on Conan O'Brien when he was still at 30 Rock [where NBC is headquartered]. I worked on a Dana Carvey show and then on MadTV a little later. I wrote a pilot and met some very talented people, Stephen Colbert among them, Scott Adsit (30 Rock), and my friend Dino Stamatopoulos (Mr. Show, Community). The last writing I did was a screenplay credit on a very funny, quirky, dark sci-fi comedy called Space Station 76 with Patrick Wilson, Matt Bomer and Liv Tyler. I also voiced the "therapy robot." That's sort of been my journey as a writer post-Blossom.  
As for acting, I did a four-episode arc on Beverly Hills, 90210—my character died of AIDS, which was the most shockingly serious thing they ever did on that show. I worked a really nice couple of episodes on Justified. I've worked on Kingdom, and I had a really nice part on Gotham, which I would love to go back but my character got shot 80 times at the end of the episode. I was super fortunate to end up recurring on Billions, with Paul Giamatti, Damien Lewis, and Malin Akerman, and had a really good time on that.
MB: You and I were on television at a time where there were three networks, and the industry was very different. A lot of people assumed that because of Blossom, we had the world at our feet and that a movie with Spielberg would be next. People don't realize that being on a family sitcom in the 1990s did not set us up for a lush, dynamic, thespian experience. I think people misunderstand what our fame was like. Obviously we were recognizable, but there was also no social media, we weren't that in the public eye. When I started going on auditions, it was for characters that were often called "Woman #2." I was sitting in casting offices with everybody else and no one really cared that I had been on Blossom. And the fact is that most casting directors were not even old enough to have seen Blossom! What they knew was that I was a child actor and they weren't even sure I could still do this acting thing.
MS: First of all, well-worded; you definitely are my sister, TV or otherwise. If you felt you had no cache coming up off the show, magnify that a hundredfold for me. Because I was basically fourth banana on the show. For me there was something delicious and delightful about going back to the beginning of auditioning again. You're just a headshot in a pile of headshots again. You've got to go in and earn it; go in and be the best. I kind of enjoy that, even to this day. Coming off the show in the '90s, I couldn't walk through an airport without attracting attention, but no producers were knocking at my door. I has just been on a relatively big, popular sitcom for five years, and I dealt with that by going off and writing and disappearing into an office at 30 Rock, for a year. And being young and stupid and arrogant, I didn't really do my best to cultivate relationships in the industry. I feel like I dropped the ball in a number of ways, born of ignorance, to a large degree, but also of arrogance. I guess I'm man enough to admit at this point that I didn't burn bridges per se, but I didn't cross those bridges. I missed out on opportunities by not being as present, as grateful, as keen to work with people that I had already worked with and established relationships with. You live and you learn.
RELATED: Mayim explains why she's grateful for Blossom
MB: Was there something about that frustration, which we actors experience, that pushed you farther away from acting? And if so, what brought you back? Was it maturity?
MS: I'm not sure if it was the frustration that pushed me further away. I felt like I got further away from Hollywood, from acting, from having a career, certainly from having a career like I wanted. By the mid 2000's, I met someone in Bulgaria and we lived in Milan for most of 2008. I thought to myself, "I'll write my novel—my great novel—there!" And then I got there and of course did no writing at all.  So I said to myself, "I don't have a great novel inside of me, what made me think that was gonna happen?!" A total pipe dream.
On a pure fluke, I was back in LA for a minute, and my old agent says "Do you want to go in on this two-line nothing part on CSI?" to play a role where the guy is called "man with potatoes." I go in, and lo and behold, I get the part. And I'm on the Universal lot, doing wardrobe meetings and walking around this storied movie lot—one of the big ones, one of the most famous. I'm soaking in the sights, looking at the sound stages, at people in the golf carts, zipping around and I thought, "You know what? I'm home." This is where I belong. This feels right. I guess I'm an actor. Whether it's "man with potatoes" or Oskar Schindler, this tour-de-force part, or contributing borderline background. This just makes me happy. This is what I do best on this earth. So it's kind of worth hanging around this and staying in this game. This feels like what I should be doing.
I'm thrilled at the idea that I still get to play make believe for money, and that people still want me to do that and will allow me to do that. That makes me happy on a daily basis pretty much.
MB: The last question I have for you, is what is it for you? What is it when you create the character? What is it that feels like home when you are actually performing?
MS: I think I can trace it all the way back to my very first experience, when I was in sixth grade and my parents had gotten divorced, and I was living with my father who ran away to have a mid-life crisis in this tiny little town in Northern Minnesota., I was just a regular kid at that point. There was a community playhouse, and they were doing this play, a comedy by Ira Levin called Critics Choice. I got a part in it and it was fun and exciting. I just remember that first night, the first time I had ever really been in front of an audience, I said my first line. And it was quasi-humorous, and I got this big laugh, and that was washing over me… it was like a drug: the cleanest, healthiest, most seductive drug you've ever experienced. And I felt like, I want to do this for the rest of my life. I want to make people feel things, to create laughter. To me, that's what it is, that's what it's about. It's my best shot making a human being think. Or laugh. Just to move them to somewhere. I like doing that. It's a vital thing we do for each other. I just know that I want to do it, and I want to keep doing it, and I hope I get more chances.
MB: Thanks, Mikey.
MS: Thanks, Sis.
You can watch Blossom on Hulu—don't have an account? Sign up here.