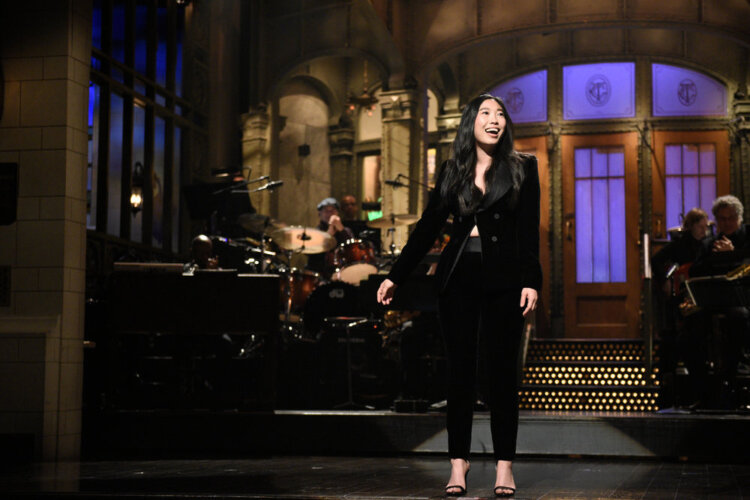 Plenty of performers dream of one day hosting Saturday Night Live. And Awkwafina was one of them: As she revealed in her opening monologue on this past weekend's episode, she waited outside the building when Lucy Liu hosted in 2000, hoping to just feel close to something so magnificent. "I remember how important that episode was for me, and how it totally changed what I thought was possible for an Asian-American woman," she said. Then, 18 years later, she not only got in the building—she got on the stage, becoming the second Asian-American woman to ever host in the late-night series' 44-year history.
Awkwafina has seemingly quickly skyrocketed to success this past year—but in reality, her journey to 30 Rock has taken years of hard work. Plus, Awkwafina's success goes beyond acting. "I'm just your average Asian trumpet player-turned-rapper-turned-actress," she joked on SNL.
The trumpet-player-turned-rapper-turned-actress—née Nora Lum—grew up in Queens and went to Manhattan's famed LaGuardia High School (other notable recent graduates include Timothée Chalamet and Ansel Elgort) for trumpet. It was around that time that Awkwafina the rapper was born. Eventually, she began posting music videos on YouTube, and gained a following in 2012 after debuting "My Vag," a parody track she made in response to Mickey Avalon's "My Dick." Since then, she's released two albums, including this summer's In Fina We Trust.
Then in 2016, Awkwafina nabbed a small role in 2016's Neighbors: Sorority Rising. Two years later, she's headlined two of the year's biggest movies: Ocean's 8 and Crazy Rich Asians.
"Everyone is like, 'Oh, my God, this is the best year of your life,' and people have been telling me that since 'My Vag' got, like, five views on YouTube," she told GQ in June. "I don't necessarily like hearing that because, yes, it is a great year, but I don't want it to be the end-all best year of my life where every other year will be shit compared to this one."
But, to be fair, it is a good year for Awkwafina. Starring in Ocean's 8, which opened at No. 1 when it came out this past June, would have been considered a win even if that were the only entry on her résumé. But then Crazy Rich Asians came out, and became a crazy, money-making phenomenon: The film, based on Kevin Kwan's book of the same name, is the highest-grossing romantic comedy of the past decade, out-earning movies like The Proposal, Sex and the City, Runaway Bride, and Knocked Up. And money aside, viewers and critics alike agreed that Awkwafina's turn as the hilarious Goh Peik Lin stole the show.
RELATED: How Crazy Rich Asians won over this skeptic
"Honestly, I had no idea whether it was going to work," director Jon M. Chu told Entertainment Weekly of casting her. "I was like, 'This will either ruin the movie or take the movie to another level.' But she knew exactly what she was doing."
She did—and because of that, she definitely doesn't have to worry about "every year being shit compared to this one": She's already signed on to voice a character in the upcoming Angry Birds sequel and to costar in a thriller titled Paradise Hills. She also has a self-titled scripted series in development at Comedy Central that, according to Deadline, will depict "a 20-something woman in Queens who strives for a larger-than-life existence." In other words, Awkwafina doesn't have to worry about camping outside of 30 Rock ever again.