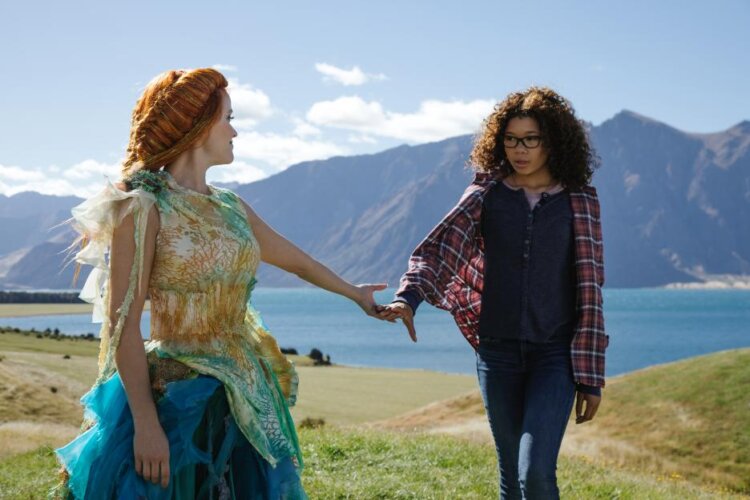 A Wrinkle In Time is a children's movie with an underlying message about love and compassion that adults really need to hear.
Ava DuVernay's much anticipated film is a visually enchanting roller coaster of a quest toward finding family and self-love. Before our special showing, we were treated to a recording of DuVernay reminding those in the audience to remember their inner 12-year-old. A Wrinkle In Time allowed me to do just that.
The movie starts by introducing us to a young Meg Murry (Storm Reid, Sleight) and her scientist father Dr. Alex Murry (Chris Pine, Wonder Woman, Star Trek). We quickly learn that the family of scientists values not only their love for each other, but their belief that the strength of their love can exist within every dimension. Dr. Murry wants to find a "wrinkle" within the universe to prove there is more than meets the eye when it comes to a person's perception of reality. But as a result of his experimentations, he suddenly goes missing. Fast forward four years after her father's mysterious disappearing act and we catch up with Meg and friends. It's clear this event has not been easy on the Murry family. Now being bullied at school, and combined with the sadness of missing her father, the only way Meg is able to stay afloat is thanks to the moxie of her "brilliant" baby brother Charles Wallace (Deric McCabe).
We get a brief, closer glimpse at the dynamic of the Murry family, now comprised of Meg, Charles, and their mother, Dr. Kate Murry (also a scientist). And then, we're all suddenly swept into the fantasy twist to this beloved story. Almost out of the blue, the screen comes alive with the fairy princess version of Reese Witherspoon (Mrs.Whatsit), and moments later an equally majestic Mindy Kaling (Mrs. Who). And finally, Oprah appears as the larger than life figure of wisdom, Mrs. Which. We follow this ensemble as they "tesser" on a fantastic voyage through time and space to battle good and evil.
Zach Galifianakis not only stole the show as "The Happy Medium" (a figurative representation of what happens when we settle for mediocrity), but he wowed on-screen with a never before seen cornrow aesthetic styled in the silhouette of a man bun. Natural hair styles and kinkier textures were given to most of the cast, and portrayed as a whimsical and enchanting trait which was a new experience.
A lot of the film's storyline may appear to lack cohesiveness. The book it's based on is a half a century old and there has never before been a successful screen remake. After a series of flopped attempts, the author of the original book, Madeleine L'Engle, and those close to the work, have famously called the novel an "unfilmable" movie, due to the novel's homage to Albert Einstein's "tesseract" theories of a fourth dimension, and ideas revolving around space and time. However, DuVernay proved them wrong, pulling off the supposedly impossible feat of creating an enchanting and smart adaption.
A Wrinkle in Time is for those who believe in what is possible within a person's heart and mind. The film consistently reiterates the power of positive thinking. L'Engle had said that children were more easily available to understand concepts that baffle adults because of their ability to use imagination. The theme of one's place in the universe comes into play as we see Dr. Murry searching for himself and a higher consciousness with his theories that time is not linear. And this seeps into the viewing experience. I felt like I had to suspend my attachment to reality in order to completely dive into the essence of the film. And like in life, when I surrendered to letting go of the limits of what I see as "reality," this film truly came alive.
A Wrinkle in Time is a testament to how monumental it is for a Black female director to be at the helm of  a major motion picture for Disney Studios. DuVernay has been a champion for diversity and inclusion for the last several years, creating groundbreaking and visually arresting works of art like Queen Sugar, Selma, and The 13th. This film is no different, as the entire picture was a smorgasbord of representation as art. From Oprah, to Mindy, Reese, and Meg, a variety of skin tones and character types graced the screen.
One scene that I found particularly enchanting involved a Stepford Wives scenario with children simultaneously and mindlessly dribbling basketballs in a driveway. Each child the camera pans across was of a different ethnicity. Even their mothers appeared to come from all walks of life. It was a small detail, but sincere in its execution, without feeling like standard tokenization.  
Seeing a brainy, black nerd girl with natural curls and an on-screen crush as the lead character was something I never had growing up. So many of the words and the actions of the movie were visually shocking and absolute firsts for me as a 30-something film goer. Meg's crush, Calvin O'Keefe (Levi Miller) compliments her hair not once, but twice. And there's even a moment when Meg washes her natural hair in the river. This may seem miniscule to some, but it made me feel seen to watch this character do something so real for a Black girl, yet so neglected by modern storytelling.
This film, like Black Panther, is important. It will mean so much to so many people who see themselves in characters they feel represented by. Celebrities have rallied their support around DuVernay and her film. In addition to many social media shoutouts, Musician Questlove created the #WrinkleChallenge, encouraging those with extra cash to purchase tickets for kids and teenagers who can't afford to go to the movies. And Questlove is not alone in rallying folks to help. Fourteen-year-old aspiring space engineer Taylor Richardson launched a GoFundMe that raised $50,000 to send 1,000 girls to go see the movie.
It's hard not to compare the film to Black Panther because both films offer up much needed representation outside of the stories of white male heroes. I hope to see this trend flourish and continue, but only a wrinkle of time will tell.