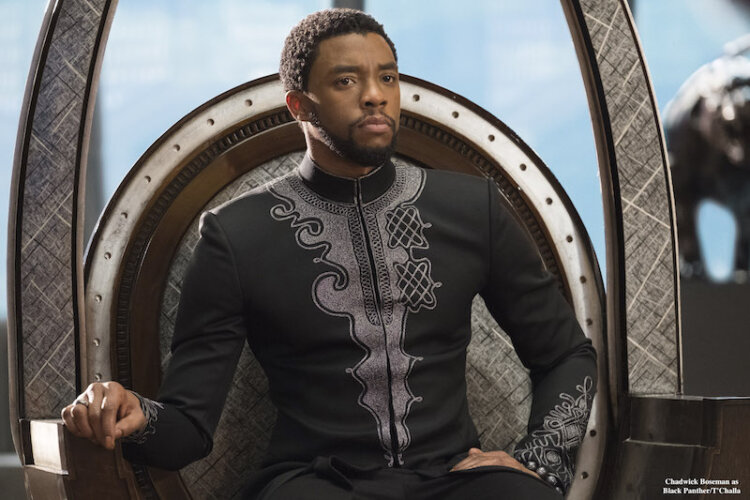 Black Panther is a spectacular movie that is mounted on Black Excellence and I am here for it. Not only is this film about Wakanda —a fictitious place in present day Africa that has remained uncompromised and untouched by colonizers— but it depicts what we have known all along to be the truth of Black people, through intelligence, strength and beauty.
Since the trailer for Black Panther was unveiled, everyone on Black Twitter has had nothing but non-stop praise for a film we hadn't even laid eyes on yet. One glimpse of the representational promotional art was all that we needed to root for a movie that would embody the pride of Black People.
Only the third film from director Ryan Coogler (Fruitvale Station, Creed), this homage to African cultures presented in the form of Afro-Futurism, arrives as a unifying moment in a time where our nation is its most divided. Starring an almost exclusively Black cast, this blockbuster from Marvel was aesthetically intoxicating. Oscar-nominated cinematographer Rachel Morrison worked her magic to capture all of the beauty that is black skin in every scene.
The film opens up with a meteoric glimpse of the cosmos, as we see the glimmering and enchanting birth of Wakanda. The story picks up where our cinematic introduction to the Black Panther left off in the film Captain America: Civil War. The father of T'Challa (Chadwick Boseman, star of Marshall) has just been killed, and he is bracing himself to take over the throne of Wakanda.
Black Panther allows the Black women in the film to possess equal importance in the plot. Awe-inspiring warrior O'koye (Danai Gurira, playwright, and star of The Walking Dead) is part of the energy behind Wakanda as well as the Dora Milaje, an all female army that protects their sacred nation. She and T'challa share a dynamic, platonic chemistry throughout the film. Joining them are Nakia (Oscar winner Lupita N'yongo), a philanthropist and spy, whiz-kid little sister Shuri who gets big laughs (Letitia Wright), and matriarch of Wakanda, Ramonda (American Horror Story's Angela Bassett).  
It is clear how much detail and skill went into the creation of every scene. Right before T'Challa is crowned King, there's an image of Nakia dancing next to a group of women in traditional Wakandan garb. We see Nakia partaking in traditional African-style dance and exuding pure joy as part of the celebration in the scene. The roundness of her hips gyrates in traditional fashion.
To me, it feels like no coincidence that all of the hair and costume design was spearheaded by Black women. Ruth E. Carter wanted Black women in the audience to feel like the Queens she dressed so immaculately in this movie. It's evident in the attention to detail. Even the characters' hair added significant meaning in the same way that the importance of hair translates into Black culture. African hair braiding is such an essential staple of our culture, yet it has been severely neglected when it comes to positive media representations. Seeing these specific styles in Black Panther is a reminder of how infrequently natural hair that looks like mine is celebrated or even exists on the big screen.
And then there's the acting. Sterling K. Brown (This is Us) and Michael B. Jordan (Fruitvale Station, Creed) give the most heart-wrenching performances of the film. Both have monologues that left me in tears and offered a different portrayal of black men on screen. Traditionally, black men are rarely seen as soft and patriarchal, and Black Panther fills the gap in portraying valued father figures in entertainment.
This is the first Marvel film with a Black protagonist. This is also the first time there has been a mainstream action movie that shatters the myth that casting (and content) must cater to white audiences. Oftentimes characters in superhero movies are white men, and the presence of anyone outside of that usually has passable European features and skin that is never "too dark." This movie is a stark contrast to that. Everyone in the movie is distinguishably black with many coming from African lineages in real life.
The only representation missing from the film was the Black American girl. There's a brief mention of her. But we never meet her. And, with such a glowing portrayal of Black women from an imaginary African country, I would've loved to see her standing side by side with pride for Wakanda. However, we do get to feel Black American culture woven throughout the movie. Like the fact that the movie is not traditionally scored, and instead features music from Kendrick Lamar as its soundtrack. Or the clever one liners between characters roasting each other in a cultural fashion familiar to me as a Black American.
For some people, this is just a movie. But for me, Black Panther is a humanizing portrayal of superhuman strength among Black folks. This film gave me the gift of seeing myself on screen, as larger than life and victorious. It gave me multifaceted characters who possess three dimensional storylines that were nuanced and complex. For many, this will never be "just" a movie.
Wakanda forever and until the end of eternity.