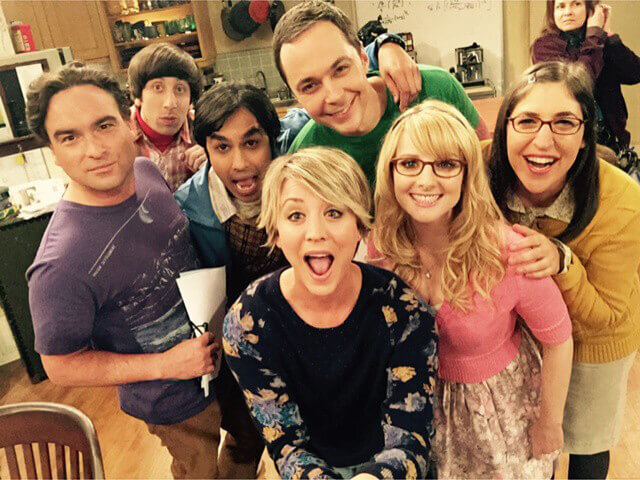 The Big Bang Theory has been airing on CBS since 2007, and whether you are a hard-core fan or a casual viewer, there are probably some things you don't know about the show. When I started Grok Nation, I wanted to use the site to share some behind-the-scenes info about TBBT. So without further ado, here are five things you might not know about our show…
1. It takes a week to make 21 minutes
On a sitcom, we have five days to work on an episode until we tape it. In our case, we record with four cameras in front of a live studio audience. For those five days, we decide who stands where, who walks where, and we perform the episode in its entirety, in order, for our writers and producers at the end of every work day. They then make changes to the script based on those "run-throughs" and we get a new script the next day. Sometimes the script changes drastically, but mostly it's just jokes here and there that shift. We also use this week to get the giggles out so that when the audience comes in, we are all ready to be professional. For the most part. (Here's a link to some bloopers featuring me and Jim Parsons.)
2. We don't use a laugh track
Chuck Lorre is arguably the most successful producer on TV right now. He has three shows on, and every single show features Emmy nominees and winners. He knows what works in sitcom comedy. He also knows that if our studio audience doesn't think something is funny, it's not going to stay in the script. So if the audience doesn't laugh, our writers change it during the taping. And we keep tweaking it until it's right. That being said, we don't fake laughs. The laughs you hear are the actual laughter of our audience. Sometimes we have to cut off laughs because we sometimes give reactions or take more time to make the audience laugh with reactions, etc but those can't stay in the episode because we have to edit it all down to 21 minutes! Thus, when you hear what sounds like cut off laughter, it's sometimes that the track had to be truncated.
 3. We pre-shoot difficult scenes
Difficult scenes mean scenes involving a green screen (like car scenes for example), or scenes with a big hair or make-up change (like the guys in Star Trek gear or Howard and Bernadette painted blue like Smurfs) or scenes that would cause the camera crew to have to reset our stage in a way that would make us lose valuable time during a taping. They are taped the day before the actual studio audience taping, with our writers and sometimes personal guests as our audience. I bet you're thinking, "Ha! We caught her! These scenes must use a laugh track since they are taped without an audience there!" Sorry, you didn't catch me: We show pre-taped scenes to the studio audience before that day's taping, and we record their reactions. True, we don't have the ability to rewrite and re-record them, but those scenes are a very small percentage of the scenes in the entire script.
4. We don't get sick days
On this job, we don't get to be sick. We come to work sick. We pass around colds among the cast just because we are together so darned much. Sometimes they bring a doctor to set to save us time from missing work, to see if they can help us feel better faster. But usually, we just come to work and do our best. I filmed the kissing scene on the train with Jim Parsons in Season 7 when he had a full-blown flu. I was rinsing my mouth with peroxide between every take to avoid getting sick. He was definitely feeling yucky, and he was a real trooper. I think I can recall each one of our cast members at least twice being sick for a taping. I hope you'd never know it. We are, after all, professionals!
5. We like each other
The cast is close. We care about each other. We know about each other's lives and although some of us are closer than others, we are all close. I miss my castmates in the summer. We connect when we can. Just a few examples: I saw Jim Parsons' play, "An Act of God," in New York. As those of you who followed it on Twitter know, I spent San Diego Comic-Con with Kunal Nayyar (and we engaged in a very interesting reading together as "Koothrapamy," which you can see about 12 minutes in). I heard "Uptown Funk" playing somewhere and I emailed Kaley Cuoco-Sweeting just to let her know how awesome our FlashMob was; the one which her sister choreographed and which she encouraged us all to participate in. And yes, I follow my castmates on Instagram (Simon Helberg is the last holdout) and I love to see what their summers have been like. What a blessing to work with such a neat and talented and interesting group of people.