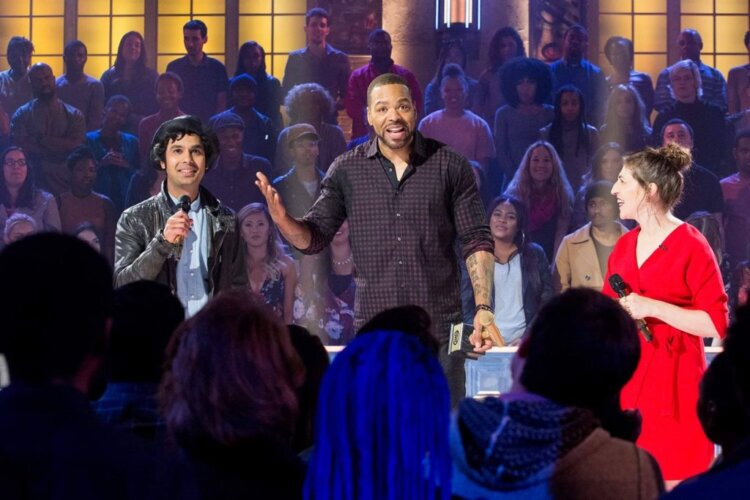 [Photo Credit: Kelsey McNeal/CBS © 2017 CBS Television Studios. All Rights Reserved.]
As you may know, I will be on "Drop The Mic" tonight. This show takes two celebrities and pits them against each other in a scripted battle of words set to rap and hip-hop beats. I will be battling it out with none other than my "The Big Bang Theory" co-star, Kunal Nayyar. The basis of the raps we do are insults; like a celebrity roast, if you will. But in a rap.
Neither of us are known for our hip-hop or rap skills, which is partly why I think so many people want to see this epic battle go down. Spoiler: it's hilarious. You probably don't know that I love hip-hop and rap. I'm not such a fan of some of the rough language, misogyny, and debauchery that some hip-hop and rap glorify, but I was raised in an era where these art forms touched me in ways that formed my musical sensibilities for the better. I talk about it on the show, actually.
While I am a performer for a living, I tend to be quite shy in situations like this; audiences make me nervous when I have to sing in front of them; while I am trained as a dancer, I have not danced publicly in a long time. And something about being 41 and having two children makes me feel not as nimble as I used to be. So being on this show had me pretty nervous going in.
Here are the 3 things I learned about myself from doing "Drop The Mic."
1. I got IT. What surprised me most – and what I am sure will surprise you! – is that I apparently still have "it." I turned that hip-hop/rap diva of my youth on. I turned "it" on. On like a swan. Very much on. And it felt good! I felt like I have value and worth even though I often feel like an out-of-it mom. My kids are going to possibly think I was awesome. I mean, they probably won't (because I am their mom) but maybe a little bit?! And I realized that I have missed having "it" and using "it" – I have missed bopping around and grooving to beats. Truly. Getting to taste it again for this filming was delightful, though.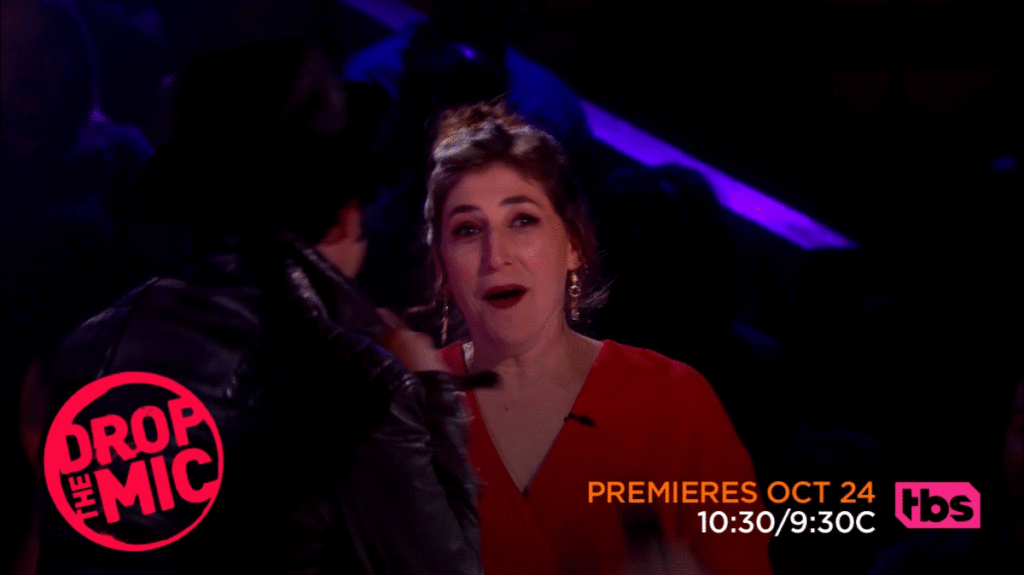 2. There's nothing like a good insult. Although I tend to be very sensitive and hurt very easily, the insults Kunal came up with to rap-hurl at me were really funny to me. Of course no one likes to be teased for having a prominent nose or being a publicly controversial person, but the way Kunal crafted his delivery and the closeness we have in real life really made it ok. It's ok to poke fun at yourself; it's healthy and humbling. I am so glad I was in a good mood that day in order to not be royally offended or hurt. I felt comfortable enough to let myself be vulnerable and laugh at myself a little bit.
3. I chose not to wear high heels for the show. I wore a nice dress which I feel flatters my figure and makes me feel confident, and truth be told, it should be worn with heels. Who says so? People who get paid to know things about fashion. True story. But. I knew that because I was nervous in general, walking in high heels was not smart. Because nerves + heels = high probability for tripping and falling. And I am klutzy as it is. I also knew that because I would be for sure moving my body – as a musician who feels music with my whole body, I often can't stop myself from swaying and rocking my body – I wanted to not fear I would trip and fall. Again, klutzy and scared. Additionally, wearing sneakers with a dress is something I've been doing since I was a tween. It's me. It's showing I'm not "all in" on feminine clothes, and I'm not always super comfortable being adorned the way our culture expects women to be; especially actress women. So I was reminded again that I literally have to be me. And if people – or stylists – don't like it, I'm open to discussion about it. But ultimately, I want to be me: seeking comfortable living, looking to feel accepted by myself before others, and hoping to inspire others to do the same.
I hope you tune in to see me not trip and fall and possibly shock you with my mad skills. And I thank the producers of "Drop The Mic" for letting me show a side of myself most people don't see; even the scared klutzy girl inside of me felt empowered, playful, and humbled. I could not have wished for more.
You can see Mayim and Kunal on "Drop the Mic," tonight on TBS, 10:30.