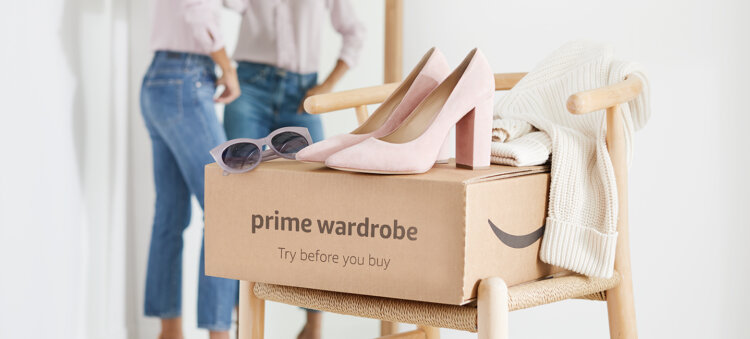 I'll be honest: I love shopping for clothes, and I've been known to waste a lot of time filling up my online carts at various retailers only to leave them abandoned. It's the act of shopping I love, not the spending, which I guess is better than going beyond my means. This love led me to try a new service from Amazon called Prime Wardrobe.
There are a lot of clothing subscription services—StitchFix and Trunk Club are among the most popular. But these services exist to remove the "stress" of shopping by using information you give them to curate looks just for you. Prime Wardrobe appeals to me because it allows me the freedom to still online shop like I normally do, but then I get to try everything on at home for free and send back what I don't want. Items are returned in the same box with a handy tape strip and a mailing label provided, which is far simpler than the normal return process on Amazon.
Prime Wardrobe was announced last summer, and on June 20, it was officially available to all Amazon Prime members in the U.S. I somehow managed to be in the group of beta users and received my first Prime Wardrobe box a few days before its wide release. The "try before you buy" service allows the shopper to select up to eight items from the site's approved Prime Wardrobe collection which, upon checkout, will be sent to their home with no charge for a seven-day trial period. Whatever you keep you're then charged for, and whatever you don't want is sent back in the original box, again, for free.
The selection of Prime Wardrobe items is pretty extensive and can take a while to sift through. Amazon has curated helpful lists in trendy subcategories such as Date Night, Color Blocking, and Tropical Vacation. Eligible items will have a "Prime Wardrobe" signifier on them, much like "Prime" items do for shipping. I decided to select the full allowance of eight items—you know, for research purposes.
Searching for my items was difficult. I spent about two hours total putting my box together. I wanted to choose at least one complete outfit but also select some things I wouldn't normally pick. To help narrow down my plethora of options, I consulted some fashion articles to find out what's in style this summer. I'll link a few of those articles further down, but essentially I was looking for: white denim, embroidery, straw bags, sheer elements, and a jumpsuit.
Most items available were either trendy pieces from name brand designers or, weirdly, items that seemed outdated. (Is Amazon trying to clear their warehouses of expensive stock? Maybe.) Ultimately, it was hard to find things that were under $50. I eventually decided to throw my budget to the wind (online shopping makes me do crazy things). I didn't really intend on keeping anything, anyway. There's no commitment to spend money with this service, so why not? The responsibility lies with me to return everything before the seven-day limit is up or else I'd be charged the full amount.


When you select an item to add to your cart, you'll notice the "Prime Wardrobe" logo in two different places. But be careful, sometimes when you change sizes or styles it will disappear. It took me three tries to find a pair of white denim pants in my size that were actually eligible.

Once you add it, you'll be shown this screen, which tells you how many items you have left to qualify (a minimum of three and maximum of eight). This is an easy way to keep track if you're putting together a whole outfit.

Remember when I said it took me nearly two hours to assemble my order? Apparently, if you take too long some items can suddenly, without explanation, become unavailable. I assume the beach hat I wanted to try sold out because it was very cute and fun and had sequin flamingos on it. Honestly, I'm still heartbroken.

When your box is full, or you reach the minimum, this is what you'll see. You are then led to what is a very standard Amazon checkout window.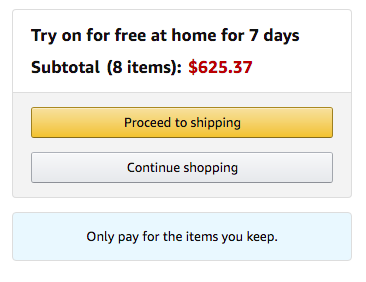 And then I had a heart attack. I really did try to be conservative even after I threw my budget out, but $625.37 is beyond what I would normally spend on eight items. I steeled my nerves, reassured my wallet, and settled in for my two-day waiting period.
My Prime Wardrobe box arrived on a Monday and was tightly packed with all eight items I'd selected, each individually wrapped. It also comes with a guide, an itemized list, and a return shipping label. Instructions on how to return items you don't want are very clear. In addition to this handy folder, you also receive an email upon delivery letting you know your trial time has begun. Amazon really goes out of their way to ensure you know what the deal is so that, I assume, you can't blame them if you get charged for items you don't want to keep.
OUTFIT ONE
These selections were my only real attempt at piecing together an outfit. It was the most time-consuming aspect of my shopping experience due to finding the right size in pants and the issue with the hat. Color blocking was one of the curated lists on the Prime Wardrobe site at the time, so I decided to run with that trend. The yellow top ended up being comfortable and lightweight, with the option to roll up the sleeves. White denim is definitely in this summer, and not something I would normally go for, but I was surprised to find out how much I liked this pair of pants. I'm tempted to keep them.
The straw bag and hat are both Betsey Johnson, whom I adore, and are also very on trend this season. Plus, I love a pineapple theme. If the bag wasn't $98, I'd keep it. The red faux-suede loafers are really fun, if not a little cumbersome to walk in. I think they're slightly too small for me. Oh well, $52 saved.
Overall, I'm pleased. It might be a bit much altogether for a casual day here in Iowa, but it's cute.
Top: Jack BB Dakota Women's Wallen Cotton Gauze Button-up Top, $55
Jeans: Levi's Women's 711 Skinny Ankle Jean, $41.42
Shoes: Franco Sarto Women's SAMANTA2 Mule, $61.99
Bag: Betsey Johnson Pineapple Straw Clutch, $98
Hat: Betsey Johnson Women's Sunshine and Chill Floppy Hat, $24
OUTFIT TWO
I love a good jumpsuit, and this one happens to be great. The length is just right for my 5'2" frame, the tie-waist is flattering, and the shoulder straps are adjustable. And it has pockets! If it wasn't $218 and a little gappy up top I would 100 percent be keeping it.

I paired it with braided straw block heeled sandals that I'm also in love with. They are the perfect dressy summer shoe.
Jumpsuit: PAIGE Women's Emma Jumpsuit, $218
Shoes: MIA Women's Lendya Heeled Sandal, $59
OUTFIT THREE
This dress looked very cute online, but I was definitely stepping out of my usual style with this choice. Did it pay off?
Big fat no. I wanted to get out of this dress immediately. What I thought was an A-line dress ended up being a babydoll. The sheer sleeves were too long, and the embroidery (while gorgeous) made the top portion heavy and hang awkwardly. I didn't feel cute, and I definitely felt weird trying to take fashion photos in my front yard. Another item being sent back to Amazon!
Dress: Ella Moon Women's Rosaline Long Sleeve Embroidered Dress, $81.83
Of all eight items I tried on, I'm actually not sure I'm going to keep any of them. Because the process ended up being so tedious, and I knew I was ordering items simply to review the service, many pieces are outside my price range. I'm debating the white jeans and heeled sandals… we'll see. (Let me know in the comments below if you think I should keep them!)
If I spent more time (you don't have to fill your cart in one sitting) or selected fewer items in the future, I think I'd have more luck. That being said, Prime Wardrobe delivery and return is exceedingly easy and, as a fashion experiment goes, incredibly fun. I loved getting to try on things I normally wouldn't have chosen for myself in a risk-free environment. At absolutely zero cost, I got to play dress-up in the comfort of my home!
I would definitely recommend the Prime Wardrobe service, especially if you have an event or trip coming up or a particular trend you want to try.
Prime Wardrobe is now available to all Amazon Prime subscribers—will you try the service? Do you want us to try other fashion subscription boxes? Let us know!
[interaction id="5b31373fed4c535a3b8661e1″]