Blush & Whimsy founder Micaela Brown didn't plan to start a cosmetics company, or any company, for that matter—early in her career. "Entrepreneurship is not something that I thought was ever going to happen for me," she laughs, speaking by phone from Albuquerque, New Mexico, where she lives. But then she learned that, in partnership with a local organization, she could provide jobs for people who aren't typically given a chance in the corporate world, like disabled veterans, people with ALS and Down's syndrome, and the elderly. So her idea to create a line of beautiful, giftable, color-changing lipsticks was born.
Brown's background is in international trade, and she spent the first part of her career working for the government in Washington, D.C. But six years ago, she left her 14-hour workdays in D.C. behind and moved to New Mexico to be closer to her father, a retired lieutenant colonel, who'd just taken a job there with the FBI.
Looking for a change, she started an event production and event marketing company, where she put on extravaganzas like Christmas at Hogwarts and the Running of the Chihuahuas. Through these events, not only was Brown raising money for local charities and hospitals, but she was also noticing how the experiences themselves were thrilling and magical for the community.
In the meantime, her brain was still churning. Every summer, Brown drives 12 hours from New Mexico to Texas, where she was raised. During this drive in July of 2016, she started thinking about how she could manufacture a product that would recreate the feelings of delight and doing good that attendees experience at her events. "I wanted to find a way to bring magic into everyday life, not just a one-day event," she explains.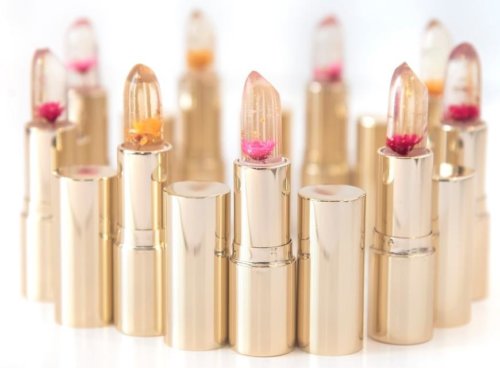 She landed on the idea of making lipsticks that change color depending on your skin's temperature and pH—not a new concept in the cosmetics industry by any stretch—but elevating the product by making the lipstick clear, and encasing a tiny flower inside of it. If looking at a Blush & Whimsy lipstick is giving you a glimmer of recognition that you can't quite place, it might help to know that Brown was inspired by the glass-encased rose from Beauty & the Beast.
By August, she was already soliciting product samples from different manufacturers, and a couple of friends had helped her create the design she had in her brain, which included a hefty gold tube to make the lipstick feel significant, "like a gift to yourself." Then, she posted some initial photos of the samples on Facebook, using a $5-a-day promoted post, to gauge whether she might actually have interest from consumers. "Within three months, I had 35,000 followers," she says.  
At the same time, Brown had also been listening to her father, a disabled veteran, talk about his days volunteering with the Disabled American Veterans Charity (DAV), and how difficult it was for disabled vets to get jobs. Corporations didn't seem to know how to accommodate them, or weren't willing to try.
So she had the brilliant idea of partnering with local nonprofit Adelante Development Center, which employs disabled vets, the elderly, and people with ALS and Down's syndrome. Eighty Adelante employees now work directly on fulfilling Blush & Whimsy orders, packaging and shipping from Adelante's warehouse.
Even outside of the warehouse, Brown tries to hire employees for which typical corporate life doesn't work—both of her assistants are moms who work remotely and on flexible schedules.
Blush & Whimsy infuses its message of kindness and celebrating the value of every individual even down to the products themselves, which are vegan and cruelty free. "The brand message is about empowering yourself and doing good," Brown says. "I wanted all my products to be good for you on the outside and good for you on the inside… If we're not going to be cruel to humans, then we're not going to be cruel to animals, either!"
The brand message is about empowering yourself and doing good.
The company has grown quickly—from $37,000 in sales in its first six months to nearly $500,000 in 2018 alone. In January of 2017, she was contacted by Distinctive Assets—the company that provides the luxe gift bags in the "gifting suite" at the Oscars. Those early Blush & Whimsy posts had shown up on their Facebook newsfeed and they wanted to feature the lipsticks in their 2017 bags. The only problem? Brown didn't even have inventory yet. She had to wait until 2018 to participate.
Since then, the lipsticks have also been featured in the gift bags for the Grammy Awards and at Cannes, which Brown also attributes directly to those promoted Facebook posts.
Now, she is facing slightly different challenges. She sold out the day after the 2018 Oscars, for instance—which sounds like a good thing, but, as Brown explains, when you sell out that quickly, how can you calculate how much demand to anticipate for next time? She relies on a network of mentors for guidance—people she meets through her participation in different leadership societies and fellowships.
She doesn't necessarily have a work-life balance (so much for leaving those 14-hour D.C. days behind), but at this point, Brown is happy being challenged by her work and learning as much as she can about running a start-up. "It's thrilling and terrifying and exciting, every single day," she says. "Entrepreneurship is… I don't want to call it a calling, but it kind of feels like that."