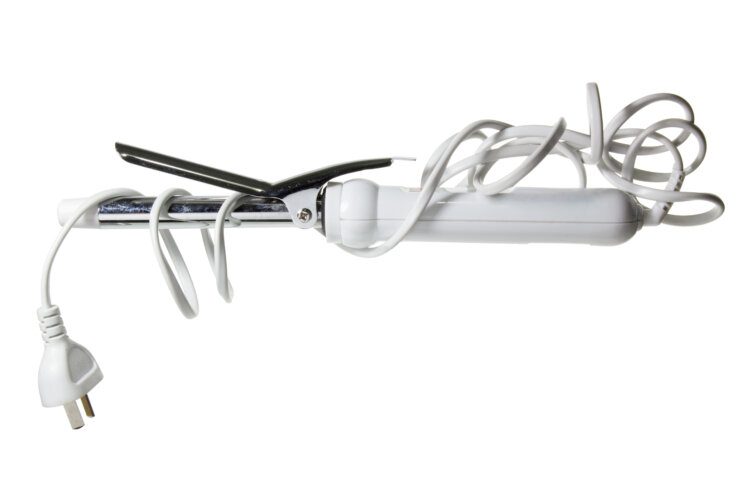 Sponge curlers, hot curlers, curling irons, curling wands, crimpers, pin curls, scrunching–you name the curling technique, and I've tried it. I'm constantly buying new hair products to see if they can help me achieve the perfect curl.
So what is the perfect curl? Let's be honest: That changes every time I see someone in a movie or magazine with a cute curly do. But typically they do have a few common factors: big, bouncy, and full of volume. On my quest, I have acquired so many hot tools trying to find the one. So you won't have to buy as many on your own journey to hair perfection, I dusted off some of the many hair tools I have in my cabinet to show you some of the different curls they can achieve.
For each picture below, I started with clean, dry hair without any styling products. I took a picture immediately after curling and then a second picture after brushing out my hair. For reference my hair is thick and naturally has a little wave. It holds curl fairly well, but because my hair is so long, it is heavy and the curl falls to the ends.
Traditional curling iron
Let's start off with the basics… For my first curl, I used a 1¼ inch ceramic curling iron. (I specifically used the Hot Tools ceramic iron for $44.99.) Of course, there are many techniques to curl your hair with a curling iron, but I used what I believe is the most common method: I started at the base of my hair with about 1½ inch sections and then curled up. Due to the length of my hair, the curling iron didn't quite make it all the way to the top, so the curls are mostly on the bottom.
I recommend always brushing these curls out for a natural look. I actually sprayed in ALTERNA Haircare CAVIAR Resort Sun Reflection Shine Spray, which I recommended in my summer beauty finds article. I think it really helped decrease my frizz and shape my curls.
Hot Rollers
I grew up with my mother always using hot rollers; they seem so retro. I have ceramic curlers from Remington ($26.91 from Amazon). I liked the way these stacked and thought they would fit better under my bathroom sink. The rollers heat up quickly, and there are enough curlers to tackle all my hair in one go. I like hot rollers due to the fact that I can get ready while they are in my hair. One warning, though: my hair gets tangled in the slits on the side of the curler as pictured.
I brush out each section of hair before rolling it and this is still an issue each time. While the upright design is cool, the curler design isn't great for your hair. Due to this design flaw, my hair looks somewhat like a bird's nest after take the curlers out.
Combing out my hair definitely helps the bird's nest issue, but my hot roller hair doesn't hold much curl after being brushed out.
I will say, my curls have tons of volume and bounce, even at the root after using these curlers–which I assume would happen with most curlers. I have also noticed with when using these hot rollers it's inconsistent: Sometimes my hair is awesome, and sometimes it could use some help. I haven't figured out what I'm doing different on these days, but this day was definitely a day that could've used some help.
Deep Waver
The Bed Head Wave Artist Ceramic Deep Waver ($25.99 from Amazon) is a product that is a little different from your standard curling tools. I would compare it more to a crimper. My friend in graduate school with thin hair had one of these and her hair always looked awesome. I've used this only a handful of times, and I've never loved the results. It is quick and painless to use, but the wave I get isn't that defined or pretty. I may need to watch a few more YouTube videos on it, and any product that requires that is too much work for me.
On this go around of using it I learned DO NOT BRUSH YOUR HAIR OUT AFTERWARD. I looked like Carrot Top and that is not a flattering look for anyone but Carrot Top himself. It gave me flashbacks to my 7th grade perm, which was as equally unflattering.
But there's a twist in this curling plot: I went to bed after doing these waves and when I woke up my waves had fallen into the perfect bohemian fairy type wave. Maybe if I had watched the Youtubers, "sleep on it" would be the real secret to this crimper.
Instawave
I saved my favorite curling tool for last: the Kiss Ceramic Instawave ($42.49 from Amazon). I initially bought this when I wanted a Beachwaver, but couldn't afford the hefty price tag ($129). At less than half the price, this Kiss product gives you an effortless, great curl. You take a strand of hair and put it in a little clip portion and then just press a button and your hair is twirled onto the wand. Release whenever you feel it is ready and BAM–ringlets. It is quick and makes a tighter curl than I can with a curling iron.
I don't really like the Shirley Temple look, but once brushed out my hair is full curls and not just at the bottom of my head; my hair toward the root is also curled.
My only complaint is that this machine gives off a high pitched buzz, even when turned off. It is so high pitched my ears will probably stop hearing it in a year or two as I age, but for now I will just unplug it immediately after use.
I'd love to hear from you in the comments! What are your favorite curling tools? Have you used any of these and what was your experience?