Welcome to Shop Your Closet, a new fashion feature in which Creative Director Andrea Linett picks items you already have, shares expert styling tips, and makes you feel like you have a whole new wardrobe. Here, she steps into the closet of artist Frida Kamau.
Subject: Frida Kamau
Owner of Soko Africanus, purveyor of handmade jewelry, home goods, artwork, textiles, rugs, and antiques/collectibles from Kenya. She also does flower installations for events.
Everyday look:
"I'm a tomboy in winter and when working, but I also love Pan-African style (the OG version of Afro punk!)," Frida says.
In her closet:
Army Pants, Long Skirt, Plain Gray Sweatpants, White Button-Down, Denim Jacket

Army Pants
Her Way:
"I usually wear these pants in a super dressed-down way with a plain tank and my work boots or sneakers."
Our Way:
Andrea added a sheer pink button-down, high heel clogs and a skinny belt to cinch the waist.
Long Skirt
Her Way:
"With skirts like this, my mind always goes for Bohemian with some kind of cotton Indian top."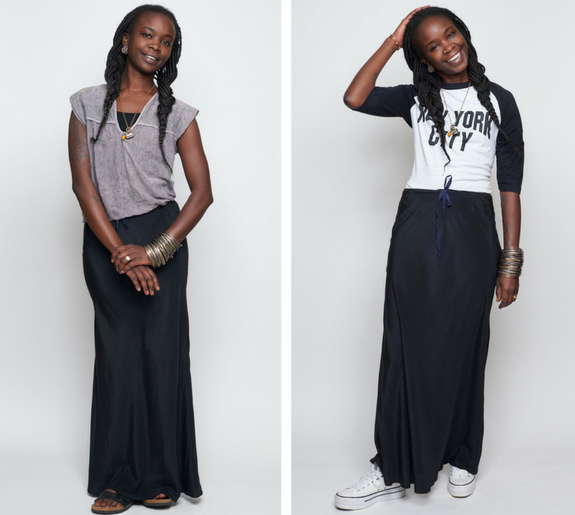 Plain Gray Sweats
Her Way:
"I always think of these as strictly casual and wear them around the house with scuffs or to run errands."
Our Way:
We added a '70s silk blouse, structured tweed blazer, and casual, heeled sandals.