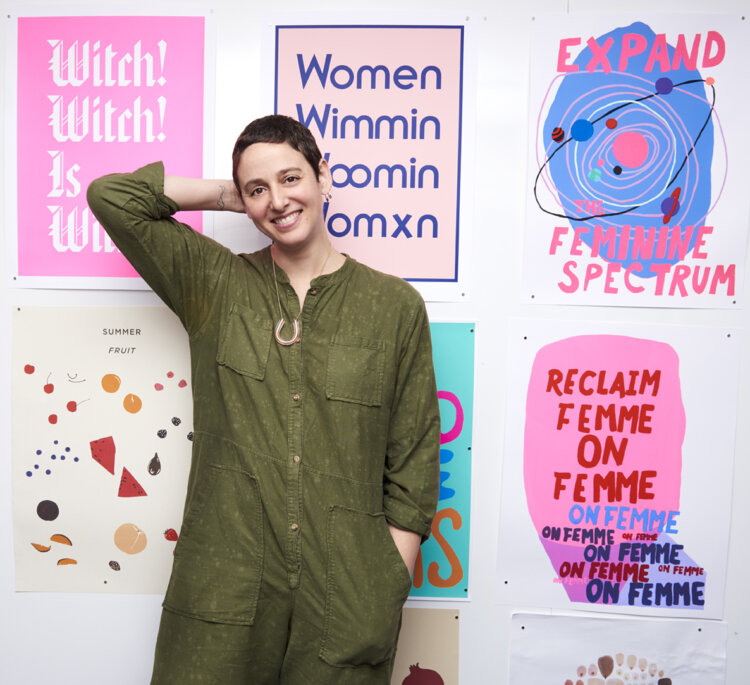 Meet Rachel Berks, the wildly creative and surprisingly low-key founder of one of our favorite places to shop in New York and L.A. (35 East 1st Street and 1768 N Vermont Ave, respectively). Walk in and you immediately feel the vibe of super fun and new, female empowerment, and a little LGBT love thrown in for good measure. You can find everything from "boob" pillowcases (that actually look a little like Matisse renderings) to yummy fragrances, cute clothes by indie designers, cool ceramics and bold tees including the popular THE FUTURE IS FEMALE one that she designed as an ode to the original, made by Labyris Books, the first women's bookstore, opened in New York City in 1972. "In 2015, I discovered an image on my friend Kelly Rakowski's Instagram account (@h_e_r_s_t_o_r_y), by the photographer Liza Cowan, of her girlfriend at the time, Alix Dobkin, wearing the "The Future Is Female" T-shirt in 1975… The powerful image immediately resonated with me as a declarative call to action for the end of patriarchal ideology, domination, oppression and violence," she says.
I had the pleasure of meeting Rachel during this shoot as she was so nonchalantly about to head out to city hall to marry her long-time partner, the artist A.L. Steiner. Her outfit of choice? A standout pink cutout jumpsuit that read "I'm gay" in tiny letters spattered throughout. Need you ask why we love her?
Where did you grow up and how did you like it?
I grew up in Sharon, Massachusetts as a queer weirdo teen and felt suppressed by the conformity of life there. Luckily, I found a group of musicians, artists and theatre friends who made it better, and I travelled into Boston on weekends to take art classes at Mass College of Art and The Museum School. In the summers, I was privileged to attend Buck's Rock, an amazing creative and performing arts camp in Connecticut that greatly influenced who I am today.
What did you want to be when you grew up?
As a child, I wanted to be an artist or dancer when I grew up. I was very lucky in that my mom — an amazing ceramicist — truly fostered my creativity by giving me paints and canvas, as well as ballet lessons from the time i was very small. By the time I was looking at colleges, I knew I wanted to study visual art and dance. I ended up at Sarah Lawrence College, which was one of the only schools where i could study both with any sort of intensity while also taking rigorous academic classes.
You're a graphic designer and artist–what made you want to start your brand?
I started Otherwild on somewhat of a whim. I was new to Los Angeles in 2012 and was freelancing as a designer. A graphic-design friend and I met for coffee to discuss how we might collaborate, and she was interested in opening a retail shop that would feature objects made by friends + friends-of-friends. I proposed opening a space that was both a retail shop and graphic design studio.
If you could describe Otherwild in one sentence, what would it be?
Otherwild is a studio, store, gathering, workshop and event space.
What are your goals for the brand?
Otherwild is committed to utilizing our resources to provide sustained support to our staff, vendors and suppliers, as well as grassroots and national social justice and health care organizations. We dedicate means within our business model to support ethical practices, advocacy and activism as we continue to evolve within an exploitative, extractive, extreme and excessive consumer capitalist culture.
What's your business motto?
Rock steady.
What's your life motto?
Down with patriarchy.
Finish this sentence… I can't start the day without:
Kisses from my three dogs Pocket, Teddy and Deer and the crack of capitalism (coffee).
And this one… The three things that I hold most dear are:
My womanimal and plant family, the amazing team that makes Otherwild possible, and of course, Earth.
What is your favorite thing in the store?
This changes daily, I can never just pick one 🙂 Today it's the Dillon Throw; tomorrow it will probably be Noodly Lamps; and next week, this Collection 05 Best of Tee.