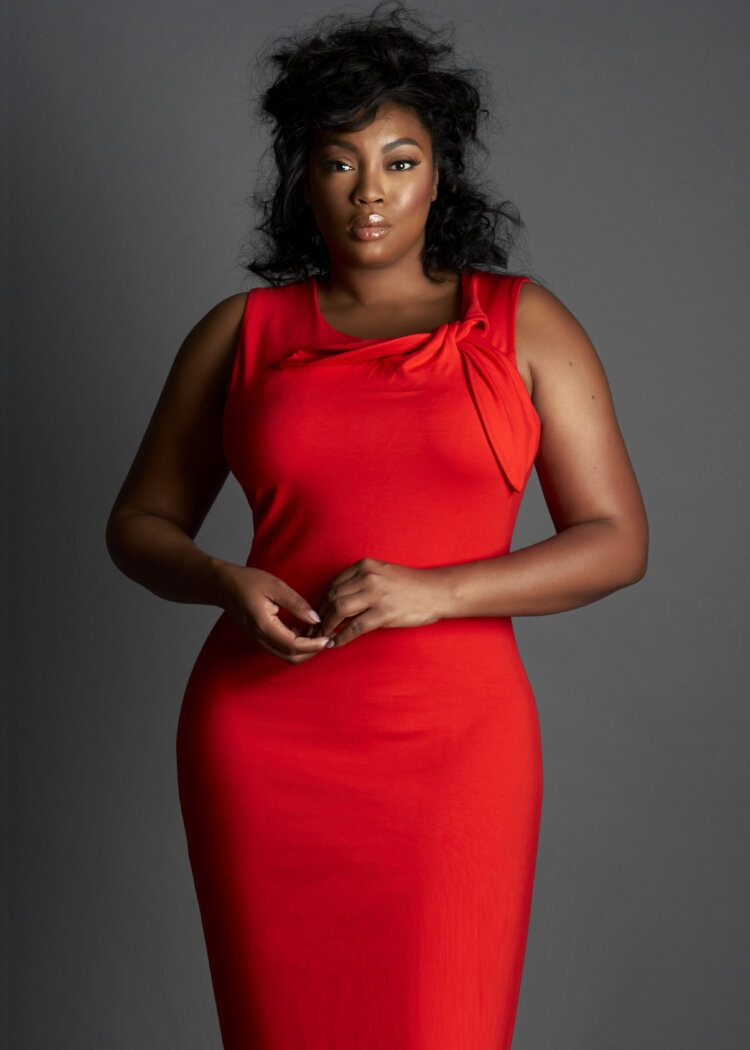 Liris Crosse has been blazing trails in the modeling industry ever since she set foot on the runway. Dubbed "Naomi Campbell of Plus," Liris is the first plus-size model to win the model portion of Project Runway. But the Lifetime reality show isn't the only way she's made a name for herself. She's been outspoken about the need for better representation in the industry for years. And with her new book Make the World Your Runway, Liris is hoping to share her own confidence to women of all shapes and sizes.
Ahead of her busy schedule at fashion week, Grok Nation caught up with Liris to learn more about how she got her start, how the industry still needs to change, and why she felt it was important to write this book.
GROK NATION: How did you get your start in modeling?
LIRIS CROSSE: I was invited to a model's convention in New York. I went, and I got called back from agencies and like Seventeen Magazine, Elite Models, etc. They all loved me, but they wanted me to lose weight. That was my junior year of high school. I went back to Baltimore, tried to do crazy diets. I did lose some weight, but I went back to the convention again, and I got even less call backs. When I graduated high school, I was all enrolled to start college. But, I don't know, something told me you need to move to New York to pursue your dreams of modeling, because what if you graduate and you're 21 years old and they say you're too old? So my parents gave me the opportunity; they said, "Okay, we'll give you a year to let you try it out and see what happens," and I left and never turned back.
What work are you most proud of throughout your career?
I have done campaigns for Lane Bryant and Ashley Stewart. I became the first black plus model to walk a designer finale for Project Runway in season 14. And then I became one of the first plus models to win the modeling portion of Project Runway, in season 16. I have been able to appear in all types of magazines from American Vogue, to Essence, to Vibe.
The industry has been evolving and becoming more size-inclusive for a while, but recently it seems like there's been a stronger push. What do you think has brought about this much-needed change?
I am gonna say because of social media. There are so many people both voicing their fashion needs, their body positivity, their need for acceptance. It has allowed the plus-size woman to vocalize her transcending power. She has pushed for acceptance. I think that is what is changing the game. I am thankful for it because, you know, I feel like women deserve to have good clothes, feel good, and look good. Why should everything just stop at a size 10? The average women now is a size 16.
Is there anything that the average consumer can do to help continue this shift? Is there anything that they can do to support certain brands, or make their voices known more?
Continue to utilize your social media. When there is a brand in store you love, let them know. When they have something that you don't love, let them know that, too. But, I think it is also important that you don't scream you want this and you want that, and then when a company follows through on what you ask for, you don't buy it. Put your money where your mouth is and back it up.
Where would you like to see plus-size fashion in five years?
I pray that in five years, it is not, "Oh my God, they had a plus model in their show" or "Oh my goodness, you know, this show is full of models and diversity." I am praying and hoping it is just an acceptable thing and it becomes a normal thing to show women of all sizes on the runway and magazines. That it is not just a "Oh, we have a 'shape' issue," where this one time a year we show a plus model. There should be plus size in editorial every month in fashion magazines. It should not be this special or once a year thing. Because, plus size women are everywhere. Women of color are everywhere. Let's just stop eliminating the beautiful rainbow that God created on this Earth.
So tell me about your book, Make the World Your Runway. What inspired you to write it?
It was mainly inspired because of all the love that I received from the Project Runway fans. So many of them said "Oh my gosh, I just love your confidence. I love how you look. I wish I could bottle up your confidence." Well, guess what, I can't bottle up my actual confidence, but I can put it in a book. And that is what I did. I took principles of how I prepare for the fashion runway [and applied it to] the runway of life. Your pose, your presence, practicing, power, posture, all of that plays a part on the runway, but it also plays a part in life.
What are some simple things women can do at any size to boost their confidence in day-to-day life?
One thing is remembering whose you are. Remember that God doesn't make any junk, and when you remember that, you don't get caught up in what such and such said about you, or that this situation didn't happen. Because if you truly believe that what is meant for me will always find me, it will never miss me. Then the things that don't find me, you don't get caught in feelings about. Even if it does hit you momentarily, like "Wow, I really wanted it to work out" whether it was a job interview or a casting call. You are able to allow yourself to say what you need to say in that moment and then release it because obviously it wasn't for you.
Another thing is sometimes I will go and give myself a boost, and do some self talk. And then after that, I push myself to my happy place by doing something that genuinely makes me happy—going to the spa, or watching a funny video on Instagram. I boost myself up to keep myself from going to that place where I am not so confident. A lot of people call it self love. Sometimes you have to love on yourself and you can be as confident as possible. Literally speaking life into yourself and treating yourself well. A lot of times, we are the hardest on ourselves. Give yourself some credit. Be kind to yourself. Understand that you are human.
To purchase her book, enroll in her Life of the Working Models Bootcamp in NYC or to find more information on Liris, visit her website lirisc.com.