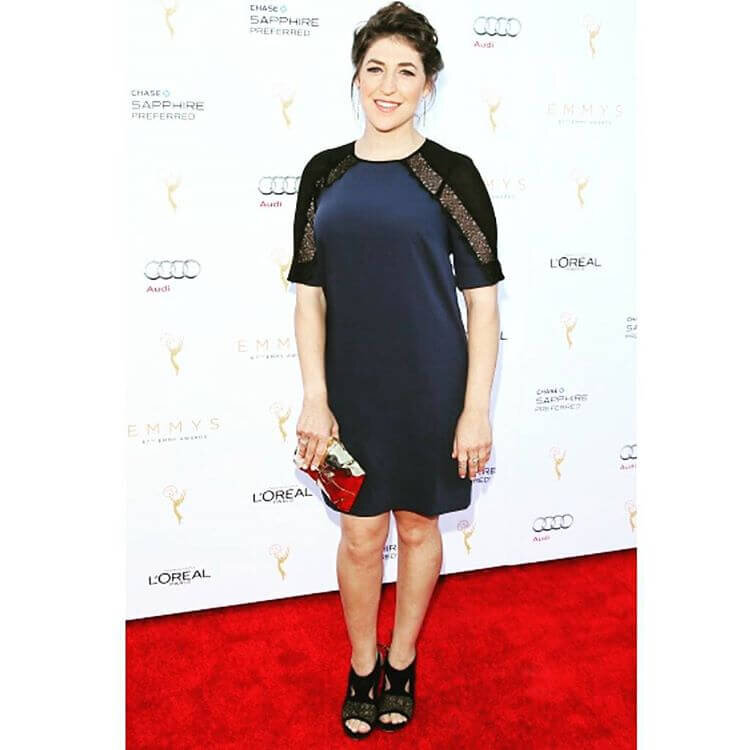 The Emmys are now over. And although I've already written about this year's experience, I often write about how out of place I feel on the red carpet, since I think of myself as more of a normal mom than a celebrity. For more proof of this fact, let's take a look at the purse situation.
In my non-red-carpet life, I carry either a canvas messenger bag that reads "Jewish Handywomen: Repairing the World One Lightbulb at a Time," or a canvas army bag I've had since I was in high school, which I have had to repair more than once because the strap keeps falling off. My purse usually has pens, flossers and drawings my sons have done that I've been asked to hold. Also, a lip balm and maybe some hand lotion. Also within: my satin purse from Chinatown that holds my money and a ton of old receipts.
Contrast this with my red carpet purses, which are typically tiny – the one in the photo above, from an Emmys pre-party, is actually larger than most red carpet purses – and chosen by a stylist.  Usually, I have my date or publicist hold my phone when I walk the carpet, and my date holds my phone in his suit jacket the rest of the night – that is, when it's not in my hot little hand!
Since there isn't room for much in the actual purse – most purses for red carpet events would barely fit a tampon – I have to pare it down to the essentials.
These are the items I usually include for the red carpet – you can see the actual contents of my Emmys purse in the photo above:
Lipstick. Many women take lip liner or powder or other makeup, but not me. I only take with me whatever lipstick is given to me by my make-up artist, Linda, so I can touch up throughout the night. For the 2015 Emmys, she gave me two to use together – as well as a powder puff (not that that helped with the massive sweating we all did at this year's red carpet).
My ID and a credit card. This is just in case I am asked for ID to get in anywhere or to pay for a spontaneous dinner out after the event. This literally has never happened, but you never know…one day I may not feel like going straight home from an awards show.
Cash, to tip the driver. I always like to tip the driver who has to put up with hearing the inane conversations I have with my mom,  my BFF or date on the way there.
A list of "who I am wearing." My stylist typically gives me a list of names of the designers whose clothes I am wearing, and some of those names are very hard to pronounce. I'm supposed to memorize them but I often struggle to. So my publicist also has the names so that if I'm asked on the red carpet, I don't mess up completely.
A speech….sometimes. In the past, when I have been nominated, I sometimes have had a tiny piece of paper with names of important, wonderful people scrawled on it. But sometimes I have been nominated and have had no such piece of paper. Both options have not led to me winning yet so I can't say for sure if this is lucky or unlucky…
Miscellaneous special things. This year, since I'm mourning my father, I added two other items: a wolf stone, which reminds me of his name, Binyomin (Hebrew for Benjamin, whose tribe was a wolf)  and ignatia amara, a recommended homeopathic treatment for grief. (I figured it couldn't hurt.)
Thank you all for being with us through this year's Emmys – I'm so grateful for your support of my work on The Big Bang Theory, as well as on this new site of ours! Looking forward to sharing more with you in the weeks and months ahead!