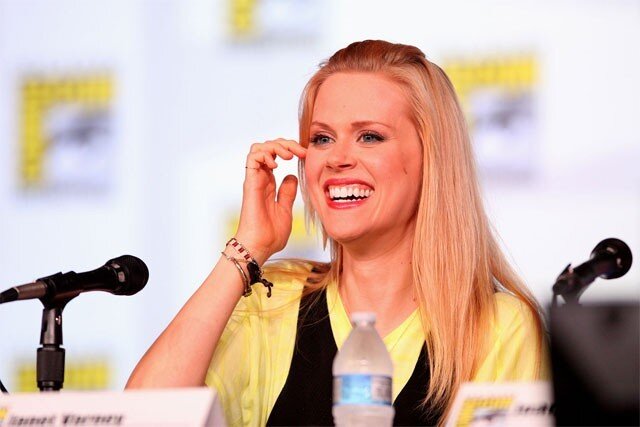 We all have an item of clothing that we just love—whether because it is incredibly comfortable, because we always get compliments in it, or because we saved for a year to buy it. At Grok Nation, we want to focus on sustainable fashion, which is why we kicked off our My Favorite Hand-Me-Down feature with Lisa Loeb.
Here we're pleased to highlight Janet Varney. You may recognize Janet from IFC's horror comedy series Stan Against Evil or from FXX's dark comedy You're the Worst, or you may know her voice from The Legend of Korra (she was Korra!) or Nerdist's The JV Club, where she tells the story of innovative and funny females.
What you might not know about Janet is that she co-founded SF Sketchfest, a San Francisco comedy event that just wrapped its 17th season, and that she is deeply involved with Art of Esylium's Girl Talk/Esteem program to build self-esteem in youth.
And you might not know that she's a huge fan of vintage clothing, which is why we caught up with her to ask about her favorite hand-me-down.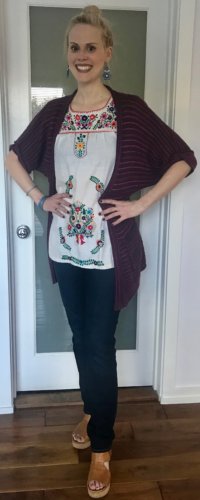 "This hand-me-down embroidered tunic from my mom's wardrobe was what began my love of the colorful Mexican dresses I now admittedly own too many of! (I scour vintage stores during my travels and I think I have about 10 now.)
"Like it is for so many families, my relationship with my mom when I was a teenager was definitely really rough at times. She rightfully disapproved of a lot of the mischief I was up to, unable to understand why black lipstick had suddenly become so important to me, for example. So when, amid all of that mother-daughter turmoil, she handed over some of the clothes she'd lovingly preserved from her 20s, it was really touching. She gamely watched as I paired '60s and '70s-era hippie pieces with flannels or long johns (thanks, Grunge era) and even (groan) the occasional dog collar.
"Somewhere in my box of old photos, I even have a picture of my mom wearing this shirt when she was younger, holding me as a baby. Whenever I wear this top, I feel really close to her. I'm in the midst of shooting a show I created for IFC called Fortune Rookie, and I made sure to wear my tunic in the very first shot!"