Subscription boxes like Birchbox and Ipsy are irresistible to beauty fans like me. A box of tiny beauty products that were new and just for me? Sign me up.
I recently learned about Goodbeing, a beauty and nutrition box that focuses on all natural, cruelty-free products, and was intrigued. I can't say that I've had much experience with natural makeup and skincare, so I felt like this would be a good way to dip my toe into that world.
When you first sign up for Goodbeing, you have to select if you want the lifestyle or the beauty box. The beauty box is just like it sounds; the lifestyle box includes supplements, super foods and "non-toxic living goods," items such as Vitamin C gummies, mosquito repellent, online yoga membership, jewelry and more. I was certainly intrigued by the lifestyle box, but it couldn't compete with the beauty box. Both boxes are $24.95 a month, which you can pay for monthly or for six months at a time. (Goodbeing sent me the October box in exchange for an honest review.)
What came next felt like I was back in school. It's essentially a beauty survey, but it felt very much like a test… kind of like when I go to the eye doctor and feel pressured to call out the right letters on the eye chart even when they're so blurry I'm completely guessing. It asked personal questions such as my age, gender (if I wanted gender-specific products), if I was expecting a child, and my relationship status. Which, frankly, I get asked too much IRL, I don't need my beauty box asking it!
Next, I was asked a series of questions about my beauty habits: how often do I buy new products, what's my price range, what brands I like, what my skincare goals are, my favorite scents and in what order, my skin tone, eye color, health concerns and if I preferred vegan products. Honestly, it was a lot. But after that, I was all set to receive the October box.
A couple days later I was given the option to select a couple items from a long list that I could have in my box. (To be honest, I don't remember what I chose or if it ended up in my box.)
Just like with any package that comes in the mail, opening the box was like getting a present. And I was very excited with what I found inside…
In addition to the trial size products inside, there was a little card for each, explaining what it was and how to use it. It also had the list price for full size products. In addition, there was a large card with member only discount codes for a dozen brands. It was all very fun, including the recycled paper confetti, but I was most excited to get into the products.
Bella Aura Skincare Night Cellular Renewal
This cream was supposed to "reveal my inner youth" by promoting cell turnover and lessen wrinkle depth in the eye area. I only used it for a couple nights, which is about all you can get out of this small tube, so I can't say if my wrinkles are gone yet, but I did notice my face was brighter. The down side was it smelled … not great? I've used worse smelling skincare products though, so that didn't bother me too much. My one complaint was that the instructions didn't tell me anything about other skincare steps. Maybe I'm too addicted to Korean beauty, but I prefer my products to tell me if it goes before or after serum.
Wyld French Pink Clay Konjac Sponge
I never knew I needed a sponge to wash my face, but now it's part of my nightly regimen. The sponge is made from a Konjac plant, which Wikipedia tells me is "an edible corm"… whatever that means! This is infused with French pink clay, which is supposed to help purify your pores without drying your skin.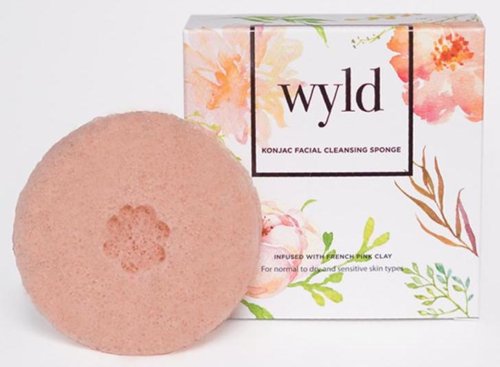 The sponge is hard out of the box, so you have to rinse it in warm water. Once it's softened, you massage it in soft circular motions around your face with or without cleanser. I like to use cleanser on my face first to get off my makeup and then use the sponge with a tad more cleanser. My skin feels incredibly soft after—even though I feel a little silly swirly a pink sponge around my face.
Sade Baron Pro-Vitamin B5 Lotion
I'll be honest: I am not picky about body lotion. I have everything from Kiehl's Creme de Corps to Jergen's Ultra Healthy Lotion in my cabinet and don't really have much of a preference. So that being said, this lotion was good, but I don't have much more to say beyond that. It is vegan, though, so if you're on the lookout for a vegan lotion: I recommend this one!
Juice Beauty Phyto-Pigments Cream Shadow
I'm not 100 percent sure what the point of this item is. I thought it was just a cream eyeshadow stick, but the pigment was so minimal that I started to think I was using it wrong. I went back to the handy dandy card from the box, which told me that I was using it right. However, it said it can be applied "sheer" or build up for more effect. I don't really understand the point of a "sheer" eye color, but this stick is packed with ingredients that are supposed to help reduce appearance of lines and wrinkles. Maybe I'll start smearing this all over my eye and then add my normal shadow on top. I could use some line and wrinkle reduction help.
Juice Beauty Green Apple Cleansing Bar
The only time I use bar soap is when I'm at a budget hotel and I've forgotten to bring body wash. It's always so drying and I've never been a fan. So needless to say I was skeptical testing out this bar. And I was won over! It's made with olive oil and coconut oil and you can feel the hydration as you lather up. I still felt a bit "slick" when I dried off in a way I don't get with body wash, but my skin wasn't dry. I know it's better for the environment to use bars, so I may need to buy a bigger version of this one!
Organically Wonderful Coconut Vanilla Dry Shampoo
If there is a dry shampoo on the market for under $35, I will try it. I only wash my hair every four days, so I rely on the style extender to help get me through days three and four. I hadn't heard of Organically Wonderful before, but I was excited to try this because it's a slightly different formula than I've tried. I use mostly aerosols; occasionally I'll swap in Bumble & bumble's Prêt-à-powder, which is a dry formula you just kind of dump on your hair; and in a real pinch, I've gone to straight-up baby powder. This was a cross between the Prêt-à-powder and baby powder but in a pump bottle. As I pumped it onto my hair, it went on fairly evenly—which surprised me—although there was a powder smoke ring wafting over my head. I was happy with the results: It soaked up the grease and left my hair feeling soft with a little extra volume. I've heard that dry shampoo can be hard on your hair, so the fact that this one is all natural makes me think it's going to become my go-to.
Overall, I was very satisfied with my first Goodbeing box. It's always great to try new things, and I like the exposure to new brands and products—especially ones that are better for the earth and for me. I will probably continue the box for at least a couple more months (or until my beauty cabinet is too full to close). And I might even switch over to the lifestyle box because as we head into winter, I can use all the immunity help that vitamins and super foods can offer!
Try out Goodbeing for yourself by clicking here. Plus, Grok Nation readers can use code BESTOFFER to receive a bonus full-size product in your first Standard Goodbeing box! May not be combined with other offers. Not applicable to existing Personal or Gift Memberships or to Mini Goodbeing Box plans. Offer valid while supplies last.