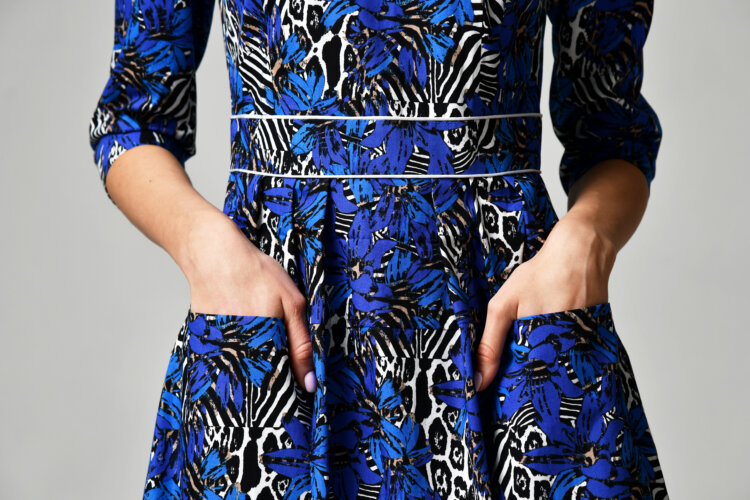 The first time I had pocket envy was when I backpacked through Europe with my college boyfriend. Every time he'd go through a checkpoint, his passport and ticket would be accessible in seconds, on his person, in his pocket, just where he left it—deep, secure, safe. I, on the other hand, would dig through my backpack for my passport, sifting through socks and receipts, always worrying how easy my passport was to lose or steal. On a train in Eastern Europe, where the countries are close together and I had to pull out my passport constantly, I did what any efficient traveler would do: I co-opted my boyfriend's pockets.
Usually it's the other way around, where the boyfriend co-opts his girlfriend's purse, but having chronic back pain from scoliosis, the asymmetrical weight of purses has always aggravated my already achy back. After a few times inconveniencing him, he politely asked, "Don't your jeans have pockets?" and with an index finger, he poked the sewn shut pockets on my tight Miss Sixty jeans. I tried to explain that they were decorative, and that even if they were real, my silhouette would be ruined by a bulging passport. He laughed.
Eight years later, I married said boyfriend. On our rainy wedding night, we returned after midnight to the Manhattan apartment we had been living in together, only to find neither of us had our keys or phones. My mermaid bridal gown had no pockets. When I asked him what his excuse was, he answered that he didn't want his keys ruining the silhouette of his gray wedding suit. Touché.
After a few hours in the rain (and a dash to my parent's hotel room), we thankfully made it into our little home. After that night, I vowed my pocket-free days were over. I craved the self-sufficiency of being able to reach into my pocket and touch all my indispensable articles.
But this choice had a great effect on my pocket book; I learned that pocketed dresses were not easy to find. My first two pocketed dresses were hand-me-downs from a friend. They didn't fit great, but they were professional for a classroom setting. For my brother-in-law's wedding, I snagged a Monique L'Huillier bridesmaid gown with pockets at Loehmann's (R.I.P.)… and have worn it to every wedding ever since. But a flattering, daily dress with pockets seemed like hunting for a unicorn.
Then, two years into marriage, while traveling in Montreal, I found my unicorn: It was a beige, above the knee, sweetheart neck dress, and though it didn't hug every inch of me the way my Miss Sixty jeans had, it was form-fitting and the pockets that lay on the front were cut in a way that concealed items. I bought the dress immediately. I had planned to use it as a travel dress, but it became so much more than that. It soon became my teaching dress (I never misplaced a pen again); my running errands dress (my shopping list is always on hand); my brunch dress (it's so nice to have a couple mimosas and not worry about losing my wallet or keys). The liberty these pockets afforded me was simply that: liberating.
Fortunately, these dresses are on trend, and I was able to add a few more pocketed dresses to my wardrobe. I notice more and more women sporting them. A friend who married this summer even had stunning bridal gown complete with pockets. With pretty pocketed dresses an ever-growing fashion, my pocket challenges seemed to have come to a close. Or so I thought…
Last year, I became a mother, and my clothes stopped fitting. Being practical, I wanted my pregnancy dresses to double as nursing dresses. It is hard to find both maternity and nursing dress in one cute garment, but I scoured the internet to purchase a total of three. What is impossible to find is the mom triple-play: maternity + nursing + pockets. And with a baby in my life, I was aching for pockets all the more.
Six months into this new role of mother and sick of misplacing my keys, I realized I had to do something bold: sew pockets into my nursing dresses. While I can stitch up a hole or replace some buttons, I've never made anything wearable out of cloth (beyond some ill-fitting Mardi Gras costumes). But I was a mom on a mission. I popped into a cute little store in New Orleans called Chateau Sew and Sew. Fortune smiled upon me, for the sales woman was a pocket aficionado. She helped me pick the fabric and gave me sewing tips. Once the baby was asleep, I bravely took the seam ripper and tore my dresses, fearful I would irreversibly ruin one of the three dresses I can now wear. I then copied the pattern from a pocketed dress and sewed it in. To my surprise, it looks great. And to my joy, I now have a deep pocket where I can stick phone, toys, and once baby is ready to travel, two passports.
With my newfound skill, no dress will ever be pocket-less in my life again.