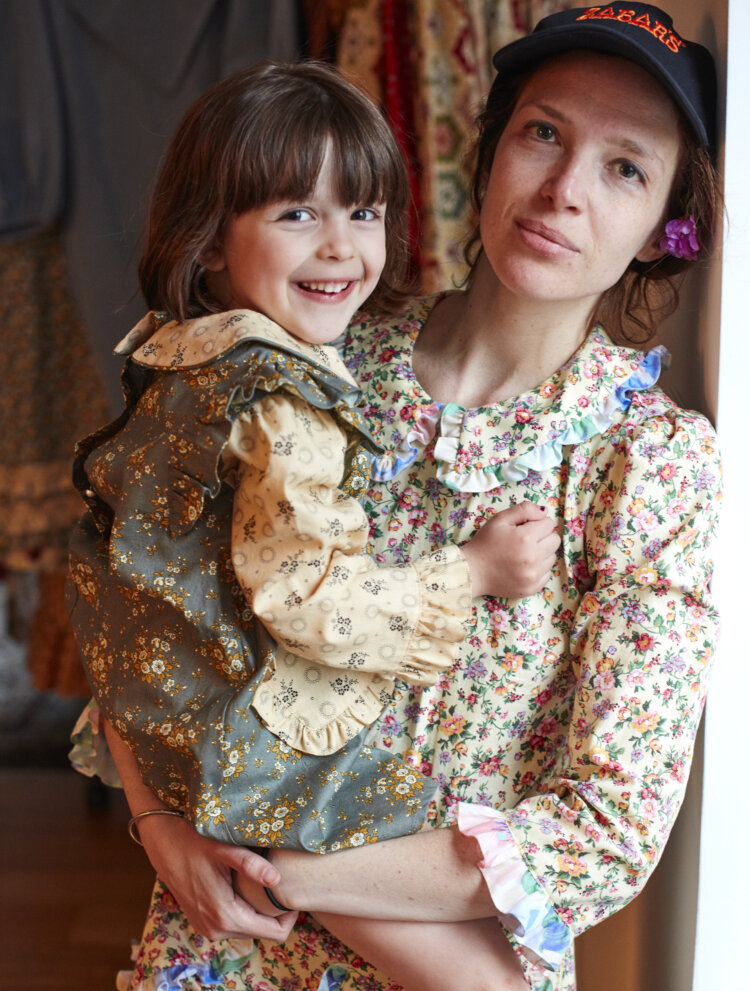 Maybe you've noticed a spate of Laura Ashley-type dresses everywhere from Zara to the front rack at your favorite vintage store. It's all because of one fearless designer who cares very little about fashion and trends, went against the grain and just made what she loves to wear. Batsheva Hay, 37, is a mother of two–Ruth, 4, and Solomon, 3—and credits her mom for her great style and for never caring what people think, something she is passing on to her own daughter.
Even though Batsheva is inspired by "granny clothes" and Amish dress (i.e. beyond modest), these pieces are actually kind of punk. I mean there is something very badass about walking around in a full-on puff-sleeve calico number! The hipster community and fashion girls alike are throwing these babies on as easy as tee shirts. My first encounter with one such dress was when the super-chic stylist showed up on a photo shoot wearing a one-of-a-kind Batsheva with Vans sneakers and an Hermes bag. I was immediately smitten–nothing had felt so fresh in so long! Now you can find these super-cool, super-modest dresses in places like Opening Ceremony and NYC's cult favorite, Oroboro. And of course you can buy them on her very own site. Read on for our interview with Batsheva.
Describe your style.
I am all about embracing my childhood fantasy of wearing floral puff-sleeved dresses. I would describe my childhood look as "Laura Ashley by way of Queens." It is a reinterpretation of the chintzy girly style with a bit of a twist–a little street griminess, which sometimes only comes through in the styling. I wear my dresses with boots or sneakers and a baseball cap, for instance. The older I get, the more emboldened I am to dress how I want to and not to worry what people think. I was raised by a mother who really appreciated fabrics and expressive silhouettes so I inherited that.
When and why did you start making your dresses?
I started two years ago with the intention to just remake one vintage dress I owned that I'd worn to death. Once I was spending the money to re-do the pattern, I figured I may as well customize it. That opportunity ended up being so much fun, and the dress ended up completely different, my own creation. My daughter wanted a matching one, so I couldn't resist making a mini version. I became hooked and started making different styles, for my own amusement and use, until it became clear my friends would want some too. Soon it became something for a larger audience. I am so excited every time I make a new style, every time I look for fabrics.
Describe your designs in three words.
Floral, adventurous, feminine 
How do you feel about fashion in general? Trends, etc.?
Not into trends. I am mainly interested in vintage. It has withstood the test of time. New stuff I see in stores (even the really expensive stores) is usually truly not interesting to me. It is too safe and too expensive. That said, I love FASHION. I love clothing, the fantasy of getting dressed and the way what you put on your body can alter you and your mood.
Who are your favorite designers and why?
Vintage! Laura Ashley, Norma Kamali, Betsey Johnson, Vivienne Westwood: there is just something so specific and singular about each of their visions. They each come from true personal style, and it is so nice to see that in clothes. They also all have a bit of drama in their designs– puff sleeves, playing with volume. They are not pretentious, but they have real style. New designers I love are Simone Rocha and Molly Goddard, as well as Comme des Garcons. They are still making fun, maximalist clothing for smart women. 
What are your biggest inspirations?
Laura Ashley and Amish women. There is something so quirky and prudish in a way that looks really cool today. It is refreshing for me to see granny-type clothes. For some reason, it seems to me very liberated to dress this way– like you don't care about being considered "hot" in a mainstream way. Not caring is way cool. My daughter inspires me endlessly. She has an intuitive sense of what she likes, and she is so care-free. 
Who do you think of when you're designing a dress?
I try to imagine things I loved to wear when I was child. I often first find the fabric and then create a dress around it. Sometimes I am dying to use a certain detail– a ruffled collar or a sleeve.  It can be pretty intuitive and I may make several changes during the design process until the dress feels "done." It always has to be something I want to wear myself.
What is your motto?
Clothing, and life, is to be enjoyed.
Happiness is…
…the people you love (sounds corny but it's true). I love looking at my kids when they are sleeping.
What bums you out the most:
Pretension. Fashion can be so pretentious nowadays, and exclusionary. It should feel fun! Like my mother told me– don't let anyone make you feel not pretty enough, cool enough.