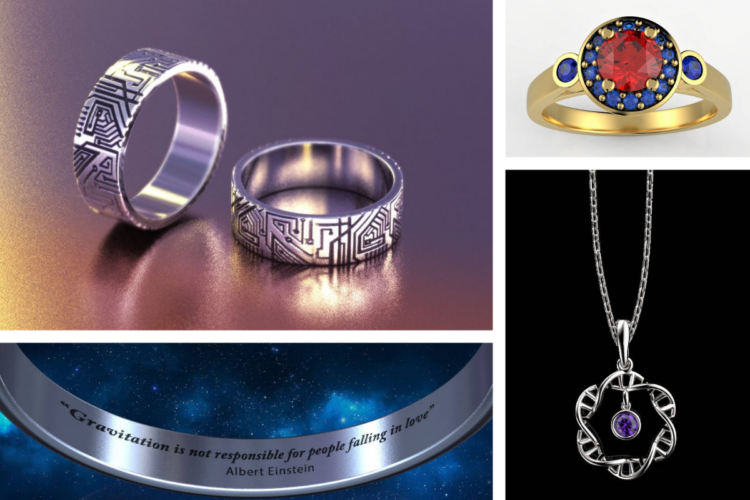 Take some classic sci-fi movies and a couple of popular first-person shooter games, and add an artist who also designs fine jewelry. What do you get? Well, that was a trick question because what you get is something that defies categorization. But if we must quantify it, you might come up with Celtic-geek-vintage jewelry, what Omer Nainudel creates.
Since Omer's custom jewelry shop, Alien Forms Jewelry, opened on Etsy in 2016, he's designed hundreds of beautiful, bizarre pieces. With rings, bracelets, necklaces and earrings, his aim is to bring his passion for geek culture into the traditional craft of jewelry making. Be it Ninja Turtles, Star Wars, mathematical concepts, or the DNA helix—he weaves it into his art.
Omer is also a painter, illustrator, and 3-D designer. He trained at the Centre for Creative Communications in Toronto, in the early 2000s. After returning to his hometown of Tel Aviv after school, he got a job making fine jewelry. At the same time, he began moonlighting as an illustrator for books and comics, games and illustrations. And of course, when he could, he immersed himself in the geekdom. (He's a big gamer; his favorites are Bioshock, Skyrim, and Rise of the Tomb Raider.)
It took a few years, put he eventually put all of these interests into one project: Alien Forms Jewelry. He began selling his DNA and Geek collections after opening his shop on Etsy, and by early 2017, he was getting orders from around the world.
Omer doesn't keep any stock–all of the 300-odd pieces he has sold to date have been custom orders; his online catalog—which features rings and pendants starting around $200—is for reference only, a place for his customers to get inspiration for their own pieces. The first designs he offered were more science-geeky than gamer-geeky. The DNA range was imagined around the Watson and Crick double-helix model, a perfect fit for engagement and wedding ring sets. The Geek collection featured creative takes on popular science and mathematics motifs, like a cyberpunk-inspired circuit board and Einstein's relativity model, more popular as gifts. Eventually, Omer's love for gaming started to show in the designs he created, as did a variety of vintage and Celtic designs, and very soon the signature gamer-geek-meets-Celtic-art look came into being.
Clearly, Star Wars is a favorite with Omer as well as his customers, given the number of Darth Vader masks, Death Stars, Stormtroopers, and Jedi and Rebel Alliance symbols spotted around his shop. Stop by the Sci-Fi or Fantasy sections and you'll notice references to Westworld, the Alien franchise's Xenomorph, Wonder Woman, the Legend of Zelda, and plenty more. And, of course, anything you don't see, you can always ask for.
Every piece is handcrafted, using specialized jewelry-making equipment. "The base is made on the computer and then printed on a high-precision 3-D printer," Omer explains. "Then there is the finishing and polishing." He often takes help from his brother, who is a goldsmith, and others, like gemstone dealers and stone setters. Although he mostly works in sterling silver or solid gold, he's open to customization. "Sometimes a customer asks for a certain material," he says. "We work together to find what would be best in terms of cost versus durability."
"This kind of jewelry is a niche market," he explains. "It is very expressive and very unique for each person. So there's scope for a lot of customization and personalization. Some people have really good ideas. They see something I have on my shop and suggest modifications. Sometimes they are better than my designs!"
With 15 years of jewelry design experience behind him and now two years working on his own brand, Omer has already set his sights on the next challenge. He'd like to allow his customers an experiential opportunity when creating jewelry. "I am trying to bring the whole jewelry design thing into virtual reality," he explains. "I'm collaborating with people on VR using a program called Gravity Sketch. You can be in the same virtual space with another person, working on one piece together, even if you are not in the same place physically. That is a very interesting experience."
"Interesting" is quite the understatement. What better way to keep the core principle of Alien Forms Jewelry alive—to use new and emerging tech with a craft that is more or less ancient? "I think that's what makes my designs stand out—because you get a sense of what is old and past, as well as the new and now."