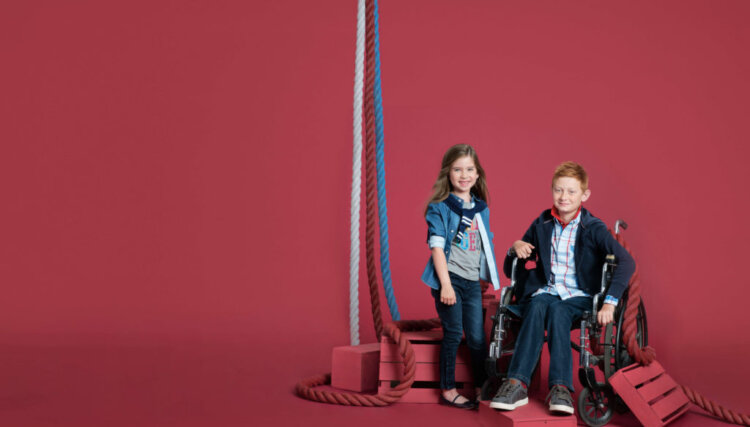 [Above photo by Richard Corman from the Tommy Hilfiger Adaptive Fashion Line]
Everywhere I go, people compliment me on how fashionable I am. I'm always flattered, but I can't help but think, "If they only knew how difficult it was to dress this way…"
At the age of three, I was diagnosed with a rare form of muscular dystrophy. In elementary school, I walked differently, temporarily wore leg braces or ballet slippers for restricted heel cords, a back brace for scoliosis, and walked with a walker. In middle school, I began using a manual and then power wheelchair, and my disability and stark difference from others became impossible to conceal. Fitting in with my peers during those brutal years, in whichever way I could, was of utmost importance and continues to be so today.
As a single woman with a disability, an attorney, a writer, a political advisor and an activist, my fashion sense is a part of my identity and integral to my being taken seriously as a professional in a non-disabled-dominated world. But the act of getting dressed and transforming from pajama attire to couture and stilettos became nearly impossible when my disease progressed and I became reliant on a caretaker to dress.
For those with severe mobility impairments like myself, getting in and out of clothing is a major challenge. Putting pieces on over our heads, raising our arms and lifting our hips to pull up our skirts or trousers are a huge frustration, which gets exacerbated every time we need to use the restroom. Clothing that was designed with these challenges in mind could have significantly changed our lives and better allowed us to integrate into society. But nothing like that existed. Until now.
In 2013, established fashion designer Mindy Scheier was inspired when her son, Oliver, who also has a rare form of muscular dystrophy, pleaded with her to permit him to wear jeans to school like all his other classmates. She wanted to oblige but wondered how she could ever dress him in such an unforgiving fabric. So she founded Runway of Dreams, an organization that works with the fashion industry to adapt mainstream clothing lines for people with disabilities, to bring joy and pride to every person who wore it.
"I only knew what I knew [about disability] from my experience with Oliver. So we created focus groups and online surveys to learn the dressing needs of people with a wide range of disabilities," Scheier said. At community centers and schools, she asked people with disabilities and their parents or caretakers to help her identify the market's greatest challenges in getting dressed and their design ideas. From these resources, she learned that the community struggled with three main dressing challenges: closures, adjustability and alternative ways of donning the clothing.
Scheier replaced fasteners with washable, lightweight MagnaReady® magnets. She opened up the back of the tops for the consumer's arms to access them from the back rather than over-the-head, enclosing the opening with magnets. And for adjustability, she added elastic waistbands that were almost invisible. Pant legs and sleeve lengths are adjustable, providing three different lengths and rolls, allowing the end-user to easily cover leg braces or abnormalities. Scheier also accommodated the clothing for autistic children by removing tags (a helpful alteration due to their heightened sensory issues), and for deaf and diabetic consumers by adding pockets for medical devices.  (Here is the docu-story about Runway of Dreams that features Oliver and other disabled fashionistas excited over the future of the line.)
After Scheier created these innovative clothing designs, she went on a mission to find clothing lines to incorporate into the Runway of Dreams toolkit, and Tommy Hilfiger proudly embraced the concept. Now, Tommy Hilfiger has a line of children's clothing made of the exact fabric and styles of his traditional children's clothing line, only with Runway of Dreams' adaptive touch that allows children with disabilities to dress exactly like their peers but with the ease of adaptation. Moreover, the adaptive line is no more expensive than the traditional line, with prices ranging from $18.50 to $59.50, in sizes 4-18 for girls and 4-20 for boys. (Click here to view the Fall 2016 Runway of Dreams and Tommy Hilfiger Adaptive Children's Collection.)
The line also impressively achieves something, at which the fashion industry presently fails miserably. The line's models are disabled, providing an accurate face to Runway of Dreams. (Here is the Tommy Hilfiger Blog, featuring Runway of Dreams' models.) Indeed, once the line was completed, Scheier described her most significant experience with the line: "One of our models, who is a wheelchair-user, told me in a fit session, 'I'm 14 years old, and this is the first time I've been able to dress myself.' That's something I'll never forget because we're really changing people's lives."
Scheier is now on a mission to bring the Runway of Dreams toolkit to other designers and to those for adults with disabilities, who richly desire, as I do, to dress fashionably like those of our non-disabled peers, without the struggle of putting on traditional clothing. She is working tirelessly to get the industry to understand how necessary these lines are to a community that comprises 20% of the population and has enormous spending power. She has approached the producers of Project Runway to run an episode about adaptive clothing. And she continues to encourage every interested member of the disabled community to fill out the adaptive clothing survey, to show the fashion industry in definitive numbers the great demand of those who want to walk or roll down our own Runway of Dreams in fierce clothing that represents the strong and capable people we are, with the adaptation we require.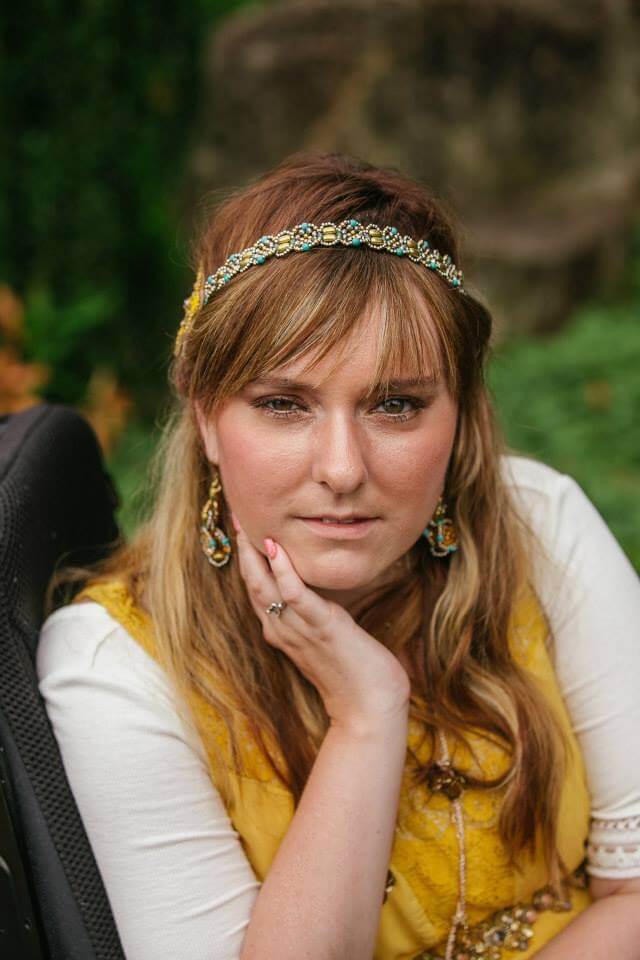 Ariella
Barker, Esq.
 obtained her BBA and JD from Emory University in Atlanta, GA. She spent several years representing NYC and Mayor Bloomberg in Labor & Employment Lawsuits. Afterwards, she moved to Israel and began doing disability advocacy and freelance writing, in addition to practicing law. When she moved back to the States years later, she was crowned Ms. Wheelchair NC 2014 and has since become an avid disability activist advising politicians and the NC Democratic Party on disability rights.