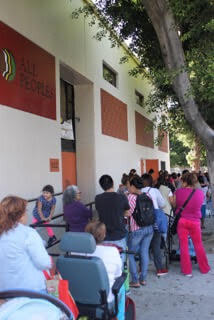 [Featured image: Families line up to receive food and other necessities at a food pantry and kitchen near  Downtown Los Angeles.]
A few years ago, while helping at one of the hundreds of kitchens cooking and serving food to those in need, I met Wendy (not her real name). She was one of the 1.4 million people in Los Angeles County who don't know where their next meal will come from. Many kitchens, like this one, are housed in places of worship.
Whenever I visited the kitchen, I was always surprised that recipients represented the full demographic of Los Angeles—young and old, men and women, all different races, some with families but others single. Every food pantry checks client eligibility by asking for things like income, savings, and family situation to ensure that no one is "gaming" the system—essentially taking food when they don't need it.
Wendy stood out: she was a woman in her mid-forties (most recipients were younger or older),her hair, nails, and makeup were done well and she was wearing a suit that fit her. She just looked out of place. When I said hello, she responded with a smile and a "how are you?"….I sensed that she wanted to tell her story, so I asked if she was willing to let me sit down and talk to her while she ate.
She told me that she used to be a real estate agent, but her business was hit hard by the downturn in the housing market. She didn't have a family, and her savings were all in real estate. She had been working as a temp earning slightly above minimum wage. She was living in her car because she could no longer afford her apartment when half her income was going to rent. After paying other bills like health insurance, she barely had enough for food.
It turns out that Wendy's story wasn't all that uncommon. There are tens of thousands of people in Los Angeles who are living on the edge—barely making enough to afford ever-increasing rents. A study done in 2014 by the Los Angeles Regional Food Bank found that 92% of clients live in permanent housing, but 25% reported having lived in at least two residences during the past 12 months. For many, receiving charitable food assistance had become a consistent part of their monthly budget.
I thought of Wendy again as I began thinking about the Jewish harvest festival of Sukkot, which happens the week after Yom Kippur, the Jewish Day of Atonement. Jews are commanded to build a tiny, temporary structure and live in it for seven days as a reminder of the forty years that the Jewish people wandered the desert—homeless and forgotten.
Sadly, there are far too many Americans who–not because of religious observance, but because of financial difficulty, are living in temporary housing—a bed at a shelter, on someone's couch, or in their car. Most of their belongings may be gone, and they may have nowhere to go or no one to turn to.
Around the world, there are 300 million families who don't have access to affordable housing. In 15 years (by 2030) it is estimated that number will double. In many areas, the homeless are forgotten or ignored.
Access to safe, affordable, and desirable housing is a basic human need and even in places like Los Angeles—one of the wealthiest cities on the planet—there are nearly 50,000 people counted as homeless. Los Angeles has become the most unaffordable big city in the whole country and now has a class of individuals who are "under-housed"—low-income Americans, like Wendy, who can't afford Southern California rents.
A significant portion are veterans who served our country honorably in the U.S. military. In Los Angeles, veterans comprise a little over 3% of the general population but 11% of the homeless population. The challenge of transitioning from military to civilian life, especially if complicated by a service related disability, has left thousands of veterans on the street.
Sadly, our current solutions to address homelessness in the United States are woefully inadequate. For instance, one solution has been to subsidize unaffordable housing—providing vouchers to people who qualify so they can afford to pay untenable rents. But this doesn't make sense. Why not build truly affordable houses in a sustainable and efficient way?
It turns out, people are trying to. People all over the world are looking for ways to build affordable "tiny" houses—typically a few hundred square feet of space constructed out any number of materials. Some are reconstituted out of existing materials like shipping containers while others are constructed on wheels and can be moved around like a mobile home. These "tiny" communities are popping up all across the United States in places like Eugene, Oregon to provide emergency housing for veterans and people like Wendy who are struggling to pay the rent.
Right here in Los Angeles, a local nonprofit is looking to go further—ThriveLA is working to build a community that is sustainable, off-the-grid, and ultra-affordable (with rents of less than $100 a month) where residents can build equity and help them get out of the crushing cycle of debt.
There are also global efforts to solve this challenge, however, if you took all the construction firms in the world working at full capacity, they still wouldn't be able to build enough affordable housing to address the need with the current materials and construction practices. That is why the X Prize is funding a team to rethink how we efficiently build affordable housing. Right now, their Affordable Housing Visioneers Team is working on technologies to innovative the construction industry to be able to produce housing quickly and safely.
What can we do, as citizens of the United States or the world, to overcome this challenge?
Listen to and learn from a homeless person. My friend Andrew Olsen—who helps food banks and nonprofits serving the homeless raise funds—did this recently and wrote about his experience connecting with a pregnant, homeless woman who most people just walked past. It reminded him that there is a story behind every person and that we need to appreciate what matters in life. (For his whole story, click here.)  
Join First Lady Michelle Obama and city mayors across the United States in ending veterans' homelessness—there are lots of ways to get involved, from advocacy to volunteering for programs like the Welcome Home Project in the City of Los Angeles.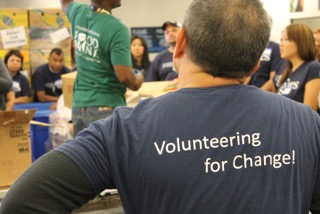 If you have the opportunity to sit in a sukkah this year for the festival holiday observance of Sukkot, take a moment to reflect on those people whose dwelling are temporary because they do not have a choice—for whatever reason. Reflect on how lucky you are that you have a home and warm meal ready for you while others may not. Then commit to take action or support an organization working to help those that do not. And have a Happy Sukkot!
Eli Lipmen is editor of the Los Angeles City Dads Group blog, a resource for dads in Los Angeles. He is raising two amazing children (a one-year-old and a four-year-old) while working part-time from home to help nonprofits raise money. He loves exploring all that Southern California has to offer—beaches, parks, museums, politics and more! You can find him on Twitter, Snapchat (elipmen), and Instagram talking about politics, the environment, or #badassparenting.