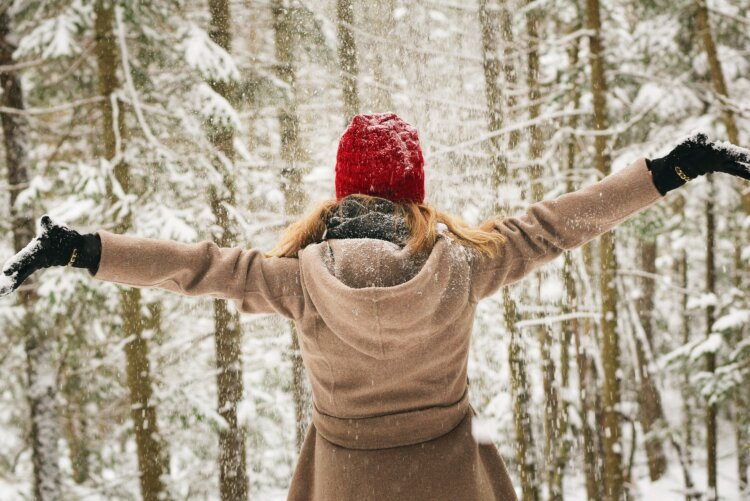 There's something magical about the wintertime. While the days may be shorter, the nights are brightly lit up with Christmas lights, Hanukkah menorahs, Kwanzaa kinaras, and Solstice yule logs. However, despite the preponderance of religious holidays that take place around the same time, there are many ways to celebrate and honor this season without having religion at the center. So whether you're Atheist, Agnostic, or just want more ways to be merry and bright this winter, here are six different ways to honor the season.
Light up the night. Paper lanterns are a sweet way to bring more brightness into the darkest time of year. If you have the space, created a winding, circular path in your yard with paper lunch sacks (white ones look the best!) and battery-operated candles. If you're feeling daring and have plenty of safety equipment nearby (with young children and drunk adults far away), you can use votives with real fire. Shut off most of your house lights and invite friends over to walk the path. Make sure to have plenty of hot drinks to keep everyone warm! If you have the safe space for it, biodegradable floating lanterns are another fun and fantastical way to light up the dark, night sky during the winter.
Play Holiday Lights Bingo. We have a family tradition of piling into the car with travel mugs of hot cocoa to tour various nearby neighborhoods and their lit up homes. We love them all, from tastefully decorated houses with single candles adorning each window to ones with five or six blow-up Santas and Frostys. Add a little spice to the sweet fun and make it a competition by creating a Holiday Lights Bingo sheet. Add spaces for "reindeer on roof," "broken lights," "hot mess," "laser pointers and spotlights," and anything else you can come up with. And of course, you'll need a present for the winner. May I suggest this lovely light-up holiday cactus?
Eat by candlelight. There's a reason this season is full of holidays that center around fire and light. Shorter days make for darker days, and those can easily give anyone the seasonal weepies. Find ways to make the dark work to your advantage. Host a meal lit entirely by candlelight. It doesn't have to be a fancy shmancy, six-course masterpiece, just the fact that you're all gathered together eating by candlelight will make it special enough. Just make sure to light unscented candle so you don't ruin everyone's appetite as they try to slurp down french onion soup while smelling vanilla and pine candles burning down.
Go for a night time hike. My son recently turned me on to this one. He went away with his class for a few nights to a nature center and one of his favorite activities was the night hike. I asked what made it so special and he said that because it's so dark (some folks had flashlights and headlamps, but they kept it as dark as safely possible), you start to hear the sounds of winter nature: owls, branches brushing up against each other, the squeak of fresh snow beneath someone's foot. So bundle up to the brim and take a hike after dark with some friends. You never know what meditative delights you'll discover.
Host a reading party. While not for everyone, the idea of a cozy reading party in the middle of winter sounds like perfection to me. Folks can bring their own books, and you can also have a few extra, as well as magazines, coloring books, etc… placed around your home. Provide soft spaces to lounge and quiet snacks to indulge in (nobody wants to hear you crunching down on loud chips while trying to finish a chapter). If you have a fireplace, set it up to help create some ambiance, and if not, fake it with this and this. The goal isn't necessarily to read for hours in silence (though if that's your jam, go for it!). Rather, this time of year can feel hectic for many, and it can be hard to find time to unwind and enjoy something as simple as a half hour of quiet reading. Of course, you can always opt to cap off your reading time with some karaoke if folks feel like they've been missing out on making noise.
Bring the outdoors in. While many of us rely on the warmer months to adorn our homes with freshly cut flowers, there are a variety of ways to honor winter inside your home. You can have a nature table, where you place pinecones, rocks, twigs, or other special finds from time spent outside. Get your DIY on and make something crafty like this twig wall hooks, glowing art, vegan antler trophy, or a planter box for succulents!