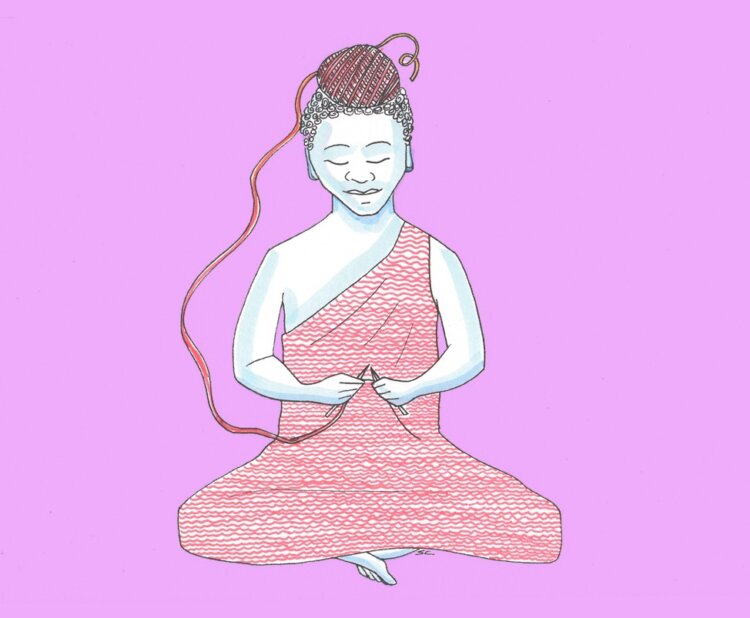 I have been doing yoga for decades, and I've taught yoga and meditation for years. And here's my dirty little secret: Sometimes, I just can't meditate. Too much anxiety, too many thoughts, and there's just no sitting still and OM-ing my way out of it. My solution? Med-knit-ation. I craft my way calm.
Knitting, crocheting, quilting, sewing, embroidery, and other handcrafts are no longer considered just quaint hobbies; medical professionals are studying them for their de-stressing magic. Experts say the repetitive motion of needlecrafts can bring on a state of calm similar to that experienced in meditation or yoga. In one study, a group of patients in treatment for eating disorders were given knitting lessons; 74 percent said knitting reduced the intensity of their fears and helped them feel calmer.
All that, and you get something cozy and beautiful to wear.
If you're not already a maker, here's a guide to the rock stars of meditative crafting. There are a lot of different crafts that will give you both a feeling of calm and a sense of accomplishment, but I'm listing the ones that you can start pretty much immediately with easily accessible materials, do at home, and that are fairly portable (depending on the project) so you can have instant destressification.
Knitting is the headliner of handcrafts, and it had a big cultural moment during the election with knitted pink pussyhats. Hats, scarves, sweaters, cowls—you can pretty much knit anything. Pros: Knitting isn't too difficult to learn, and you get good right/left brain hemisphere benefits by using both hands. Cons: It can be addictive, and sometimes expensive when you get all knit crazy and start buying tons of different needles and yarn. Start with: Stitch 'N Bitch: The Knitter's Handbook by Debbie Stoller, co-founder of feminist magazine Bust.
Crocheting is much younger than knitting, having been around only 200-ish years to knitting's thousands, but some polls say there are even more crocheters than knitters in the US. Pros: Crocheting is much faster than knitting, there's only one hook, and some say it's easier than knitting. Cons: Not as much cross brain hemisphere stimulation (that one hook thing), and crocheting eats more yarn than knitting, so you'll spend a little more lucre for a little more fiber. Start with: Stitch 'N Bitch Crochet: The Happy Hooker, also by Debbie Stoller.
Embroidery used to be mostly floral motifs and "Home Sweet Home" pillows. Things are really changing; the other day I saw a friend stitching the embroidered version of the choking victim sign you see in restaurants. Pros: Smaller pieces are portable, and you can use your stitching skills on your clothes to create unique pieces—a big trend at this year's Renegade Crafts Festival in Colorado. Cons: You'll be working tiny, so get your reading glasses out. Start with: Hoop Dreams: Modern Hand Embroidery, by Cristin Morgan and Edgy Embroidery by Renee Rominger.
Sewing is not only something you can do for yourself; it helps the environment too, as we reported in our piece on the slow fashion movement. Plus, the bragging rights of making your own clothes? Please. Pros: With hand sewing, you get repetitive motion benefits; sewing kits are inexpensive (things only get pricey when you buy a sewing machine); you don't have to get rid of your favorite jeans just because they're a little ripped. Cons: Larger pieces aren't quite as portable—not an issue if you're mostly doing this at home, though. Start with: Mending Matters by Katrina Rodabaugh.
There's also quilting, baking, cake decorating, pottery, woodworking… Just as there are many different forms of meditation, there are many different types of medknitation. On the days when sitting still makes you want to jump out of your skin, or you're going through a particularly stressful time, it's good to know you can actually make yourself calm.