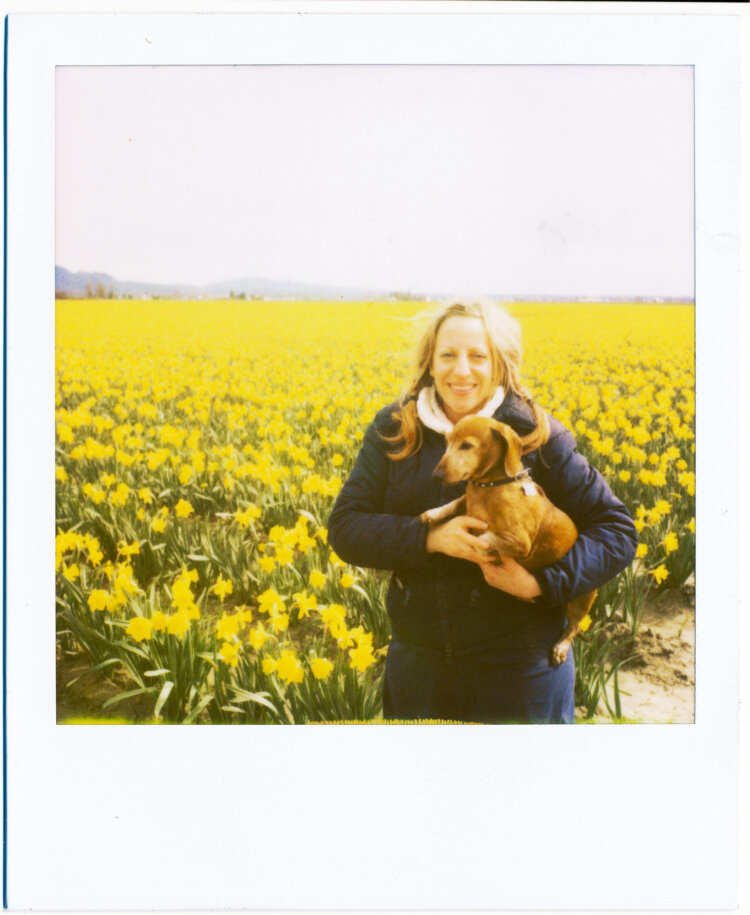 Wendell the Love Dachshund was not a planned addition to my life, but so it goes with most things that are meant to be. I passed him on Lexington and 81st Street, dreamy-eyed and pressed up against the pet store window. I'd just gotten off the 4 Express train at 86th on my commute home from the Village. The downtown trek was my daily escape from the elitist enclave of the Upper East Side, where I lived briefly after a misbegotten apartment swap that, I believe, only occurred to lead me to Wendell.
I was stopped in my tracks by 10-week old Wen. His head was wrinkled and his eyes barely opened, but he looked like an old man…he actually looked like my grandfather, Walter Seligson. I noted the birthdate on his collar: September 23, 2000. A Libra, like grandpa had been. Bizarre! I tore myself away but couldn't stop thinking about it as I climbed five flights of stairs to my lonely little apartment on 79th.
That night, the wrinkled dachshund came to me in a dream—a rare occurrence since I tend to sleep soundly without remembering a thing. He was shivering intensely; it was if I could feel his tiny body shaking. I grabbed him in my arms and held him tightly, petting him until he calmed down. The dream was so visceral that I had to mention it to my canine-obsessed friend Tanya, who was the first person to call me that morning.
"I feel like I need to go see that dachshund at Pets on Lex," I told her. "Want to come with me?"
She admonished me, "You CANNOT get a dog from a pet store. Do you know how awful those places are?!"
Ugh. She had a point. I wanted to do the right thing and I wanted to be a dog owner. I thought quickly and came up with a compromise.  
"Let's go to the ASPCA then?" I countered and she approved, agreeing to cab up from Brooklyn and join me after work.
It was nearly closing time at the ASPCA as we hoofed it to 91st and East End. I chattered on about how much I hoped there was a dachshund there or a dog that looked like that sweet one I'd seen. But there was not. The closest dogs in physical resemblance were a pair of Jack Russell Terriers. They were cute and playful and I figured I could get used to them and certainly fall in love. I wanted a dog! Why not two? They could entertain each other, maybe that would even be easier. The justifications rattled on in my head as I began filling out the adoption paperwork, then handed it to the staffer working there.
"Driver's license, please."
I reached into my wallet. Wait…where the hell was it? I emptied every card out of every slot and dumped my purse onto the table. Not there.
"I'm sorry ma'am, we just don't allow pet adoptions without ID. You can come back tomorrow and we can finish up."
As Tanya and I stepped out into the crisp, December air, I looked her right in the eyes. "I am going to get that dachshund. Sorry!"  She smiled and switched right up to being my partner-in-crime, as only a Gemini friend can.
We practically ran to Pets on Lex, praying and hoping the little wiener dog was still there. Oh my god, what if I missed my chance!!! He wasn't in the window anymore. I bee-lined to the kennels and found him, curled up on his newspaper pad. And just like in my dream, his tiny body was buzzing when they put him in my arms. He slowly relaxed as I held him.
With one-hand, I fished out my credit card and soon, Tanya, this dachshund and I were in a cab.  She suggested calling him Wendell, at least temporarily. I was in a daze of love and shock and WTF excitement. Holy shit.
And just like that, I became a mother.
Because the adoption of Wendell coincided with the beginning of my life as an entrepreneur, the two of us were inseparable. In his early puppyhood, I zipped him in my hoodie and he napped right on my heart while I designed websites from my home office. When he was old enough to get his shots, he rode the subway in a zebra-print carrier, his head sticking out as he wooed everyone who got a glimpse. He swam in a kiddie pool at a rooftop party in the Bronx, charmed a security guard into letting him join us at the top of the Empire State Building, hung out at karaoke until 4AM. He led me through an eerily darkened Times Square the night of September 11th as we trekked uptown to make sure my mom and twin sister were safe.
As it turns out, the name Wendell means wanderer—and boy, did that fit. He was a fine travel companion, resting his long chin in the crook of my elbow as I drove. He slept beautifully on airplanes, tucked below the seat and never cried, at least not until he became a senior dog.
He inspected every wannabe boyfriend I brought home and forced me to rise from my computer and get out into the sunshine (or snow!) for walks. Wendell was snuggled by my side for every book I've written. He wove seamlessly into my dog-friendly life and, at age 8, embraced my now-husband Cory as we moved across the country to Seattle. The greener life suited us both well.
RELATED: Mayim talks about the loss of cats and reimagining The Rainbow Bridge
When Wendell waddled into the room I didn't care who was around; I instantly turned into a cooing and baby-talking softie, raining kisses on his adorable face. My penchant for wordsmithing got a hilarious workout as my twin sister, husband and I made up an endless roll call of nicknames: Tenacious D, Eggplant Buddha, Red Snapper, Pico Bandito, The Diggis…the list goes on.
I bore no human children, but I was the quintessential Jewish mother to Wendell. I constantly worried about his whereabouts in the house, never let him off-leash unless I was sure the perimeter was secured, requested daily videos of him when I traveled and slept holding his paw every night. In short, I was a total mushball. This was not a side of myself I really let out to play with just anyone.
When Wendell turned 14, I began to panic. Most dogs don't live much longer than that age. I noticed him slowing down a bit. Instead of pulling his leash in a million directions as he hunted "street treats," he decelerated to a gentle amble.  He stopped begging for food (although at 15, he did steal a piece of pizza out of a young neighbor's hand) and slept more often. I had a talk with him, letting him know that when it was his time to go, he could show us. But it so wasn't. We celebrated his "Perro Quinceañero" and then his Sweet Sixteen.
I bore no human children, but I was the quintessential Jewish mother to Wendell.
When he turned 17, he couldn't go for walks anymore and cried when we left him alone. Cory and I rearranged our lives. We went out on separate nights and entertained at home more often. I got a baby bjorn, then a stroller for Wen so the wanderer could go for short journeys. I drank a lot of bourbon and spent the winter of 2017-18 in deep denial and drunken reverence for this magical animal who had nurtured me through the end of my 20s, my full 30s and half of my 40s. How the fuck was I going to live without him?   
On March 19, 2018 I looked at Wendell and just knew. His body was tired and could not house his giant spirit much longer. The vet, who happens to be one of our dearest friends, came over to talk about a home transition. We scheduled it for March 25. On the 23rd, I canceled. I needed more time—there was the Libra full moon on March 31, Wendell's full moon! I wanted to wait until then and see how we felt.
The grace of that extended timeline became a divine communion for me and Wendell. I wanted to make sure he wasn't scared to leave his body…and let's be honest, I needed to get over my own terror of living without my companion creature's physical presence. I don't think I've ever been so achingly aware of how meaningful each moment was.
The way I filled my final weeks with Wendell felt "guided," just as our fateful introduction had been 17.5 years earlier. Even our mundane routines, like Wendell sleeping beside me while I was writing, were ritualized.
Together, we listened to an audiobook about reincarnation, Dolores Cannon's Between Death and Life. A past life regression therapist, she recounted the transcripts of patients who, under hypnosis, remembered their time between incarnations, crossing into the spirit plane and hanging out there. While listening, I learned how to macramé a beautiful dreamcatcher for Wendell as he slept (or listened?) on my lap. I marveled at how often Cannon's subjects mentioned the afterlife as a tapestry or weaving.
March 31st came; it still wasn't time. I made a second piece and incorporated weaving, using the vertical macramé rope as warp threads. Art and beauty continued to emerge—a reconnection to a part of myself that I'd packed away to become a writer. But I could feel Wendell's spirit relaxing, much like it had when I first held him in my dreamstate. While "macra-weaving" one morning, it came to me that Wendell would be ready to ascend under the new moon in Aries on April 15. (I later found out this was also Dolores Cannon's birthday.)
The morning that Wendell departed this plane, we climbed the stairs to my bedroom and I crawled under the covers with him in my arms. As I'd done for nearly two decades, I turned him on his side and drew him to my chest, cradling his right paw in my hand.
I wasn't sure what I was supposed to feel and why I was even there so I just concentrated on experiencing Wendell fully in what would be our final visit together in that room. His frail, ten-pound body still radiated so much warmth. I felt him as if he were a living extension of me.   
"Wendell is my heart."
As my inner voice composed that sentence, it resonated deeply, in the way that one can sense universal truth from the liminal space of grief.
Terror dissolved into tears. How would I be able to feel my heart with Wendell gone? Where would the warmth come from…the safe and unconditional love?
It's a daunting quest, but here's the closest thing to an answer that I can find. To feel Wendell, I have to be Wendell now. A wonder-filled wanderer who gazes out at the world with love and curiosity. A sensory hedonist who appreciates every bite of food (he never stopped being a gourmand!) and is shameless in his desire for affection. A comforting, forgiving being who always extends the benefit of the doubt and can't bring himself to hold a grudge. This vulnerability, while simple, can be the hardest space to hold.
And just like that, Wendell's role in my life rearranged into a new, non-crystalline structure as he evolved from angelic pet into my wise and eternal spirit animal.