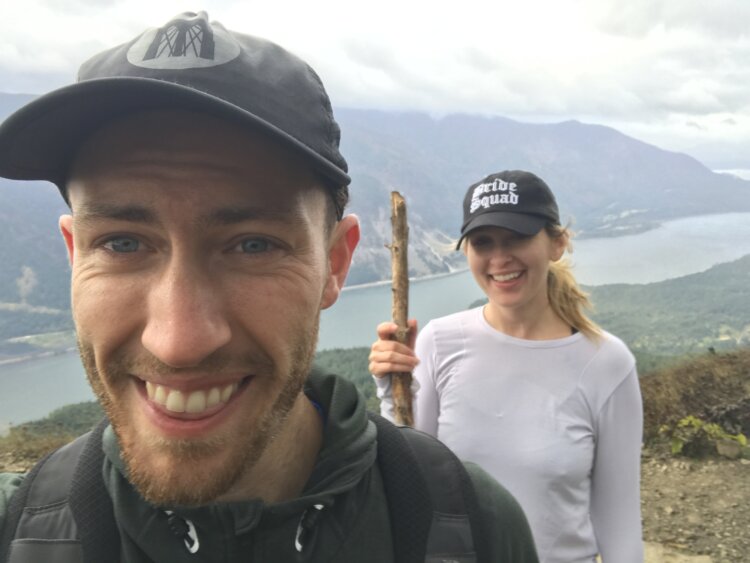 My boyfriend, Adam, and I had only been dating a year when the conversation about moving in together went from a silly idea to a likely reality. We were searching for New York apartments when I made a confession. "I've always wanted to live other places," I said, scared his eyes would bulge at the idea of leaving New York, a city I knew he loved. Adam was from New Jersey and had been living in New York City for seven years. I was from Florida and had been living in Manhattan for six years. I was itching to travel, to see more of the country and live in new cities.
"Me too," he said. We both realized that we didn't have anything keeping us in New York City. Our freelance jobs, mine as a writer and the founder of wedding support company Bridesmaid for Hire, and his as a marketing consultant, meant that we didn't report to a boss or an office. We worked from our couch, a coffee shop, or anywhere with good WiFi. That was the lightbulb moment: We could trade our New York City life, and most of our possessions, for the freedom to live anywhere we wanted. When the first day of August came, and both of our leases were up, we'd each pack up a large suitcase, and hit the road.
We spent six months on the floors of bookstores, flipping through travel guides as we planned. Instead of road tripping around the country for a year, we'd pick a new city every month or so and live in an AirBnB or find an apartment on Craigslist or Facebook. To do this, we had to give up any kind of official home base (to save money), and most of our stuff (because we didn't have anywhere to store it). We sold big furniture pieces, donated a lot, and left just a few garbage bags of clothes and memories in the basement of Adam's parents house in New Jersey.
We packed our essentials into a large suitcase. For me, that was five pairs of pants, 10 shirts, one bathing suit, four pairs of shoes, two jackets, and as many Lorrie Moore and Paul Auster paperbacks as I could stuff inside. The plan was minimal: We'd pick a new city, live there for a little bit, and return to New York City for a month or two throughout the year, for special occasions, work opportunities, or to spend time in new parts of Manhattan or Brooklyn. We also made sure that we each had sustainable income. I spent the months leading up to our departure securing multiple freelance clients, creating online courses that would bring in passive income, and reaching out to local conferences or schools offering workshops or paid speaking gigs. Since we would not have a mailing address, we both had our important documents sent to our parents' houses and work payments transferred electronically.
Our adventure has taken us to the east side of Portland, Oregon, where we found rats in the kitchen, the bedroom, and the bathroom. After noticing these little animals running around, upon our arrival, we walked right out the door, contacted the host of the apartment, and asked for a refund. He obliged and we found another place down the street, where the only animal was an outdoor cat that didn't cause much trouble. There, we lived on the third floor of a building that smelled like rotten eggs, drank some of the best coffee we ever tasted, and climbed some of the highest peaks we've ever climbed (nearby in Washington, see photo above). I was shocked at how easy it was to fall in love with Portland. The people were the friendliest I had ever met. I made a few new friends at local marketing and writing conferences.
In Austin, Texas, we ate BBQ, heard incredible live music at dark dive bars, and took weekend trips to small towns. But I was a bit lonely in Austin, since we didn't have a car and the city is quite spread out.
We escaped the snowy winter in Venice Beach, California for what was supposed to be one month but became three. We spent mornings watching the sunrise, afternoons taking a break from work to bike along the beach, and nights exploring Hollywood. I put myself out there more, attending events solo, and making two new friends in a workout class.
This adventure has tested us individually and as a couple. It was a big adjustment wearing the same outfits day after day and not buying new things, since we didn't have any room to store anything. It's been hard sleeping in other people's beds, using their showers, and eating with their utensils. As a couple, we've had to learn how to communicate during the stressful moments of deciding where to live next, since sometimes Adam wants to call this adventure quits while I'm about to book the next few cities to live in. We learned how to be there for each other in places where we don't know anyone, and how to be accountable to each other when you have work responsibilities and in a city you're both eager to explore.
One of the thrills of this adventure is unpacking our stuff in someone else's apartment for a month. It opens your eyes up to a lot of things, like the sight of mold in some showers, beds that feel like you're sleeping on the floor, or encounters with animals that aren't pets. In Venice, the shower was infested with cockroaches. Each time we'd scoop up the dead ones with a napkin and toss them out the door, the next morning we'd wake up to five or 10 more. We never complained to the AirBnB host and instead, made this our morning tradition.
It's been a little more than a year since we started this journey, and even though some days it's tough, we don't have a plan to settle down anywhere anytime soon. We're planning to go to Denver in October and Hawaii in December. I imagined our year on the road would make me feel lonely, since my friends and family members would be left behind, but Adam and I each made good friends, immersed ourselves in the local culture, and even went to networking events, where we found ourselves face to face with new freelance clients.
One day, when we finally do find a permanent home, I know I'll look back on this adventure as the time when our relationship grew the most, and when we made vibrant and unusual memories, the kind that could never fit in a single suitcase.