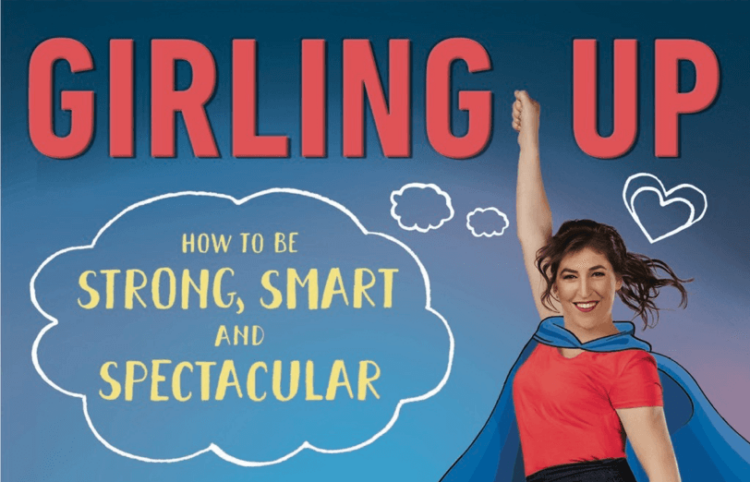 Hello everyone! I'm thrilled that my book, Girling Up: How to Be Strong, Smart and Spectacular, is officially out today! It's about growing up female: everything from explaining puberty and talking about gender and body image and nutrition to dating and decisions about your body and your life.
It's a big book (although not physically! It's very easy to carry!). It covers a lot. And I use my neuroscience background, my psychology experience, and drive to understand women in the context of our culture, because our experiences as women are varied, diverse and fascinating. I based my book on Natalie Angier's masterpiece about female animals, Woman: An Intimate Geography. Angier, who I knew as the science writer for the NY Times, explored women's psychology, sexuality, and our very existence through a particular lens: seeing the human woman as one of many animals on the planet trying to survive and thrive as females. I took her notion of discussing every aspect of being a woman and applied it to young women.
Who is this book for? I wrote this book specifically for girls aged 10-18 and anyone who loves them. Women older than 18 can read this and think about how they felt while they were growing up, and share with the girls in their lives. Men and boys can read this to better understand women and girls. Anyone who wants to understand females can and should read this.
Is this a celebrity book? I know that "celebrity books" is kind of a trend now, but I wrote this much more as a scientist than a celebrity; I have been thinking about this stuff my entire female life and it's just now that I have been able to formulate it all in one place. And the work I have been doing here with all of you at GrokNation has truly inspired me; so many people – many of them young women! – are hungry for more information and content surrounding the decisions we make, the strength we have, and the possibilities we can create to make an impact on the people and social/societal constructs around us.
When I was a child, I had a book that was very helpful for me. It was called How We Are Born, How We Grow, How Our Bodies Work and How We Learn by Joe Kaufman.  It was published in 1975, the year I was born, and was my trusted encyclopedia of my existence for much of my childhood. However, when I hit puberty, there was no equivalent for me to refer to. I basically wrote the book I wish I had had as a teenager going through puberty.
And I know there are books now that talk girls through periods and such, but to be quite honest, if I were a girl going through puberty right now, I wouldn't find them that helpful. And I wanted to write a book that was more than just explaining which "feminine protection" to use, that spoke to me as a girl. And so I wrote about what it was like for me when I was a girl. And how things have changed. And why they have changed. And about the challenges of being female in a culture that is locked in to our phones and locked into the images we see on TV. I wrote about why some girls identify as 'feminine' and why some are more 'masculine.' I wrote about eating disorders and divorce and how we cope with difficult things in life. I wrote about how I cope with things. I talk about the things I do when I'm depressed or anxious. And I wrote about my life as a girl who didn't always fit in and what that meant for me then, and what it means to me now.
I am grateful I was able to write it from all the experiences I have had in my life: with my science background, with anecdotes from my time on "Blossom" and "The Big Bang Theory," and as a parent. I wrote it with the wisdom I have gathered as a late bloomer out-of-the-box-thinking female who has been on a lifelong search to understand myself and others more.
This book is a fun book. It has really neat illustrations of girls of all shapes, sizes and colors. It is not a political book or a book with an agenda….unless the "agenda" is for young women to feel empowered to understand their bodies, their psyches, and their role as significant partners in a world that needs us all to care for it!
In the days ahead, I am doing a lot of press for Girling Up – including some cool TV appearances, and maybe even some special Girling Up-related video content – and I hope you will follow along as we continue to discuss the book, how it affects all of you, and how we can use this kind of conversation-opener to affect real change in our lives and the world around us.
Thanks for being along for the journey, and for your support!