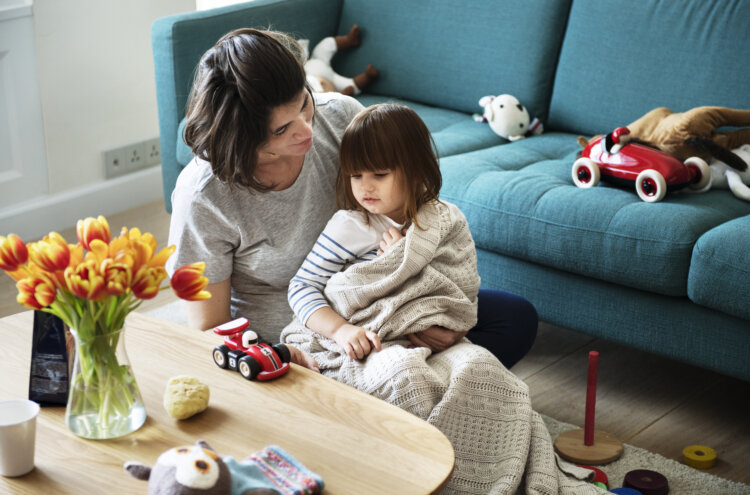 "MOM! Feet off the Floor Time is supposed to be after lunch! You can't just change it to the mooooorning!" In three weeks, my 4-year-old went from resisting this little family ritual to enforcing the rules more seriously than I do.
"Feet off the Floor Time" is a break my family takes each day for screen-free and independent(ish) activities that, well… keep our feet off the floor. I'm a stay-at-home parent of two kids who aren't yet in school. Between jumping off furniture like it's their job, eating everything but the curtains, and taking joy in squealing at a frequency I wish only dogs could hear, my children need these windows of calm. And it saves my sanity.
We're a "screen mindful" family; most weeks we don't watch any TV or movies. When we do, we try to be intentional about it. My son has been "spirited" from birth: wound tightly, whip-smart, and quick to big feelings. In the early days of two-kid parenting, Netflix provided temporary respite from my adorable whirlwind, but it amplified the more challenging aspects of his spirited soul. We also worried about the effects screen time can have on cognitive ability, creativity, health and overall well-being. We weaned off of it without too much fuss, as my son was still young. With less screen time, our home is now more calm and connected—but our need to unwind remains the same. Which is how our new family tradition came about.
Trying a purely "quiet time" backfired in the way that demanding anything of a preschooler seems to. Calling it Feet off the Floor Time, however, has transformed quiet time into a challenge my big kid actually likes rising to.
Here are the details, including age-specific ideas, so you can try it with your family…
Set a time
Despite the fact they often resist it, kids thrive on routine. Picking a set time each day you're sticking close to home can be great if you have this luxury; for us, this is often when my littlest is napping. (I keep the standards low when she does join us—she'll get it eventually.) The duration depends on your family's ages and personalities; 25 to 30 minutes is the max my spirited kiddo can handle.
How to create calm
If you have a particularly fidgety child, or one with attention, sensory, or anxiety challenges, a weighted blanket can be world-changing. We often snack and sip on tea or water while we sit. But we also enjoy a Narnia-like beverage I call Fairy Milk. Put the following ingredients on the stove top and steep for 15 minutes:
1 cup milk of choice (non-dairy works great)
1 cup boiling water
1 teaspoon vanilla
1 Tablespoon maple syrup, or to taste
1/2 teaspoon cinnamon
3 mint tea bags
Activities to try
Although I put thought into what we'll do each day, I still end up winging it. Because, it's parenting. Reading is always an excellent default; we read so much, however, that I like the opportunity to mix it up. And for the record: I am not a Pinterest-perfect parent. More often than not, our crafts look like Frankenstein's monster fails, and we're surrounded by a mess of blankets, snacks, and dog hair. But we're smiling (usually), and no hashtag can top that.
Even though Feet off the Floor Time is meant to be more solo and quieter than normal activities, independent play is a skill that can take years to master; I try to work on guiding my kiddos toward this with realistic developmental goals in mind.
Baby and toddler:
For the littlest ones, nursing, cuddling, reading board books, and eating are all fair game!
Crafts that use stickers and markers, which are much better in tiny hands than glue. Cutting out shapes in advance and having some colorful stickers around is a great idea. Also, these Tempera paint sticks are amazing for tiny people.
Preschooler and elementary age:
Middle school and older:
Crafts for this age group can be more complex, while still being fun. There are some great ideas on Art Bar.
Try giving your tweens and teens a real-life responsibility like making the week's menu.
Check out this Grok Nation DIY guide for fun knitting and macrame project ideas here. I learned to knit as a teenager, and haven't regretted it.
Connecting to causes can be empowering for older kids. Writing letters to those in long-term hospital stays is great idea. Here's one for the LA Children's Hospital, but check your local hospitals for close-to-home options.
Ultimately, Feet off the Floor Time isn't about the crafts, the tea, or the mess of blankets, and it does more than help us find moments of sanity. Taking time as a family with our feet off the floor helps us find common ground in what matters most: connection, calm, and family magic.