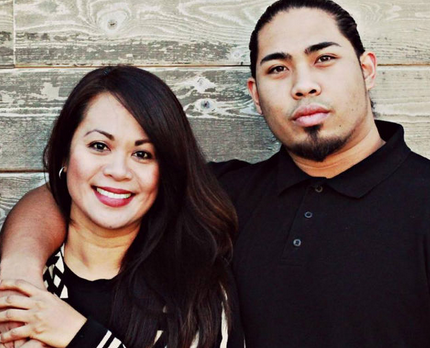 There is no easy fix-all to recover from loss, but it does help to know you're not alone. That's what drove Pulitzer Prize-nominated writer Pati Poblete to writer her new book, A Better Place: A Memoir of Peace in the Face of Tragedy.
Four years ago, Pati's 23-year-old son Robby was shot and killed by an illegal firearm. Putting her grief into action, Pati founded the Robby Poblete Foundation, a non-profit which runs a gun buyback program, and now, with her book, she's hoping to encourage other individuals who have suffered similar loss.
The book takes readers through the journey of Robby's life and death—but ultimately it's a mother's story of loss and redemption. Below, read an exclusive excerpt of A Better Place, where Pati explains how gardening helped revive her yard… and herself.
When we moved into our new home in Fairfield, our backyard was nothing but a small rectangular patch of dirt enclosed by a fence made of unstained pine. It was so unremarkable and uninspiring that we barely gave any thought to it. The only sign of progress was a kidney-shaped cement patio that [my husband] Cicero and I had hired a contractor to put in a few months after we moved in. I then bought a few small trees and planted them in halved wine barrels I bought on sale at a local nursery. "You should plant flowers," Robby said. "They'll add color." 
Several months after Robby died I began planting those flowers. I started with his favorites, hibiscus and alstroemeria. And then I couldn't stop. I bought other seedlings—roses, peonies, snapdragons, lilies, daffodils, marigolds, fruit trees, vegetables, climbing vines, succulents—and slowly began creating a garden. I went to the nursery so often that the cashiers knew me and asked if I wanted to open an account. Nurturing the plants and watching them grow had a calming, healing effect on me. 
I had a suspicion that gardening had become more than a hobby when, after an afternoon of especially strong winds, I went outside to see my tomato plant toppled over. Many of its branches had snapped and dozens of green cherry tomatoes were scattered on the ground. The plant was completely uprooted from its wine-barrel planter. I struggled to get the plant upright, wrestling with the broken limbs and trying desperately to salvage what was left. Until finally I gave up and cried—actually cried. I fell to my knees and sobbed in front of the tomato plant, apologizing to it for failing to keep it alive. It wasn't until I heard voices in my neighbor's yard that I realized how insane I must have sounded. 
Obviously, I was working out some issues. 
But every morning I would sit with my coffee, then rise to stop by each plant to gauge its progress, nursing each wilting branch or leaf back to health, and delicately trimming any signs of decay. In the spring, the dormant brown twigs came alive with budding, yellow-green leaves and blossoms in every color imaginable. In the corner, climbing up a trellis, was a rosebush I planted filled with clusters of snow-white blooms. At the top I placed a sign: Robby's Roses. 
I placed a statue of a meditating Buddha beneath the shade of a lemon tree and between two climbing beanstalks. In the early mornings, I would stand under the shadow of the jasmine vine, which barely reached my waist when I bought it. Now it climbed up and over our arbor, emanating the sweetest, most delicate perfume from its ivory, star-shaped flowers. I'd wait for the hummingbirds that often came at this time to dip their beaks into the yellow trumpet flowers and fragrant lavender salvia, getting their fill of nectar. There they would hover until they found a sturdy branch to perch on. At the center of our arbor I placed a simple piece of driftwood with one word: Serenity. 
Gardening was just my first step in seeking healing through nature. Shortly after I began gardening, Cicero and I started going on long hikes. We started at Muir Woods in Mill Valley, protected by its battalion of giant redwood trees. We spent hours hiking its trails, inhaling the fresh, crisp air and looking up to the treetops that seemingly poked at the clouds. Every weekend we explored a different trail, each one giving us a different vantage point of the Bay Area, different landscapes, different challenges. I scaled the steep trails, my legs burning and my temples dripping with sweat, feeling as if I was fighting my way back. 
Being in nature had a profound effect on me. It reminded me how small we are in the context of the universe, while at the same time showing me that we are all part of the same ecosystem, part of this life, each one dependent on the other. 
It was during this time that Cora introduced me to someone named Alex Leikermoser, a "wellness coach and lifestyle mentor," who was known among those who worked with her to have a unique and playful approach to inspiring people—from managing weight to reducing stress to cultivating a positive mindset. I began her seven-day online rainbow cleanse, which involved preparing vegetarian, preferably raw, foods each day that followed a color theme. Each color would correlate with a chakra, which we would focus on for that day. 
For example, Day One of the cleanse was red. On that day I made a strawberry smoothie for breakfast, beet salad for lunch and a red Swiss chard soup with lentils for dinner. The root chakra for red is located at the bottom of the spine and its meaning is "redemption, courage, cleansing and sacrifice." 
For each day we were given a meditation, affirmation and yoga pose to practice. This continued for seven days: red, orange, yellow, green, blue, purple and, finally, white/gold. It was way outside my comfort zone, but it was right in line with something Robby would have tried. I was surprised that it reignited my passion for cooking again, but in a different way. I found it exciting going to the local farmers market looking for all orange, or all purple, fruits and vegetables, then finding a way to prepare them. The exercise opened my eyes to our world's vibrant color palette, which I never truly appreciated until these color-coded treasure hunts. In addition to that, I was becoming healthier and stronger because of it. When it came time for yellow, I happily harvested the bright zucchini blossoms and yellow squash in my backyard, sautéing them lightly and topping them off with fresh basil from my herb garden. I wished I could have shared the experience with Robby. 
But even if such sweet moments were tinged with sadness, I knew I was finding my way back to life—with Robby leading the way.
Excerpted from the book A Better Place: A Memoir of Peace in the Face of Tragedy by Pati Poblete. Reprinted with permission of Nothing But The Truth Publishing, LLC. Copyright 2018.