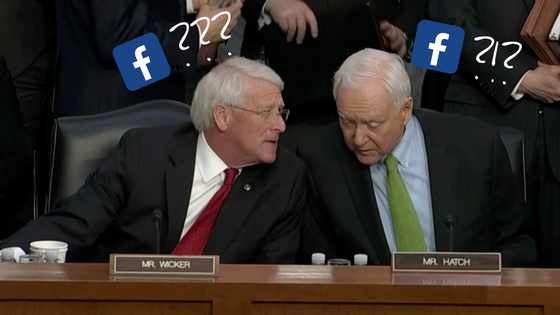 Your faithful TWW correspondent is under the weather this week, but we've still got a few stories you should know about…
Consider Boosting This Post(erior)
Mark Zuckerberg testifying in Congress about Facebook and user privacy launched a thousand jokes. From his use of a seat cushion – some called it a "booster seat," calling attention to the Facebook founder's relative youth – to the way he responded to senators' basic Facebook questions that revealed they had no idea how Facebook works or what it asks of its users, nearly every aspect was covered. (And yet, no one asked if Mark wanted to boost his post(erior) for an additional $3 to reach more people – I had to come up with that one myself.) The questions on Day 2 were a bit more knowledgeably worded, and began to cut to some of the real challenges there are in figuring if and how to regulate Facebook: how do you regulate something that isn't exactly a media company, a tech company, a bank, a store, etc… (Fortune)
Comey Tells All, Including Probably Stuff We'll Wish We Didn't Know
You loved his sparkly personality when he brought up Hillary Clinton's email server in the final days of the 2016 election, potentially changing the course of American history; you were ROTFLing at his 2017 hearing when he uttered sick comedy burns like ""I've seen the tweet about tapes. Lordy, I hope there are tapes." There's a reason his name itself only needs a "d" to become "comedy" – and his verified Twitter profile promises that he's "taller and funnier in person": it's Jaaaaaames Comey!!  Now you can have even more of the ex-FBI director's inside track on the White House in A Higher Loyalty: Truth, Lies, and Leadership, which the Washington Post describes as "a 304-page tell-all in which the former FBI director details his private interactions with Trump as well as his handling of the Hillary Clinton email investigation." CNN broke out a number of "most eye-opening" lines from the book, ranked in order of how problematic they are for the President.  And the super-great news is that – with the book's impending release on Tuesday – we get to hear about the infamous "pee memo" over and over again. Which raises a question: When will this be over? #askingforafriend #thefriendisAmerica (Washington Post)
Paul Ryan Retires at 48 – Can We Do That Too?
Paul Ryan, the Republican Speaker of the House, announced this week that he's stepping down from his position to spend more time with his family; it's expected that Representatives Kevin McCarthy of California and Steve Scalise of Louisiana will be competing for the vacated Speaker position. As Speaker, Ryan was third in line for the Presidency (after VP Mike Pence). According to Politico, Ryan "spent the bulk of his speakership babysitting a president whose intemperate instincts and deficit of fundamental policy knowledge threaten to derail the party—and potentially the government and the country—at any moment. Ryan has grown weary of keeping watch. He confided to friends that while spending more time with family was the No. 1 motivator behind his exit, Trump fatigue was a close runner-up" (Politico). That does sound exhausting. This also seems like a good time to remember that Paul Ryan first became known for being Mitt Romney's running mate in 2012 and for being a big fan of the P90x workout, which led to this excellent exercise-themed photo shoot for Time. 
Simpsons Fans ARE Having a Cow: The Problem with Apu
If the internet and Simpsons fans know two things, it's to not offer Apu's god a peanut, and to not obscurely refer to The Problem with Apu, a documentary from Indian American comedian, Hari Kondabolu, by indirectly referring to the controversy over the stereotyping of Indians represented by Apu, the Indian owner of the Kwik-E-Mart. And yet, the indirect defense of Apu was uttered by Simpsons character Lisa: "Something that started decades ago and was applauded and inoffensive is now politically incorrect. What can you do?"
Kondabolu responded:
Wow. "Politically Incorrect?" That's the takeaway from my movie & the discussion it sparked? Man, I really loved this show. This is sad. https://t.co/lYFH5LguEJ

— Hari Kondabolu (@harikondabolu) April 9, 2018
In another tweet, he said:
In "The Problem with Apu," I used Apu & The Simpsons as an entry point into a larger conversation about the representation of marginalized groups & why this is important. The Simpsons response tonight is not a jab at me, but at what many of us consider progress.

— Hari Kondabolu (@harikondabolu) April 9, 2018
.@harikondabolu discusses The Simpsons' racial blind spot in "The Problem with Apu." pic.twitter.com/SNCxnqP6ov

— The Daily Show (@TheDailyShow) April 9, 2018
Women in Late-Night Comedy is Totally Happening…
Despite the constant chatter in comedy circles about women not being funny (ridiculous that this is still a thing), and despite the fact that late-night television has been known as a virtual "no-woman's land" (with few female writers and almost no female hosts), the truth is that there are women behind the scenes and on-camera who are changing the shape of late-night comedy. Amber Ruffin (Late Night with Seth Meyers), Jennifer Flanz (The Daily Show), Robin Thede (The Rundown with Robin Thede) and other women you should know are making it a priority to hire and elevate women's voices. Read more about them in Variety's Power of Women issue.
A Deep Breath in Through Your Nose, and Out Through Your – Wait, Where?
When this special Australian turtle was named to the Evolutionarily Distinct and Globally Endangered (EDGE) list of reptiles, it captured the hearts of reporters and internet users alike, who were captivated by its spiky green mohawk (thanks to algae growing on its head) and its ability to breathe through its genitals.
"Formally known as the Mary River turtle, it is an Australian species that split from other living species about 40 million years ago. It has special organs in its cloaca that allow it to draw oxygen from the water. It can stay underwater for up to three days," the New York Times reported. And FYI, because we believe you can always learn something new at Grok Nation, a cloaca is "a posterior orifice that serves as the only opening for the digestive, reproductive, and urinary tracts (if present) of many vertebrate animals." Breathing underwater through the cloaca is a process known as "cloacal respiration" (Wikipedia). If you're a reptiles fan, don't miss this list of turtles, tortoises, geckos, crocodiles, snakes and other animals that vaguely resemble attractions at Jurassic Park.
So? Seen any cool turtles recently? What else are you talking about this week?