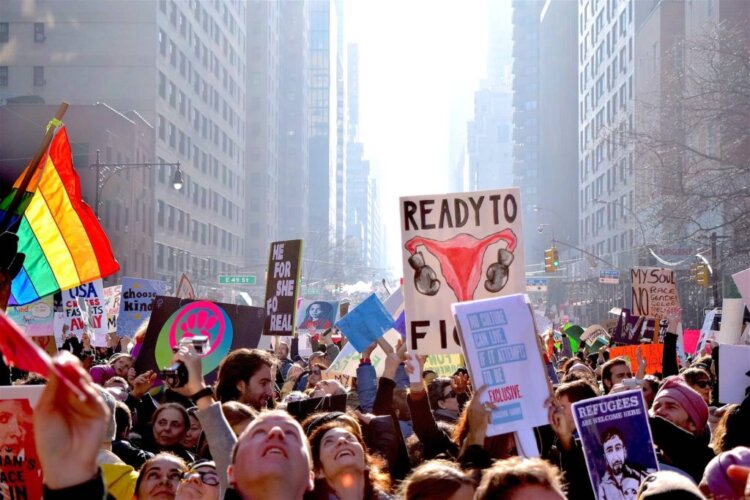 It all began with a march: What started as a call for women to come together and march in Washington, D.C., on Jan. 21, 2017,  the day after President Trump was inaugurated, snowballed into a worldwide protest to advocate for women's rights, immigration reform, healthcare changes, and more. The Washington Post estimates that 3-5 million people participated globally. And the anger and energy did not end with those marches. Due to an overwhelming number of women stepping forward about sexual assault and harassment, 2017 was also the year that launched the #metoo movement and the Time's Up organization.
The Women's March organization will be commemorating the first anniversary of the march with a rally called "Power to the Polls" in Las Vegas. The event is not a march, but a gathering inside Sam Boyd Stadium that will bring together activists, musicians, and elected officials—including singer Faith Evans, author Melissa Harris-Perry, actress Marisa Tomei, and members from organizations like Planned Parenthood and Black Lives Matter—to celebrate the achievements of the past year and launch a collective agenda for 2018.
In addition to the main rally, there will be over 250 localized marches, "Look Back, March Forward" gatherings, and other anniversary celebrations on Saturday, January 20, the day before the Vegas event. The Washington, D.C., march is being orchestrated on Saturday by newcomer organization March On. The march will kick off at the reflecting pool at the Lincoln Memorial at 10 a.m. EST. The New York City march on Saturday is expecting more than 30,000 attendees while nearly 20,000 people have RSVPed for the L.A. march, also on Saturday.
Here is what you need to know to attend Power to the Polls or a local event:
The Main Event
When: Sunday, January 21, 2018. Doors will open at 10 a.m. PST.
Where: Sam Boyd Stadium, 7000 E. Russell Road, Las Vegas, Nevada
How to get there: Charter buses are organized through RallyBus.net from nearby cities. Click here to purchase tickets. For those driving, there is parking at the stadium for $10 per car.
Cost: The event is free, but attendees need to register here beforehand.
What to wear: This is obviously a personal choice, but you might not see as many pink pussy hats, according to the Detroit Free Press, as some see them as non-inclusive of transgender women and gender non-binary people.
Local Events
When: Saturday, January 20, 2018
Where: Locations include major U.S. cities, such as New York City, Los Angeles, Chicago, and Atlanta, as well as international locations like Nairobi, Argentina, and Kyrgyzstan. Most locally organized marches are registered with either March On or Women's March. To find a location near you, search the maps on womensmarch.com and marchon.com.
—
What are your plans to mark the anniversary? Did you attend last year's march? Will you attend any 2018 marches or events?
Before you go, be sure to read Mayim's reflections on the 2017 L.A. March.