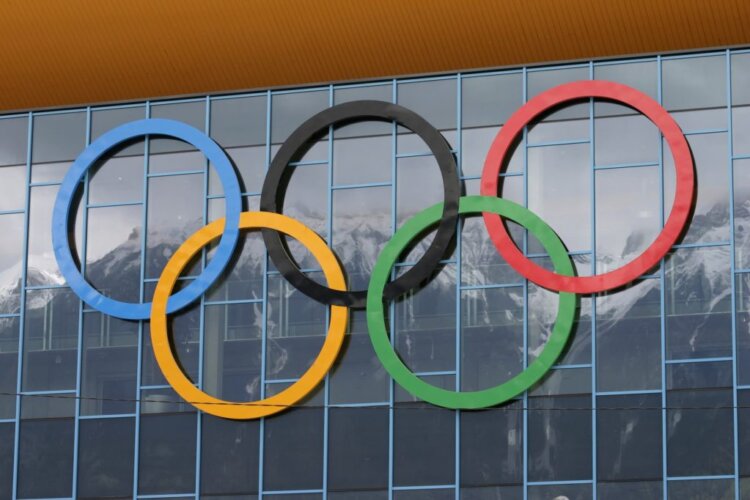 The 2018 Winter Olympics kicks off with the opening ceremony at 6 a.m. ET on Friday live from Pyeongchang, South Korea. As excited as I am about the start of my favorite biennial event, I'll be watching the tape-delayed re-broadcast at 8 p.m. ET on NBC with 10-15 friends. For every opening ceremony, both summer and winter, for at least the past decade, I host a party. We eat food themed to the Olympics and to the host country. (This year we'll be having an Olympic rings fruit and veggie tray and Korean wings with soju cocktails.)
After the opening ceremonies, I'll be glued to my TV for the next two weeks, as I imagine many Americans will be. At Grok Nation, we're excited about the upcoming events. Of the 244 athletes competing for the U.S. in the 15 winter sports, 108 are women. Although they're all standouts—clearly, they made it to the Olympics—we've picked out 7 we're keeping our eye on.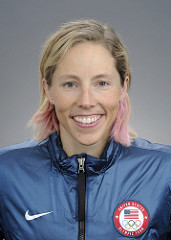 Kikann Randall, 35, Cross-Country Skiing
Kikann Randall will be competing in the Olympics for the fifth time. Randall started cross-country skiing as a way to train in the off-seasons of cross-country running. And then in 2002, at just 19, it became her official Olympic sport. Up until that point, no American woman had ever medaled at the Olympics, World Championships, or even the World Cup. But in 2012, she took the Overall World Cup Sprint title. The skier with pink-tipped hair took a break in 2016 when she had her son, Breck. "As an athlete, I sometimes take my son along to training," she blogged after becoming a mom. And hopefully that training has paid off because she's back in 2018—likely her last chance at an Olympic medal.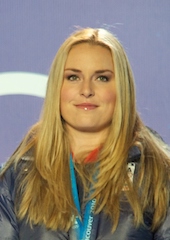 Lindsey Vonn, 33, Alpine Skiing
As one of only six women to win the World Cup in all five skiing disciplines (downhill, super-G, giant slalom, slalom, and super combined) and a three-time Olympic competitor, Lindsey Vonn has become a household name. After a gut-wrenching accident at the 2013 Alpine World Ski Championships, she was unable to compete in the 2014 Winter Olympics. Injury and scars were nothing new to Vonn: Starting with frostbite on her toes when she was very young, the skier has had a litany of injuries (which she detailed to Sports Illustrated). Now healthy and focused, Vonn is returned for her fourth Olympics and eyeing gold. "Obviously, I was very… disappointed and devastated and frustrated that I missed Sochi," Vonn told the AP in a recent interview. "I've been waiting for this for a long time. I'm ready."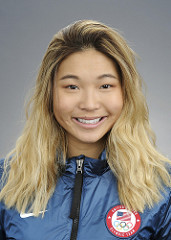 Chloe Kim, 17, Snowboarding
"Meet Chloe Kim, the 17-year-old snowboarder poised to rule the Winter Olympics"—this was a recent headline from the Denver Post. At only 13, Kim was the youngest X Games medalist in history. Plus, she's the only woman to nail back-to-back 1080s in a halfpipe contest. Although Kim was born in California, her parents are Korean immigrants, and her father, Jong, is on a mission to introduce her to his native country: He's put her on a Korean tour of sorts, where she's spoken with press, taught children snowboarding, and met Korean Olympians. Kim is poised for a meteoric rise in Pyeongchang, and thanks to her father's  PR plan, she's destined to be a fan favorite both in the U.S. and in Korea.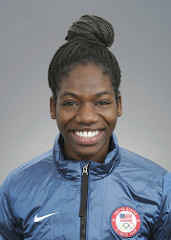 Maame Biney, 18, Short Track Speedskating
When 18-year-old Maame Biney competes in the winter games on Feb. 10, she will become the first African-American woman to represent the U.S. in Olympic speed skating. Biney has been skating since she was 5, when she moved from her native Ghana, and is known for her positive energy and laugh. When a fellow athlete's skate came loose and cut into her chin and lip, she took it all in stride, making jokes on Instagram and bouncing right back. And this is likely just the start of hearing about her: Her coach, Anthony Bartell, has known her since she was 11 and tells CNN she's like no one he's ever coached, that she has "maybe one or two more Olympics in her, possibly three."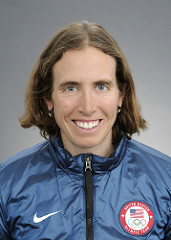 Susan Dunklee, 31, Biathlon
In the last winter games in Sochi, Susan Dunklee finished 12th, the best finish for a U.S. woman ever at the Olympics. At Pyeongchang, Dunklee hopes to beat her personal best and bring home a big win for the U.S. The biathlon is the unique sport that combines cross-country skiing with precision rifle shooting; it was introduced in 1960, but the women's equivalent wasn't introduced until 1992. And yet in that 26- year history, the biathlon is the only Olympic winter sport in which the U.S. has never medaled. Last February, Dunklee won a silver medal at the World Championships, the first individual medal for a U.S. women. Coming off that high, Dunklee is prime to break the biathlon drought.
Meghan Duggan, 30, Hockey
Any fan of winter Olympics remembers how close the U.S. women's hockey team was to winning a gold medal in Sochi. The 2014 U.S. team had a two-goal lead before ultimately losing to Canada in overtime. And considering Americans have won the past eight of 10 World Championships, that missed medal was even more heartbreaking. Captain Meghan Duggan has been there for seven out of those eight wins, and she's raring to get a gold medal this time. Duggan told the Wisconsin State Journal she feels this is the team that could achieve that: "We've really built something that's incredibly special and I'm certainly proud to be a part of," she said. "I think this is the right group."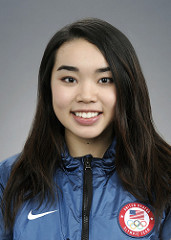 Karen Chen, 18, Figure Skating
You may be familiar with the names Ashley Wagner or Gracie Gold. They've alternated winning the U.S. national championship for the past five years—until last year when Karen Chen took the title with her short routine and created a new U.S. record with a score of 72.82. The California figure skater published the book Finding My Edge: Life on the Ice last year, with a forward written by mentor Kristi Yamaguchi. Even though Chen has had ups and downs in the past year (including dealing with a debilitating back condition that she details in her book), but she's ready to tackle the 2018 Olympics with the support of the U.S. and Yamaguchi, who always signs one of Chen's skates before competing as a good luck charm.