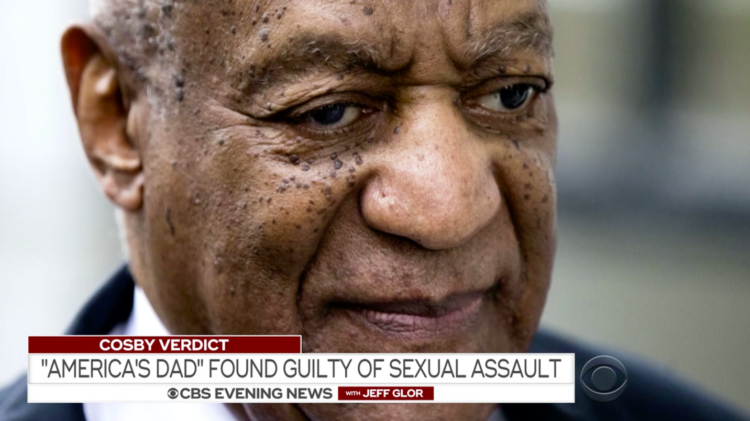 This week, victims finally get long overdue justice; celebrities teach us "how-to"; and the animals rise to take back what was theirs…
Law and Order: Cosby found guilty, Golden State Killer suspect identified
On Thursday, a Pennsylvania jury found Bill Cosby guilty of three counts of aggravated indecent assault against Andrea Costand; Costand was drugged and then sexually assaulted by Cosby in 2004. The case was tried in June 2017 and was ruled a mistrial; this retrial featured five other women testifying about Cosby having assaulted them too. Cosby, 80, declined to testify in either trial and faces up to 10 years for each count. This is one of the first major criminal convictions since the beginning of the #MeToo movement. "Ultimately, the jury found Constand could not, or did not, give consent to Cosby," read a Vox report. "The guilty verdict is a hopeful sign for sexual assault survivors — and a warning for those that perpetrate it — that the broader social reckoning is translating to the criminal justice system." At press time, the date of the Law and Order: Special Victims Unit episode based on this case had not yet been determined. (Because there is no such episode. Yet. But it's coming, we're sure…)
On Wednesday, the Sacramento County Sheriff's Department announced that a man suspected of being the Golden State Killer–Joseph James DeAngelo, 72–had been arrested and booked on two counts of murder. He is the suspected serial killer and rapist who terrorized Northern California for two decades in the '70s and '80s. If you know the "Golden State Killer" moniker at all, it's likely because of writer/investigator Michelle McNamara, who wrote this mesmerizing piece in Los Angeles Magazine in February 2013 about the search for this elusive killer. "By day I'm a 42-year-old stay-at-home mom with a sensible haircut and Goldfish crackers lining my purse," she wrote in the piece. "In the evening, however, I'm something of a DIY detective. I delve into cold cases by scouring the Internet for any digital crumbs authorities may have overlooked, then share my theories with the 8,000 or so mystery buffs who visit my blog regularly." McNamara, wife to comedian Patton Oswalt and mother to their daughter Alice, died in April 2016; after McNamara's death, Oswalt finished her book, I'll Be Gone in the Dark, and published it. While police deny that McNamara's investigation was helpful to them, "The actor and comedian said his late wife's work certainly did help," according to The Hollywood Reporter.
Also, the cops will NEVER and HAVE NEVER credited a writer or journalist for helping them solve a case. But every time they said #GoldenStateKiller they credited the work of #MichelleMcNamara and #IllBeGoneInTheDark.

— Patton Oswalt (@pattonoswalt) April 25, 2018
"Programmer Motivator": A job we didn't know existed and now we wish we could unknow it
China is looking for attractive women who "know how to charm socially awkward programmers and give relaxing massages" in the technology sector, according to The New York Times. "Part psychologist, part cheerleader, the women are hired to chat up and calm stressed-out coders. The jobs are proliferating in a society that largely adheres to gender stereotypes and believes that male programmers are 'zhai,' or nerds who have no social lives." In related news, China also unveiled a new national slogan: "China: Moving technology forward by moving women back." #notarealslogan
On local shores, American businesses may not be looking for 'Programmer Motivators,' but women still trail behind in the Big Business world. The New York Times helpfully created a new way to look at women's leadership in various fields: "Among chief executives of S.&P. 1500 firms, for each woman, there are four men named John, Robert, William or James." The Times called this the Glass Ceiling Index, "a fun but quite imperfect way of measuring the permeability of the glass ceiling. (Especially because in a few decades, the millennial Jacobs, Tylers and Zacharys will outnumber baby boomer Bills and Bobs.) But it does point to an important truth — that in many important decision-making areas of American life, women remain vastly outnumbered."
"How-To" Lessons from Celebrities
How to fall and get back up again: The Knowles Sisters
Be Beyonce.
Go to Coachella.
Engage in dance-off with your sister, in which you pick her up.
Turn it into a dance step – both of you kicking your legs in the air before getting back up again and proceeding with the show.
Continue to slay, like you do.
How to attempt holding your wife's hand: President Donald J. Trump
Nudge wife's hand with a tiny finger, a.k.a. your "grab her by the pinkie" move.
When she moves again, nudge harder.
Use a different finger, then two, then three, crawling into her palm like a crab scuttling on the ocean floor.
Ignore the fact that she is definitely not holding your hand.
How to Make America Great Again: Kanye West
Send out about 80 tweets about your love for the President, including: "We are both dragon energy. He is my brother. I love everyone. I don't agree with everything anyone does. That's what makes us individuals. And we have the right to independent thought."
Enjoy Trump's response: "Thank you Kanye, very cool!"
Wait for a call from your wife, Kim Kardashian West, to help temper your response. "My wife just called me and she wanted me to make this clear to everyone," Kanye  wrote. "I don't agree with everything Trump does. I don't agree 100% with anyone but myself."
Despite a day of controversy around the tweets, go out wearing your red "Make America Great Again" hat.
Make a note to self: "market new 'dragon energy' drink" (fifth step optional and possibly unverified)
Animal Planet
Dylan McWilliams, who was bitten by a shark while surfing, says he also survived a bear attack and was once bitten by a rattlesnake. One thing is clear: the animal kingdom has organized and believes that Dylan McWilliams is a threat. And with the news that a goose attacked a golfer in Michigan, and with a new Sharknado and a new Jurassic World coming this summer, it's clear that animals both real and fictional are rising to take their planet back. And that Dylan McWilliams should probably steer clear of the outdoors for a while. But, in cute animal news, this zoologist knows a lot about sloths and penguins.
Pop culture potpourri
And although we love Jimmy Fallon's "Marvel Bunch" video, it highlights again the fact that the original Brady Bunch had more gender diversity than the Avengers do. But the clip is still enjoyable and very timely considering the long-awaited Avengers Infinity War film is finally in theaters now!
Have you seen Infinity War yet? What are you talking about this weekend?? Let us know in the comments…