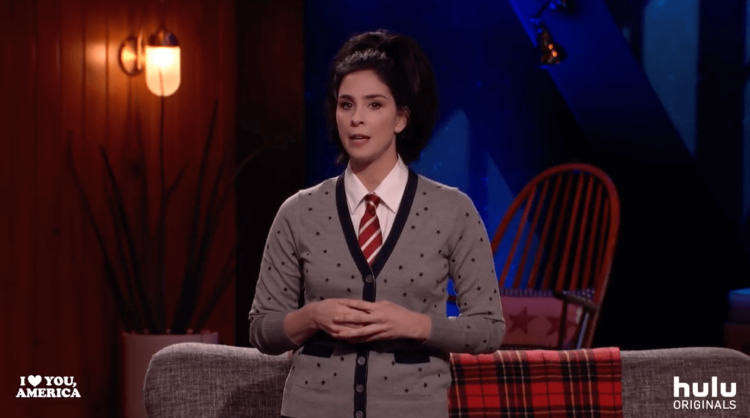 So, what happened this week? In this frenetic news environment it's hard to keep track. While we hate that there has to be a section called "Sexual Harassment, Assault and Abuse Update," it's important to hear the stories of victims and ensure that the perpetrators are held accountable for their actions. So here's another GrokNation news update…
Sexual Harassment, Assault and Abuse Update
On her new Hulu program, "I Love You, America," Sarah Silverman opened with a statement about Louis C.K., accused of multiple counts of being sexually inappropriate with women over a long period of time. (C.K. said that the accusations are all true.) She said since Louis was one of her best friends for over twenty years, she "really really didn't want to" comment about it, but that it was important.  She compared the emergence of accusations and the subsequent fall of former heroes to "cutting out tumors," saying "it's messy and it's complicated and it is going to hurt, but it's necessary and we'll all be healthier for it."  The only people who matter right now are the victims, she said, calling it "vital that people be held accountable for their actions." She also posed a question that's on many people's minds: "Can you love someone who did bad things?"
Yesterday's top harassment story was about Democratic Senator (and former SNL cast member/writer) Al Franken (MN). Leeann Tweeden, now a morning news anchor on TalkRadio 790 KABC in Los Angeles recalled that she and Franken were in a USO skit together – which he had written – in which he was supposed to kiss her. According to CNN:
…Franken repeatedly insisted they rehearse the kissing scene despite her protests. When she relented, she says, Franken "put his hand on the back of my head, mashed his lips against mine and aggressively stuck his tongue in my mouth."

"Senator Franken, you wrote the script," Tweeden wrote. "But there's nothing funny about sexual assault." She also included a photo in which Franken appears to grab her breast while she's asleep. "I couldn't believe it. He groped me, without my consent, while I was asleep," Tweeden writes. "I felt violated all over again. Embarrassed. Belittled. Humiliated."
While some are calling for Franken's resignation, Tweeden has accepted Franken's apology, and Franken himself has called for an ethics investigation:
I am asking that an ethics investigation be undertaken, and I will gladly cooperate.

And the truth is, what people think of me in light of this is far less important than what people think of women who continue to come forward to tell their stories. They deserve to be heard, and believed. And they deserve to know that I am their ally and supporter. I have let them down and am committed to making it up to them.
According to the Washington Post, as of yesterday, eight women had come forward with stories of questionable behavior or alleging sexual assault by Roy Moore, Republican candidate for the Senate in Alabama. (They also have a timeline of seven of the accusations here; six of them were from women who were between the ages of 14-18 at the time of the incidents in question.)  Not only is Moore denying the allegations, he's framing it as an attack by Republicans from "Mitch McConnell's wing of the party" to undermine his campaign.
"Many of you have recognized that this is an effort by Mitch McConnell and his cronies to steal this election from the people of Alabama, and they will not stand for it," Moore said.
"Transparent" star Jeffrey Tambor was accused of sexual harassment by transgender actress Trace Lysette. This is the second allegation of harassment, after Tambor's former assistant, Van Barnes, a trans woman who alleged that Tambor had committed workplace abuses against her. Barnes couldn't comment on Lysette's claims due to a non-disclosure agreement. Tambor sent this response to the Hollywood Reporter:
For the past four years, I've had the huge privilege — and huge responsibility — of playing Maura Pfefferman, a transgender woman, in a show that I know has had an enormous, positive impact on a community that has been too long dismissed and misunderstood. Now I find myself accused of behavior that any civilized person would condemn unreservedly. I know I haven't always been the easiest person to work with. I can be volatile and ill-tempered, and too often I express my opinions harshly and without tact. But I have never been a predator — ever. I am deeply sorry if any action of mine was ever misinterpreted by anyone as being sexually aggressive or if I ever offended or hurt anyone. But the fact is, for all my flaws, I am not a predator and the idea that someone might see me in that way is more distressing than I can express.
Below is a famous "Transparent" moment featuring Lysette and Tambor.
Moving on to Kevin Spacey, the Oscar-winning actor and now-former star of "House of Cards" (the show's writers are reportedly writing him out of the next season).
The Old Vic theatre says it has received 20 personal testimonies of alleged inappropriate behaviour by Kevin Spacey, who was its artistic director between 2004 and 2015. Sixteen were from former staff members, all were from men, and the accusations "ranged from making people feel uncomfortable to sexually inappropriate behaviour," the BBC reported. Spacey hasn't responded to these allegations; after the first set of allegations emerged, his representative said he was "taking the time necessary to seek evaluation and treatment." Here's a timeline of the allegations against Spacey.
That's it. We're done with the sexual harassment headlines…for today.
Politics
The Republican budget passed in the House of Representatives: the Senate is working on its own version of the bill. So what does that mean? We're still trying to understand. But in the meantime, here's a great, dynamic chart in the New York Times that identifies the tax cuts and tax increases in the bill.
Oops o' the Week: The Department of Defense accidentally retweeted (and then immediately deleted) a Tweet calling for Trump's resignation.
The solution is simple…

Roy Moore: Step down from the race.

Al Franken: Resign from congress.

Donald Trump: Resign from the presidency.

GOP: Stop making sexual assault a partisan issue. It's a crime as is your hypocrisy.

— Ryan Knight #BlueWave2018 🌊 (@ProudResister) November 16, 2017
Great reminder, folks: Pause before you post!
Miscellaneous
President Obama banned elephant hunters from bringing their trophies back to the U.S. from Zimbabwe and Zambia – now the Trump administration is overturning that ban, and animal rights activists are concerned this will lead to more poaching and eventual extinction of the already endangered species.
Reprehensible behaviour by the Trump Admin. 100 elephants a day are already killed. This will lead to more poaching. https://t.co/rld67eM018

— The Elephant Project (@theelephantproj) November 16, 2017
Do you understand the proposed tax bill? Have you taken action against elephant poaching? How are you listening to and amplifying the stories of women (and men) who have been victimized by predators? Tell us in the comments…