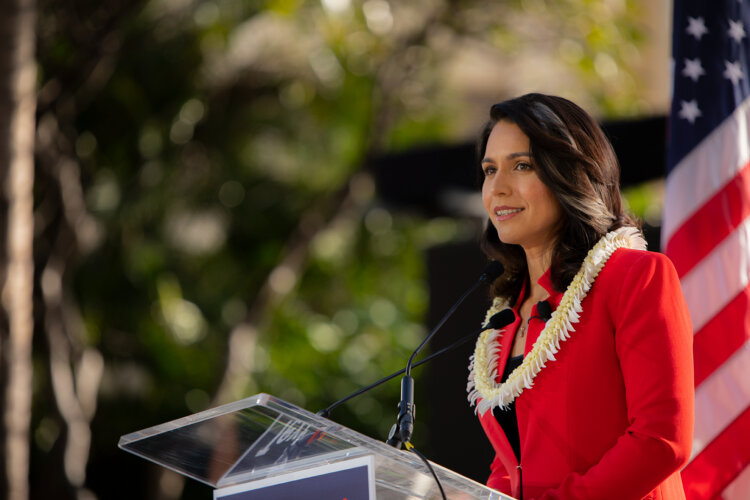 Representative Tulsi Gabbard's bid for the 2020 presidency was a wonderful surprise. This is the first time a Hindu woman is running for President of the United States, I whispered to myself. For a single second, I felt afraid to say these words too loud, almost not believing I would witness this kind of cultural feminist progress. I allowed the thought to percolate and the goosebumps on my skin revealed Gabbard's presidential bid carried a special significance for me personally.
Growing up in an immigrant Hindu family in Texas in the '80s and '90s, I seesawed between asserting a freedom associated with my American identity and my patriarchal Indian heritage. The Hindu scriptures often encourage women to take a more passive, submissive role to men. In rural parts of India, it is seen as burdensome to birth a girl, as this means the family will have the responsibility of securing an appropriate husband for their daughter. The grooming for this role begins early. Girls are expected to learn, at a young age, the details of running a household, mastering how to cook, and taking care of a family. This leaves little time to allow other interests to unfold—whether it is pursuing a sport, embarking on an-out-of-the-box-career, or choosing a life of travel.
Culturally, for women living in India, as well as for those raised in the United States, a woman's identity and worth are viewed through the lens of raising a family.
I escaped some of these patriarchal norms. My parents insisted I speak our native tongue at home, but also encouraged independence. Gathering knowledge through education became a mantra and I recall my mom pushing me away from the kitchen, reminding me that I needed to concentrate on my studies. I failed to understand the significance of this nudge in my youth, but I am grateful for her subtle push to move beyond traditional roles. However, in our household, there wasn't a complete divorce from cultural standards—my parents also expected that when I reached a certain age, an arranged marriage with a suitable boy would be a part of my history, too. I resisted and carved out a pathway on my terms, rebelling against years and years of patriarchal norms. It is these tiny seismic shifts, happening slowly over time across individual households, that allowed an important epiphany to come to fruition for Indian women abroad and in the United States.
But the definition of measuring worth is shifting for Indian women. At the beginning of this year, 5 million women linked hands together across 385 miles outside a Hindu temple in Kerala, protesting the ban of not allowing females to enter the pilgrimage site. This demonstration focused attention on gender inequality between men and women in India. In the past month, the patriarchy is being called out even by the Indian judicial system. In a recent ruling on the bench, the Indian Supreme Court stated in its judgment, "Where a man can enter, a woman can also go. What applies to a man, applies to a woman." This "uprising" is a sign the patriarchy is losing its foothold as this resistance marked one of the largest gathering of women protesters in the world.
Over the past decade, the United States has seen an influx of Indian-American women running for Congress. In the recent midterm elections, Hiral Tipirneni and Anita Malik of Arizona ran for seats in the House. Congresswoman Pramila Jayapal secured a seat representing Washington's 7th district. While I may not agree with Gabbard's or the other women's political opinions, I recognize it represents progress in the rejection of Hindu patriarchy.
In my youth, I never envisioned an Indian-American woman running for a congressional seat or president. It is comforting to turn on the television screen and watch a woman who looks like me walk into Congress or see not one, but several Indian-American candidates using their voice to say, yes, we matter.
The idea of Gabbard running for President of the United States is the beginning of a movement. One that has been fermenting over many decades.