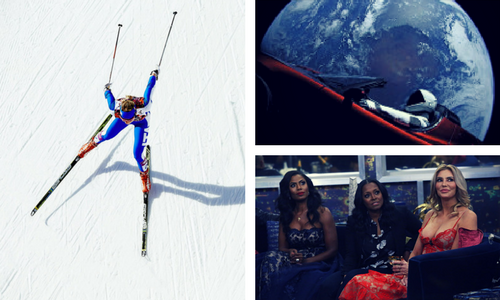 What will be our undoing this week? Two episodes of This is Us in one week, only two days apart, when we haven't even had time to replace that box of tissues we used during the first episode? The Philadelphia Eagles winning the Super Bowl as Tom Brady wonders what the hell happened? An asteroid? The President? It won't be a government shutdown, at least not today. This news roundup may give us some hints, based on the things that happened this week. (And make sure to tell us what YOU'RE talking about this week – leave us a comment!)
Government Shutdown 2: Rand Paul Boogaloo. Early this morning, the Senate cleared a budget deal, The Hill reported. Senators voted 71-28 to pass the agreement after Sen. Rand Paul (R-Ky.) delayed the legislation past midnight. The House will vote on the measure later this morning: "The deal includes a two-year increase in the budget caps, raises the debt ceiling until March 2019 and provides more than $89 billion in relief for a spate of recent hurricanes, wildfires and other natural disasters. The bill also includes a stopgap measure that, if it passes the House, would allow the government to quickly reopen and be funded through March 23." This week in sexual harassment, misconduct, assault…aaaand – our newest addition to this category – domestic abuse:
California Assemblywoman Cristina Garcia had earned media prominence through her involvement in and advocacy for the #MeToo movement; she was included in Time's "Silence Breakers"/Persons of the Year feature. Now Garcia "is herself the subject of a state legislative investigation in the wake of a report that she sexually harassed and groped a former legislative staffer," Politico reported.
White House aide Rob Porter stepped down on Wednesday after his two former wives accused him in interviews of physical abuse when they were married to him. Mr. Porter said that "these allegations are simply false," even as details of the alleged abuse and photographs of one of his former wives with a black eye that she said he had given her were widely circulated. (The New York Times)
Jill Messick, Rose McGowan's former manager, died by suicide on Wednesday, People reported. Messick's family told the Hollywood Reporter that Messick had been battling bipolar disorder, and in a statement "criticized McGowan and Harvey Weinstein for involving Messick in the controversy over McGowan's allegations that Weinstein sexually assaulted her in 1997. Jill was victimized by our new culture of unlimited information sharing and a willingness to accept statement as fact…The speed of disseminating information has carried mistruths about Jill as a person, which she was unable and unwilling to challenge. She became collateral damage in an already horrific story."
In Politics… Omarosa Manigault Newman has moved out of the White House and into the Celebrity Big Brother house, where she had a teary interchange with Ross Mathews in which she talks about being haunted by the President's tweets and knowing that America is not going to be OK under Trump's reign. She distances herself from it, saying "it's not my circus, they're not my monkeys." Really? Although she may regret her affiliation now this circus is one she helped create, and now that the monkeys are throwing feces everywhere, it's kind of hard to permit her to disassociate from them in a clip from a reality show. (You can view the clip below.)
.@Omarosa opens up to @helloross about her time in the White House on tonight's Celebrity Big Brother. In the meantime, don't miss a minute of the action on the #BBLF: https://t.co/H9nnS6VGdW pic.twitter.com/8x6dFBZxD2

— Big Brother (@CBSBigBrother) February 8, 2018
The President wants a military parade, probably down Pennsylvania Avenue in Washington D.C., and the Pentagon is discussing what they can do to make his dream a reality. Why is this happening? The Washington Post reports: "The request came after Trump publicly and privately expressed admiration for a parade along the lines of France's Bastille Day celebration, in which French troops march down the renowned Avenue des Champs-Elysees accompanied by tanks, personnel carriers and other armored vehicles." While it's rumored* that POTUS has also expressed a desire for a pony and "a shit-ton of Oompa Loompas," there's no word that that Pentagon is considering either of these requests.  [*"Rumored" may mean "appeared to me in a dream."]
Likely GOP congressional candidate: racist Holocaust denier. Great.  Arthur Jones is a racist, denies the Holocaust happened, and will very likely be the only Republican on the ballot for a Chicago-area congressional seat in November. As no other candidates are stepping forward to challenge Jones, Republicans are being forced to consider the previously unthinkable: voting Democrat.  "We need to inform people that this is not a guy who shares our values, not a guy anybody should vote for, and you should get out in that district and vote for a Democrat," said former head of the Illinois Republican Party, Pat Brady, in a report from NPR. 
In Space News (yes, we have space news!): Elon Musk shot a perfectly good Tesla into outer space on February 6 while a crowd of people watched, Space.com reported. Why? Because he can and because it's silly. Oh, here, let him tell you:
"It's just literally a normal car in space — I kind of like the absurdity of that," Musk said. "It's kind of silly and fun, but I think that silly, fun things are important … I think the imagery of it is something that's going to get people excited around the world, and it's still tripping me out. I'm tripping balls here."
And after the car's elongated orbit around the sun? What will become of it?
"After that it's just going to be out there in space for maybe millions or billions of years," he added. "Maybe discovered by some future alien race thinking 'What the heck? What were these guys doing? Did they worship this car? Why do they have a little car in the car? And that'll really confuse them."
Esther's aside: Because I've been watching a lot of X-Files and Black Mirror, I have to point out that this is the kind of reaction that the aliens would have if they are humanoid. If they're themselves metallic or robotic, they might try to talk to – or hit on – the Tesla. Sound unlikely? It's as plausible as imagining aliens wondering if Earthlings worship a car. (By the way, aliens, if you're reading, some people do worship cars, and Elon Musk may be one of them; Jerry Seinfeld and Jay Leno are two more, but that's not the whole list.)
And since we're already in space, here's my favorite space-related headline of the day: "Asteroid passing close to Earth today, no need to worry." The Guardian reported that the  manager of Nasa's Center for Near-Earth Object Studies, Paul Chodas, "said asteroids this size usually don't come this close – just once or twice a year. While Friday's close approach isn't a huge deal, Chodas said in an email "it is a reminder that asteroids can pass very close to our planet and it's important that we find these objects when they do get close." Well, consider ourselves reminded.
Olympics coverage has started! Here's some women to watch, and here's how to watch! Plus, Leslie Jones is livetweeting events for NBC…so if you like tweets like the one below, you're in luck.
When the relationship is just over ! pic.twitter.com/PySJdvGQWg

— Leslie Jones (@Lesdoggg) February 9, 2018
Valentine's Day is coming next week, and we've got all kinds of great content and inspiring stories for you, whether you're coupled, single, consciously uncoupled or in an "it's complicated" relationship, so stay tuned. And if you missed our geek gift guide, check it out for some fun products and also funny insights into the particular fandoms of our GrokNation staff nerd herd! What did we miss? What are YOU talking about this week?
Sources: