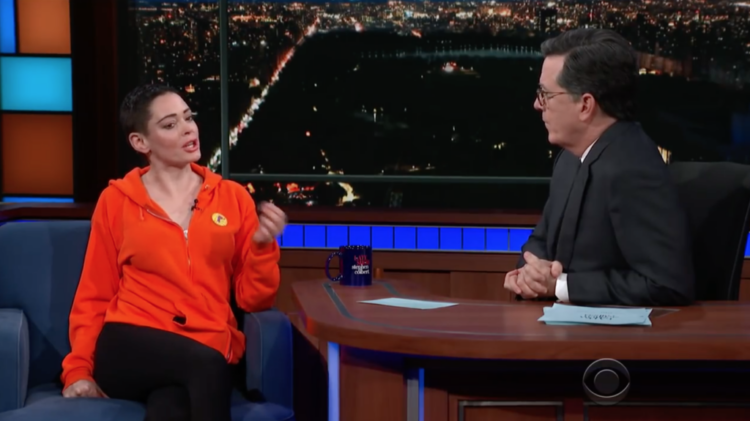 Blink and the week is gone. Rose McGowan's doing a full-court press with her book tour and series launch on E!, the President gave his State of the Union address, and we're all wondering how many avocados we need for Sunday's Super Bowl guacamole. Read on for the week that was and TAKE OUR SUPER BOWL SUPER POLL!
"The State of the Union is strong," said the current president in his State of the Union address, just like every other president ever did in his State of the Union address…but many commentators remarked that the President didn't seem particularly invested in or passionate about what he was saying. Seth Meyers said that giving Trump credit for getting through the State of the Union speech "is like giving a dog credit for wearing a sweater." "He didn't pick that sweater out and he certainly didn't put it on," Meyers said. "So he might look like a perfect little gentleman, but all he wants is to get that sweater off." And on MSNBC, Chuck Todd said, "…it is hard to judge these speeches because we know it's not him. It's him reading off a teleprompter. There are some things he says that sound like him totally, you know. He'll throw in a 'beautiful' and an extra 'totally.' But you can tell he is reading it. He doesn't own it. They're better off — I think they would be better off letting him ad lib because it would be authentic. There is a missing authenticity here."
Inspired by #MeToo and #TimesUp, Black female activists are taking aim at R. Kelly – known as the Pied Piper – by calling on Black Americans to kick him out of the music industry for "coercing underage girls into sex, being physically abusive towards women and even holding them hostage in his home," according to HelloBeautiful.  Activists have managed to get eight of Kelly's concerts, and the Black Women's Blueprint, an organization that addresses reproductive justice and sexual abuse among Black women and girls, hosted a #MuteRKelly rally in New York City.
The Rose McGowan book tour/docu-series tour/music release/media blitz has just begun and already controversy is following the Charmed actress. McGowan gave an interview to Stephen Colbert that was awkward and uncomfortable, prompting Vox's Constance Grady to analyze her reactions to "watching a woman reject social norms on a talk show." Grady writes that, on talk shows, "women in particular are expected to behave according to a specific social code to win the goodwill of us, their audience. Rose McGowan is clearly not interested in impressing anyone. There's a weird disconnect between the medium and her persona, and that is incredibly awkward to see. There's also value to it. Watching someone with the immense, polished charisma of a TV star willfully reject that charm — and the entire idea that charming an audience is necessary or even something to be sought — is like watching a high-concept art project. It's like celebrity as Dadaism. It's worth getting comfortable with that discomfort." (Also interesting is how many times the writer uses the word charm, considering McGowan's most well-known TV role.)
At a 92nd Street Y conversation with journalist Ronan Farrow, McGowan also alleged statutory rape against someone else who she says is famous and worked for "the Monster" (her name for Harvey Weinstein) and won Oscars, and promised Farrow that she'd tell him when she was willing to talk about it. Then, on Nightline, when asked about her Charmed co-star Alyssa Milano's role in #MeToo, she replied, "she's a lie," identifying the intricate involvement of CAA (Creative Artists Agency) in creating and hosting Time's Up in a time when the famed agency really needs a PR lift for its past complicity in the system.
.@rosemcgowan on former co-star Alyssa Milano's #MeToo work: 'She's a lie.' But Milano tells @ABC News' Nightline, "I am and always have been completely supportive of Rose." Tonight on Nightline with @JujuChangABC pic.twitter.com/2wZt2jXdaE

— Nightline (@Nightline) February 1, 2018
After seeing the clip, McGowan tweeted: "I knew this would be the pull quote, but the lie is a system, not an individual," in addition to a GIF of the pair from Charmed with the text, "Let's talk it out, sister."
Also, at a Barnes & Noble reading of her book, McGowan was verbally confronted by a trans woman in the audience demanding to know what McGowan had done for the trans community. McGowan's verbal response started more placidly before vocally escalating into a monologue ending "My name is Rose McGowan and I am obviously fucking brave." The headlines called it a "breakdown" or a "meltdown," but McGowan responded on Twitter, "Break down my ass, just sick of labels and stupidity."
This weekend is the Super Bowl, which for me means standing over a bowl of guacamole waiting for commercials, but to New England Patriots and Philadelphia Eagles fans, it means everything. Who are you rooting for?
[yop_poll id="9″]
Have you heard that recently the NFL has a secret weapon? Many of them are going vegetarian or vegan…for New England Patriot Tom Brady and his wife Gisele Bundchen, vegetables are 80% of their diet. And Brady teamed up with Purple Carrot to create a vegan kit delivery service in 2016, which included a note from the quarterback asserting his belief in the power of plant-based nutrition. (Check the links for more stories about NBA and NFL players going vegetarian or vegan.)
And for this year's Super Bowl, Philadelphia police have decided to grease the poles with gear oil instead of the traditional Crisco, which doesn't stop fans from trying to scale the poles, just stops them from succeeding. Since scaling the poles leads to fan injuries, police are hopeful that the gear oil – which smells bad and is apparently impossible to get out of clothes – will be a deterrent for would-be pole-scalers.
Speaking of games…Monopoly, has created a "Cheaters' Edition," which encourages the kind of bad behavior we generally only see when the TV news reports on politics. Now players can steal money from the bank even more easily, since each player withdraws their own money (no pesky banker getting in the way!). Also, the game enables players to place hotels without paying for them, remove a hotel from another player's property, move a different playing piece, jump spaces, collect rent for someone else's space etc. Rumor has it that "going to jail" actually literally handcuffs the player to the board (so I guess the pre-incarceration move here is to take a bathroom break instead of calling your lawyer). So, is this game better than – or a natural extension of – the somewhat imperialistic, success-chasing Monopoly of yesteryear? Is it good for America?
One thing that is good for America – and the small, unspoiled corner of our hearts where hope and delight still stubbornly live – is that we get another season of the brilliant and motherforkingly funny The Good Place. In Vulture, Angelica Jade Bastién wrote that the show "crystallizes a surprising soulfulness as it meditates on the human desire for community that undergirds all sitcoms." Not mentioning certain developments in this new season because many of our friends are taking FOREVER to get on this glorious, philosophical trolley and we want them to be in a Good Place when watching, we can spoiler-free hope for a space where Megan Amram can work her comedy magic in bringing us more restaurants with food-related pun names like she did this season.
here's an abridged version of the full list of food puns i turned in with my first draft of tonight's #TheGoodPlace episode pic.twitter.com/x335NYNN09

— Megan Amram (@meganamram) September 29, 2017
What else is going on? What are you talking about this week?
Links for more info: