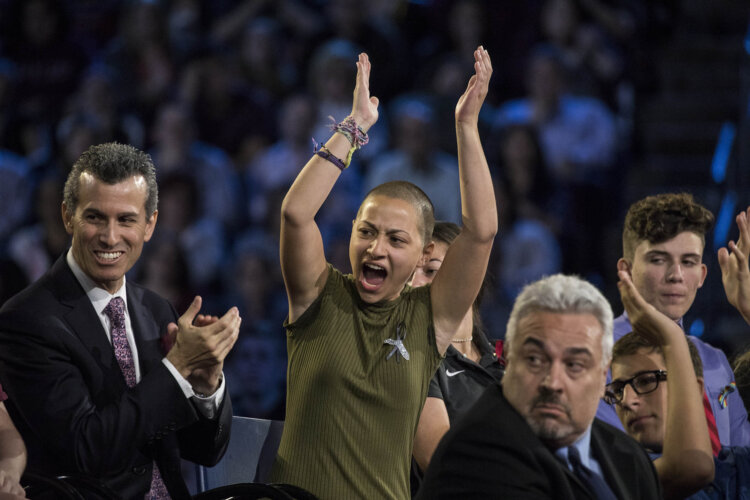 Emma Gonzalez, the Parkland teenager pictured above at the CNN town hall on Wednesday night, and her fellow student activists are courageously working to reshape American gun policy and end school shootings. For more on that, read yesterday's post. Watch Emma's powerful Feb. 15 speech below.

Breaking now as we write, Florida Gov. Rick Scott announced that he wants to enact a school safety program that includes: tougher background checks and waiting periods to buy firearms; toughening an act permitting police to place mentally ill people in custody; and the allocation of hundreds of millions of dollars toward improving security in schools and mental health services. According to the CNN report, he "also wants to see bump stocks for weapons banned." As an NBC News report pointed out, this is a break from some NRA positions, but falls short of insisting on a ban of weapons like the semi-automatic AR-15 used in the attack. Scott said that he didn't consult the NRA on this plan.
Scott's proposal is also a negation of the President's most recent suggestion that arming teachers with concealed weapons, and training them to "immediately fire back if a savage sicko came to a school with bad intentions," would prevent school massacres, according to an NBC News report titled,"Trump's proposal to arm teachers panned by experts as a 'colossally stupid idea.'" Scott noted, in an NBC News report about his safety plan, "I disagree with arming teachers. My focus is on bringing in law enforcement. I think you need to have individuals who are trained, well trained."
And in an interview with CBS News, major Republican donor Al Hoffman, Jr. proclaimed that "I will not write a check for anyone who does not propose a ban on assault style weapons…I would support a fiscally conservative person who supports the ban, and at this moment in time, I really don't care whether it's a Republican or Democrat." Hoffman has raised hundreds of millions of dollars for the GOP.
George and Amal Clooney decided to support March For Our Lives, the student demonstration scheduled for DC in March, to the tune of $500,000. After the Clooneys donated, Jeffrey and Marilyn Katzenberg matched that donation, as did Oprah Winfrey and Steven Spielberg and Kate Capshaw. Within a few days, the march has donations in the total amount of $2 million. Many stars have also amplified the students' voices including Justin Bieber, Amy Schumer and others (including Mayim, of course).
Speaking of Amy Schumer, congrats on her (surprise!) wedding to chef Chris Fischer on February 13. Amy's sister/collaborator and bridesmaid Kim Caramele posted many photos from the event, which was attended by Jennifer Lawrence, Chelsea Handler, Jake Gyllenhaal.
From romance to "romance" – if that's what you can call the 50 Shades of Grey books and movies. (Personally, I tried to read the first one and found it so poorly written that I literally threw it across the room to get it away from me.) A sharp type of trainwreck criticism gleefully trashes the commercial successful trilogy and movies. There are also interesting think pieces about women's sexuality, consent, fantasy, and the desire for the kind of control and submission that the movies present. The Week had a particularly good piece which analyzes abuse, BDSM, and the ways in which Christian Grey is actually the kind of boyfriend that many women crave: he plans fancy dates and takes care of all the details and spends a lot of time on Ana's pleasure and her body.  The piece also talks about the similarities between the BDSM contract that Christian has Ana sign, and the traditional marriage contract, which promises obedience. (No real knowledge of the series is required to read and appreciate the piece.)
The return of Brendan Fraser. If you've seen the commercials for FX's Trust, the new TV show about the Getty family, you might have spied a familiar face: Actor Brendan Fraser, of School Ties, the first three The Mummy movies, Encino Man and many other 90s movies. In a riveting piece in GQ, writer Zach Baron discovered where the actor has been. Fraser discusses what it's like to be a once popular actor in Hollywood. He also alleges that a former president of the Hollywood Foreign Press Association had groped him, and how violated he felt. Fraser has experienced the loss of his mother from cancer and the end of his marriage. But with Trust, he may be on his way back, and many of us are glad to see him again. Check out the trailer for Trust, which – somewhat oddly – features "If I Were a Rich Man" (I mean, we get it, the Gettys were rich, but tonal mismatch much?)…
Even those of you who aren't watching the Olympics 24/7 may be aware of Olympic skater Adam Rippon. The creative and outspoken gay skater piqued the interest of Sam Greisman, or rather, the matchmaking interest of Sam's mom, actress Sally Field, who tweeted at Adam to let him know Sam was interested. It was all kinds of invasive Mom stuff, but because it was Sally and Sam and Adam, it was adorable.
What's new, inspiring or adorable in your world this week? Let us know what you're talking about in the comments…
Sources for additional reading: