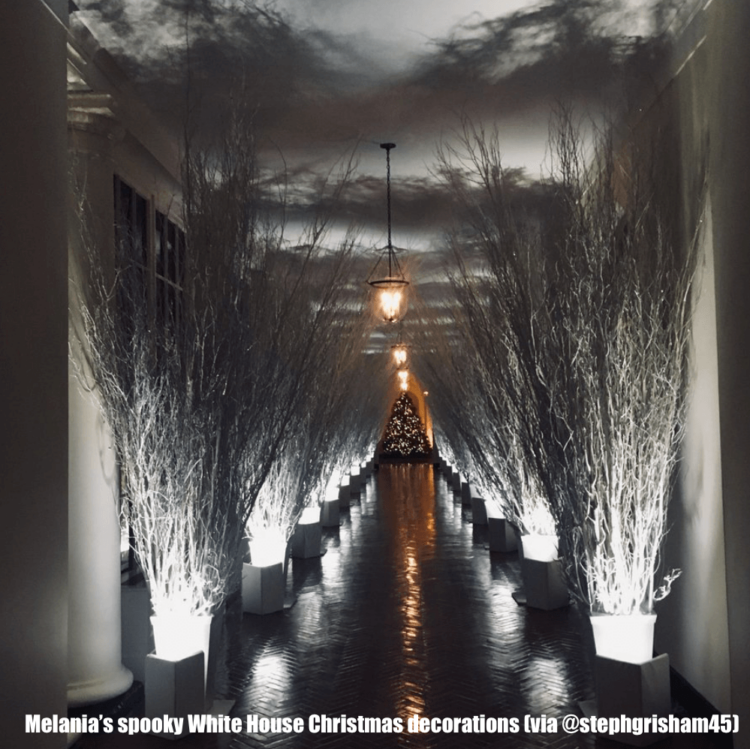 News moves swiftly, changing hour to hour – we've captured some stories you may have missed. In this week's news roundup, more stories relating to sexual misconduct (mostly in Hollywood), the New York Times gets in trouble for profiling a "Nazi Sympathizer," 45 shares far-right videos on Twitter, and Melania Trump decorates the White House for Christmas. Plus, Meghan Markle – now engaged to England's Prince Harry – shows us she's always been awesome. Read on!
This Week in Sexual Harassment, Misconduct and Assault
Beloved TV and radio hosts, a TV star, an executive producer, a news correspondent and a playwright: all stand accused this week. We can let Ana Navarro sum some of this up for you – plus, more details below.
Matt Lauer lost his job.
Charlie Rose lost his job.
Mark Halperin lost his job.
Glenn Thrush lost his job.
Billy Bush lost his job.
Harvey Weinstein lost his job.
Kevin Spacey lost his job.
But in politics…
Conyers still in Congress.
Moore still running.
Trump still President.

— Ana Navarro (@ananavarro) November 29, 2017
Minnesota Public Radio announced that it was ending its business relationships with Garrison Keillor, host of A Prairie Home Companion and several other properties, after allegations of inappropriate behavior surfaced. (Oddly, the day before the allegations became public, Keillor had published a piece in the Washington Post stating that Senator Al Franken – who is also accused of sexually inappropriate behavior – should not be removed from office.) The president of MPR, Jon McTaggart, said in a statement that the MPR community is "saddened by these circumstances."
While we appreciate the contributions Garrison has made to MPR and to all of public radio, we believe this decision is the right thing to do and is necessary to continue to earn the trust of our audiences, employees and supporters of our public service.
Matt Lauer, co-host of The Today Show on NBC, was also fired over complaints of "inappropriate sexual behavior in the workplace." NBC said it had "reason to believe this may not have been an isolated incident," and while specific additional allegations have not surfaced, the internet has provided abundant clips of Lauer being a jerk to interviewees. FOX News correspondent Geraldo Rivera expressed support for Lauer on Twitter, prompting actress and singer Bette Midler to respond by posting part of her 1991 interview with Barbara Walters (see video below), in which she revealed that Rivera and his producer drugged and groped her.
Music producer Russell Simmons is also in the sexual assault spotlight, having been accused by screenwriter Jenny Lumet of having "sexually violated me" 25 years previously (in a piece in the Hollywood Reporter). Lumet said that she has built a life since then, that "I need no one to have this visualization of me. I will, like the others, lose work because of this," but that she stepped forward now because "I can't leave those women twisting in the wind. Maybe the recalling of this incident can be helpful. I don't know if it can." Simmons responded that "her memory of that evening is very different from mine, it is now clear to me that her feelings of fear and intimidation are real. While I have never been violent, I have been thoughtless and insensitive in some of my relationships over many decades, and I sincerely apologize." Simmons also promised to step aside from his companies "and commit myself to continuing my personal growth, spiritual learning and above all to listening."  The complete story is here.
Andrew Kreisberg, executive producer on Supergirl, The Flash, Arrow, and DC's Legends of Tomorrow, was fired by Warner Bros. Television after allegations of sexual harassment from 15 women and four men, according to a Variety report cited by Entertainment Weekly, Kreisberg had originally denied the allegations,noting that comments made on women's appearances and clothes were "not sexualized" and "in my capacity as an executive producer." 
Playwright Israel Horovitz was also accused of sexual misconduct (assault and rape) by nine women, according to the Hollywood Reporter. Horovitz's son, Adam Horovitz of the Beastie Boys, threw his support behind those who accused his father: "I believe the allegations against my father are true, and I stand behind the women that made them."
For how long should harassers be punished? Do harassers deserve redemption? "It's a valid question," says actress Amber Tamblyn in the New York Times, in a piece titled "I'm Not Ready for the Redemption of Men." "But it's also a question that makes me deeply suspicious of its timing…"
Why are we obligated to care about salvaging male careers when we have just begun to tell the stories that have plagued us for lifetimes?[…]  The only way to enforce seismic, cultural change in the way men relate to women is to draw a line deep in the sand and say: This is what we will no longer tolerate. You're either with our bodies or against our bodies. The punishment for harassment is you disappear. The punishment for rape is you disappear. The punishment for masturbation in front of us is you disappear. The punishment for coercion is you disappear.
And in other news…
Speaking of the New York Times, their interview of the "Nazi sympathizer next door" caused a storm of activity and indignation: some believed the interview was important, to know what the face of right-wing,  American nationalism looks like, while others claimed that the piece normalized Nazism by emphasizing all the ways he was just like anyone else. "We regret the degree to which the piece offended so many readers," the NYT said in response. "We recognize that people can disagree on how best to tell a disagreeable story. What we think is indisputable, though, is the need to shed more light, not less, on the most extreme corners of American life and the people who inhabit them. That's what the story, however imperfectly, tried to do." The writer himself, Richard Fausset, weighed in, admitting that there was a hole in the profile, "Why did this man — intelligent, socially adroit and raised middle class amid the relatively well-integrated environments of United States military bases — gravitate toward the furthest extremes of American political discourse?" (Subsequent to the article's publication, the Nazi sympathizer profiled in the piece was fired from his job.)
Donald Trump retweeted three inflammatory videos from a British far-right group that denounces what they call "the Islamification of the UK," the BBC reported;  when asked if the President had any responsibility to verify videos before sharing them on Twitter, White House Press Secretary Sarah Huckabee Sanders said, "I think what he's done is elevate the conversation to talk about a real issue and threat; and that's extreme violence and extreme terrorism." (Daily Beast)
This Week in Internet Creativity: Melania's White House decorations
As every year, the First Lady of the United States of America is responsible for creating a Christmas atmosphere in the White House. This year, First Lady Melania Trump created a hallway with shadows and branches that came off a little more "creepy" than it did "festive  holiday celebration." And the internet responded with dozens of memes based on the photos that Melania had posted online. A particularly good one, by Parker Molloy, is below; view a more complete slideshow of meme-ified photos at the SF Gate.
I wasn't sure whether Melania's White House Christmas decorations were more Pan's Labyrinth, It, or Stranger Things, so I combined them all. pic.twitter.com/FKkcVHcxlM

— Parker Molloy (@ParkerMolloy) November 27, 2017
On a Positive Note…
Before Meghan Markle was playing a paralegal-turned-lawyer or affianced to a British Royal, she was already awesome, identifying gender stereotyping and charging a big corporation to make a small advertising change that would have a huge impact. Visit with 11-year-old activist Meghan here:

What did we miss? What are you talking about this week? Let us know in the comments.