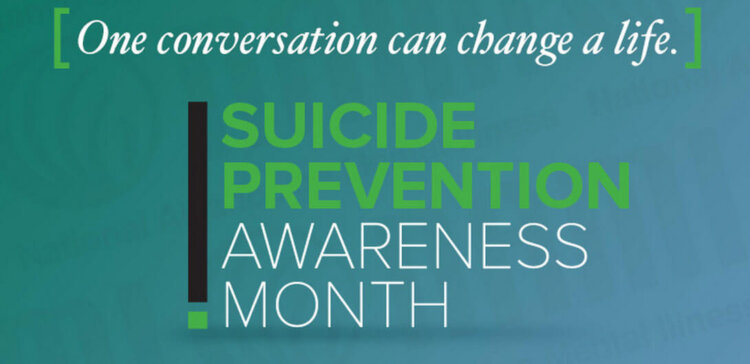 September is suicide prevention awareness month.
My family has been affected by suicide, as have many families. (I hope to honor the memories of those I have lost by raising awareness and hopefully providing some hope here. May the memories of all of those lost to suicide be only for a blessing, and may their memories inspire us to good deeds and acts of kindness and love.)
During September, NAMI, the National Alliance for Mental Illness, has been and will continue to be posting articles and resources (including this one account, called "You Are Not Alone") so I want to help get those links out there. These resources can be of help to those of us who are depressed ourselves, or to those who know people who are enduring difficult times in their lives. For help, you can call NAMI at 800-950-6264.
The Suicide Prevention Hotline, 1-800-273-TALK (8255) connects you with skilled, trained counselors at crisis centers in your area, any time, 24/7.
For young people who are depressed and/or suicidal there is a hotline that can be accessed via texting. Here is the link: http://www.crisistextline.org/get-help-now/
Get Help For Others
If you know someone who is talking about suicide but you think they may just be thinking about it without a concrete plan to act on their thoughts ("suicidal ideation") even if you think they may be just talking about it as a cry for help, there are ways you can help. Here's a list of ways to be helpful, from the Suicide Prevention Lifeline. Here is a list of some warning signs to look for.
If you or someone you know is contemplating suicide and comes from a family or relationship where alcohol or drugs are present, please reach out to Al-Anon or Alateen, the organization for those who grow up with or are close to someone who abuses alcohol. Sometimes we become sick and affected by someone else's drinking and it can lead us to dark, or even suicidal, thoughts. Get help immediately if this sounds like you.
Additionally, if you are suicidal and have a history of alcohol or drug abuse, please reach out to Alcoholics Anonymous, the most widely acknowledged support for those suffering from alcoholism.
If someone you love has died by suicide, you may have a lot of confusing feelings and you need support too. The American Society for Suicide Prevention is a great resource for getting that help – here's the direct link to the page about Coping With Suicide Loss. (And here's a link to Frequently Asked Questions about Suicide.)
Remember, whether it's during Suicide Prevention Month or any other month of the year, you can get help. I've been directly affected by suicide and I know I'm not alone. Please do something this month to get educated, to get help and to get support. You are not alone.