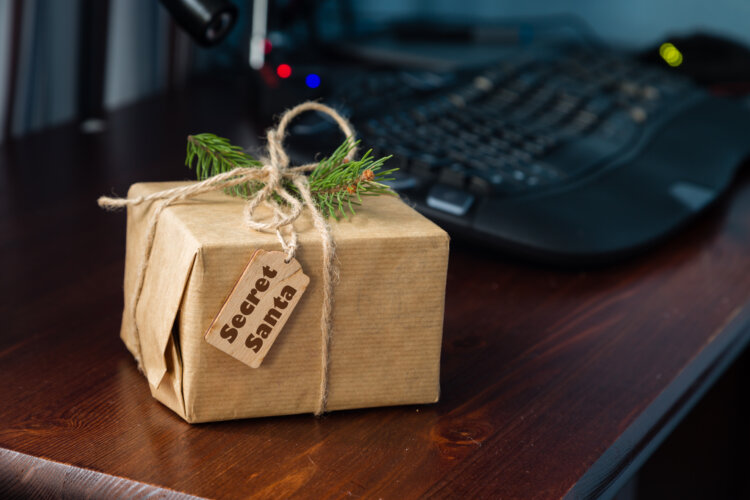 There's a thing that happens on Facebook. It happens every year ahead of the holidays. It happens every year, but this year it seems to be happening (on my feed, at least) with a vengeance. It's a holiday Secret Santa scam.
You may have seen something like this on your own feed. The post, filled with holiday emojis (which I removed for the purposes of credible journalism here), goes a little something like this …
Anyone interested in a holiday gift exchange?! I don't care where you live, you are welcome to join. I need at least six ladies to participate in a SECRET SISTER gift exchange. You only have to buy ONE gift valued at at least $10 or more and send it to ONE secret sister, and you will receive 6-36 in return!!
Let's say Avital shared this post. And before her, Christina shared it. If I decided to join in this digital Secret Santa, I would send one gift to Avital and then post this on my own wall. If Natalie decided to join after me, she'd send her one gift to Christina. And then when Natalie shares on her own wall, whomever decides to join would send their gifts to me. It looks a little something like this: △
This particular pyramid scheme scam isn't new; it's been happening for many years, long before the dawn of the internet or social media. And it didn't always have to do with the holidays. My mom remembers a version that was engineered to fill your bookshelves with new tomes back in her day; I remember my college roommates in the '00s wanting to swap (new) panties. Whatever the "gift," the premise is the same: You send one item and get a mailbox bursting full of gifts from the poor suckers who have also fallen for this scam.
And it is a scam. It's called chain mail, and it's technically illegal according to the U.S. Postal Inspection Service. The government agency says the following: "A typical chain letter includes names and addresses of several individuals whom you may or may not know. You are instructed to send a certain amount of money–usually $5—to the person at the top of the list, and then eliminate that name and add yours to the bottom. You are then instructed to mail copies of the letter to a few more individuals who will hopefully repeat the entire process. The letter promises that if they follow the same procedure, your name will gradually move to the top of the list and you'll receive money—lots of it."
"But wait," you might be saying, "The Secret Santa chain isn't asking for money."
The USPIS covers that, too: "They're illegal if they request money or other items of value and promise a substantial return to the participants. Chain letters are a form of gambling, and sending them through the mail (or delivering them in person or by computer, but mailing money to participate) violates Title 18, United States Code, Section 1302, the Postal Lottery Statute."
Now, it does outline that chain mail asking for minor items of value, such as "postcards or recipes," may be mailed. But if you remember from the Facebook post above, you're suggested to send $10 gift. I don't know any postcards that cost $10…
But aside from the legality of it, there's the larger and most obvious issue: There's no way you're going to get 36 $10-worth gifts in return. There's even a chance you'll send a $10 gift off to a stranger and get nothing in return—which would be fine if the premise behind this holiday gift giving scheme was "be generous and send gifts to strangers." But it's not. The very structure is spend a little, get a lot in return.
According to Snopes, this particular Secret Santa version of the mail chain scam started in 2015. I saw it pop up on my Facebook a bit last year, but for some reason it's back with a vengeance in 2018. Call me a grinch, but every time I see this pop up on my wall, I have to fight the urge to comment, "THIS IS A SCAM."
I've been able to fight that urge when random friends from high school or my college roommate's mother-in-law posted it, but when I saw it come up in my feed from my best friend of 29 years, I couldn't resist. "You've been hacked," I posted as a tongue-in-cheek response. "No I really posted this," she immediately responded, "And you should do it, too."
I decided to take this private, so I texted her and asked why she was doing something so ILLEGAL and scammy. She said, "It's fun!" I started to contemplate the fact that maybe I am just a scrooge who hates fun…
And then my mother Facebook messaged me and my sister a link to a local news story. Oklahoma City's KOCO News is warning its users that even the Better Business Bureau says this is bad.
I have the post office, the law, the BBB, and my mom on my side. I may be a Scrooge, but I'm back to standing firm in my annoyance of these Secret Santa posts taking up my Facebook feed. Stop falling for this, friends. Who's with me?