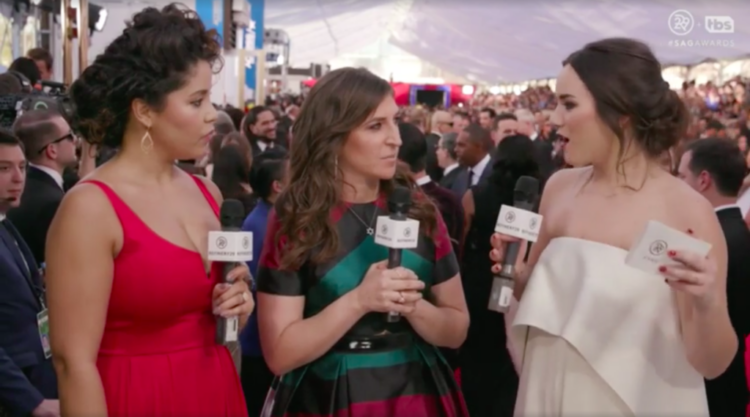 The red carpet is generally a place for "Who are you wearing??" and "What was the most challenging part of your acting role in this TV show or film?" Women's Wear Daily noted,  "most attendees stuck to the script and dodged such [political] discussion on the carpet." But this "most" didn't include Mayim, who has a reputation for bringing in the reality to glamorous Hollywood events. Or, as Mayim herself put it, tweeting from the SAG Awards red carpet on Sunday:
Did not hold my tongue on the red carpet. Just fyi.

— Mayim Bialik (@missmayim) January 30, 2017
In a flurry of interviews, Mayim answered questions about her dress, but only briefly – choosing to spend her red carpet time sharing thoughts on activism in the wake of various decisions made by President Trump after his inauguration, particularly this weekend's "extreme vetting" over immigration, referred to by many as the "travel ban," the "immigration ban" and "the Muslim ban" (because the travel restrictions are imposed on people from several Muslim countries).
"We don't all have to agree on politics, but the fact is I'm not just an actor, but I'm a mom and I'm the grandchild of refugees and I'm child of civil rights activists, so this is all hitting very close to home. I'm honored to be here. I'm honored that our show is here, but I'd honestly rather be at a protest right now," she told Women's Wear Daily.
My @MiriCouture dress was accompanied by a @tyleralexandra clutch that held my inspiration for the night; pics of my refugee grandmas. pic.twitter.com/uQAJBcNq0v

— Mayim Bialik (@missmayim) January 31, 2017
Talking to ET Canada, Mayim noted Canada's public statement that "diversity is the strength of Canada" and that "diversity is the strength of this country as well," but that she finds a lot of what's going on to be "unacceptable and very un-American," and that "it's hard to shut up, and I don't want to." (Entire video clip here.)
Women, in particular, can cause a shift in policies, she said to the team from Refinery29:
"We've got plenty of opportunities to do that as women, and our unique feminine sensibility will hopefully impact significant change over the next four years."
(This post was written by GrokNation staff. The Refinery29 red carpet show is below – Mayim's interview is about 47 minutes in…)