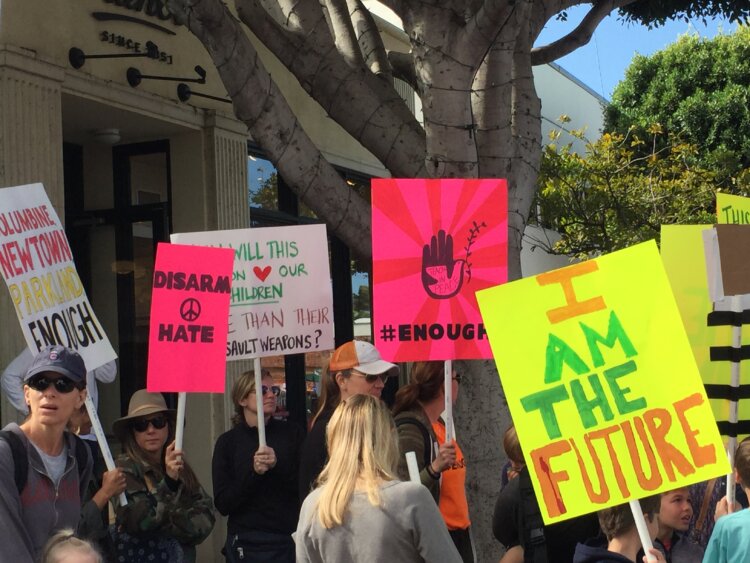 Across the country, at massive rallies, marches and smaller-but-still-mighty "sibling marches," activism was ignited as thousands of Americans of all ages gathered to demand gun reform and to remember victims of school shootings and other types of gun violence. Many major cities hosted rallies that are making news, but I wondered if the sibling marches (in adjacent cities) would get a significant turnout and if they would drain the main rally of its energy. Los Angeles, for instance, had a major gathering downtown, but sibling rallies happened in Burbank, Santa Monica, West Hollywood, in Orange County and beyond.
I went to the march in Santa Monica, which was very well-attended by people of all ages. The march's route was about 1.5 miles along Montana Avenue and culminated in a rally at Palisades Park on Ocean Avenue, where family members who had lost loved ones to gun violence spoke to demand that the government change and we all increase the love and peace in the world. Because it was "in the neighborhood," many people walked from their nearby homes: Parents pushed babies in strollers and older children marched in groups with their friends, holding the signs they'd made. While many people marched, there were those who had brunch at local businesses along the route and encouraged us as we passed.
At the rally in the park, I arrived as a student organizer was urging the crowd to "give us change." She spoke from a podium beneath a tree; in the branches were other young people, and a man holding a speaker system aloft, hoping to amplify the speeches. One woman, who had lost her son to gun violence said, "Your kids are the future… I'm standing here because love never dies." Another woman told the crowd, "I haven't protested like this since the '60s, against the Vietnam War. We have to stop the insanity."
There was a real community spirit in the street as activism got hyperlocal with attendees reinforcing the idea that peaceful community gathering and passionate protests against violence is an activity for all ages, and moreover, for families to do together.
I started thinking about the micro-geography of local activism, of protesting injustice with your actual–instead of metaphorical–neighbors, treading the sidewalks with your own feet and grafting the experience onto a familiar environment. This wasn't busloads of Santa Monicans transported through gridlocked freeways and city streets to a central square in a downtown district. This march was in their streets that they travel all the time, within visible distance of the ocean which is likely one of the reasons some of them are in Santa Monica to begin with. And the crowd, while impressive, wasn't as faceless as the tens of thousands that mass in the squares of major cities. They were walking the streets of the community that they know and love, sending the message to those of us who could hear it: Activism begins at home.
This makes sense. Change has to start somewhere. And while this march was like dozens of others–forged out of the tragedy of Parkland and fired by the energy of the students who stepped up immediately to lead–it also reminded me that although one big rally makes a news impact, multiple centers of activism can spread to a wider radius more effectively.
As I looked around in the crowd, I saw a boy, flanked on either side by his parents. A solemn expression on his face, the boy held a sign: "Am I next?" My heart broke instantly. Children should not have to consider this question, ever. Schools should be a place of safety and self-advancement. It is, simply, enough. But perhaps with children protesting in the street alongside their parents, change will happen—on the national level, probably, eventually; locally, their strides translating to progress.
Did you march? What was your experience? Tell us in the comments.