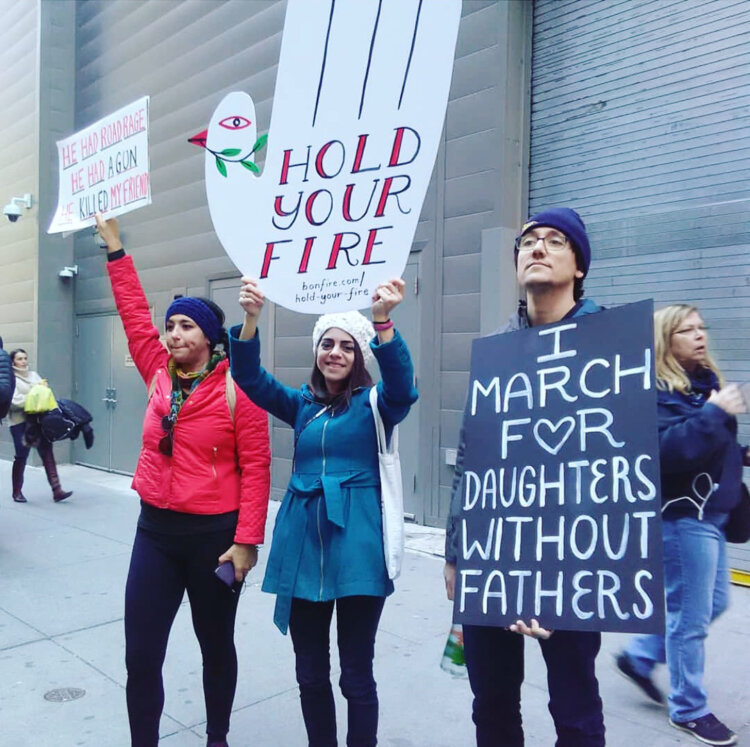 My current personal mascot is a peace dove, but I've apparently always had a bird theme in my life; it showed up for the first time as a nickname: "Bird Ass."
I'll explain: My dad was one of those guys who gave nicknames to people, so naturally he had many for me. I've always been an artist and I've always been petite–so he called me any of the following, depending on his mood: "Ten Pounds-a-Nothin'," "Bag-a-Bones," "The Artist" and, yes: "Bird Ass." They're quirky names for sure, and I wasn't always comfortable with them, but I always enjoyed the proud tone in his voice when he said them.
Here comes the sad part of the story: One day, my weird, wonderful dad was shot and killed on his way out of Hoboken High School, where he worked as a history teacher.
Sometimes when I miss him, I read the news articles that covered his murder. This is how I found out that he also had a nickname: "Johnny Ten Jobs," which was a cute nod to the number of school activities he helped run. He died when I was 14, during my first year of high school.
Twenty years later, my memories of the reports are a little fuzzy, but I'm pretty sure that our story was summed up with the headline, "Teacher of the Year Murdered." The murder involved a series of odd assumptions by the attacker that culminated in my dad's unjust death. It was a hard story to come to terms with and it's been hard to explain. Students who witnessed the shooting were traumatized, as was my family. We lived in a small, safe town in New Jersey and once the news broke, it felt like spotlights were on us. I missed my dad and for once I wanted to feel small–to disappear back to normalcy.
Despite my discomfort, for years I dealt with the loss in pretty typical ways: I went to therapy, kept a journal, drew, listened to sad songs and sometimes let myself cry, guilt-free. Sometimes I'd talk to the few friends I'd told the story to. I mostly kept my feelings off the Internet even though some part of me wanted to talk about it.
Then one day recently, the students from Parkland, Florida–who are about the same age as I was when I went through this–started shouting about a similar loss from the metaphorical rooftops of the internet. There was a shooting at their school, their lives had been endangered, their friends had been murdered and they were mad. Not only were they mad, but they were telling people about it–politicians, even–and on TV!
I wondered what my dad would have thought if he could see it all. I also wondered what he would have nicknamed them. I'll never know, but I do know what I'd call them: badasses. I was amazed and impressed by what they were able to do at such a young age, during a time when they were freshly grieving. I could never have done that–and I didn't. I was shocked that they weren't crying into their angsty journal entries, like I had.
As I grieved for our losses, I made a painting of a little bird. I thought I might put it on Instagram, which doesn't seem like much, but was already a step further than writing in my private journal. Even that felt like a lame little blip compared to what the students were doing, so I put the image on a shirt instead and pointed the proceeds toward Everytown, an organization that fights the gun lobby. I still wasn't talking on the news like they were, but I thought it might raise a few hundred dollars for the charity. At least it was something–for a quiet, tiny little "Ten Pounds-a-Nothin'," certainly.
In the span of a few weeks, the shirts with my little bird design raised over $4,500 for Everytown. It happened with the help of my friends and family, all proudly posting it and sharing photos of themselves in the shirt. I was elated every time someone new posted a photo, each time feeling like I was less alone in my grief. Each one got me a little more fired up and made me want to work harder. All I needed was a little confidence and direction and now I had it. I can't ask my dad if he's proud, but I can remember the pride in his voice when he called me "The Artist."
For two decades, I hadn't spoken much about my dad's death. I see the weakness in that now–staying quiet about it was only helping silence a problem that needs more voices. Wearing this shirt has opened up the floor to talk with total strangers on this topic. We can do so much more than we think we can and there are a lot of good people in the world who just need to feel like their actions will make a difference. And when I say, "people," by the way–I mean you.
I don't know the MSD students personally, but if I could talk to them, I'd thank them for showing me a better path. I finally have direction and a little peace of mind (if not actual peace yet), thanks to them. If you're feeling down about the recent stories of gun violence, join me in taking a cue from them: Take your helplessness and re-purpose it. You will feel better doing something, anything instead of sitting around complaining about guns and feeling sorry for families like mine. I wasted 20 years doing nothing and I regret it–I'm not wasting another day.
Read more about Kristina's story at hold-your-fire.com and follow her efforts on Instagram and Twitter. All shirt proceeds go to Everytown for Gun Safety. Purchase one here.