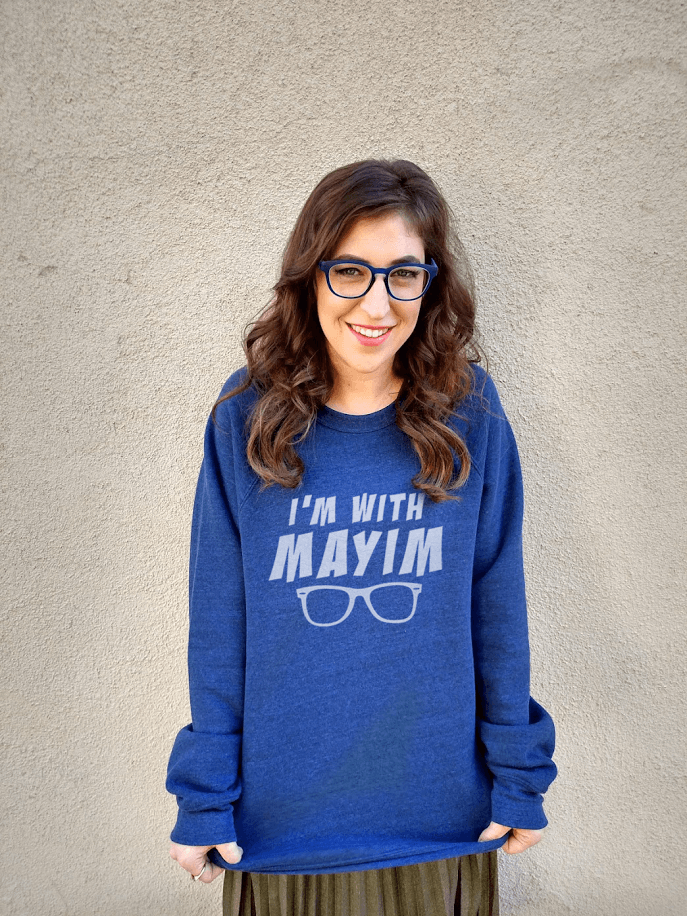 We are doing something new at GrokNation. I'm very excited about it and I hope you are too….we are selling t-shirts, slouchy tees and sweatshirts, for you to buy if you want them! Yay! 
I'm also excited to share that a portion of our sales will be going to Big Picture Learning, an amazing non-profit organization whose mission is to restructure how we educate young people.
But before I tell you about Big Picture, here's more about the actual shirts!
The Shirts!
We went back and forth and back and forth and we decided we would start with one design. We hope to make many different products eventually which is great because the mighty little team of us who run this site had some really fun awesome ideas we want to share. This is just one to start with.
Are you with me? Good. Because that's what the shirt says: "I'm with Mayim"…! With my glasses. Nerd power. You know how that goes.
I feel kind of weird about seeing my name on a shirt…but Luigi (he's the man who's actually in charge of how we do these things when we want to do them) said we were making shirts and he said this is the one to start with!
I assumed the sweatshirts would be some thin, scratchy fabric and I didn't want to say, "Luigi: please don't make the sweatshirts be thin and scratchy!" Well, I tried one on and the sweatshirts are these awesome, comfy, cozy, made of very nice soft material and I can't wait to make all of my closest friends and family- and my sons – put them on! It feels and looks like a "boyfriend cut" for us girls but it also would be perfect for a guy.
I love the color choices for the t-shirts. I love the font, which matches the comic-book feel of the font of the website. I hope you all love them too. 
Where Does the Money Go?
A few months ago, I visited a high school in Tennessee that is part of the Big Picture Learning network. These schools are trying to repair the educational system one student and one classroom at a time. Their mission is to build an education system that provides equal opportunities to learn, and be engaged in learning, for all students, and especially those students in our most underserved communities. I am very pleased to announce that a portion of our merch proceeds from this presale will go towards Big Picture Learning – we are really excited to be helping in this important educational initiative. (You can read more about them below.)
Also, you may have noticed, we have no advertisers so…we do need money to do the things we do and pay everyone for all of their time and work! So another portion of the proceeds from the sales will go towards running our site.
More about Big Picture Learning
For the last 20 years, Big Picture Learning has focused on putting students at the center of their own learning. Big Picture Learning schools have small classes and committed, engaged teachers. These schools actually call teachers "advisors," because they believe that teachers and students are equal partners in the learning process. This stuff matters, I promise! Students are assigned an advisor who stays with them for all the years of high school and helps them pick internships in the community in areas they are interested in.
These are the types of learning opportunities you might expect to find in private schools, and in wealthy communities. But Big Picture Learning specifically seeks to serve students who wouldn't otherwise have these opportunities to thrive. Big Picture Learning schools are public schools. This is how they leave no child behind.
To learn more about Big Picture Learning, please visit http://www.bigpicture.org
Thank you for being such loyal Grokites. Buy a sweatshirt or a tee. Heck, buy two! Send us pictures of you, wearing your shirts, wherever you are, showing you're with me. I'll return the favor and we can make our community even closer and more connected, as we continue to grok everything out together.
Happy Holidays!
(To order your shirts, click here: http://cznd.co/grok-nation/ – if you have questions about your order, check out this FAQ: http://cznd.co/f-a-q/)