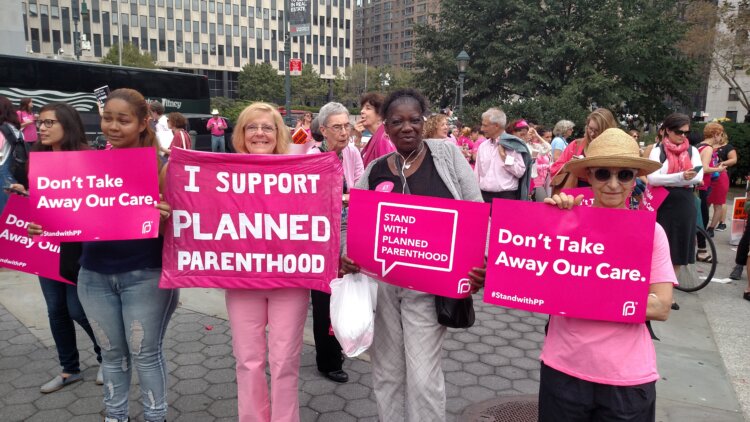 Working as a maternal and child epidemiologist and seeing the rhetoric of the Trump campaign and the actions of the current presidency, I've been anticipating a change to Title X for years now. It was only a matter of time. Everyone in my field knew the so-called "gag rule" was coming.
So when the long-awaited policy to limit access to family planning services was announced Tuesday by the Trump administration, it wasn't exactly a surprise—but it is incredibly disheartening.
If approved by the Department of Health and Human Services, the policy will bar any organization currently receiving Title X funding from providing abortions. Title X funded clinics will also be defunded if they refer patients to an organization that provides abortions. You may have heard or read about this in the news and there is a lot of misinformation out there, so here is what we know about the proposed policy and what you can do to take action against it.
What is Title X?
Title X was enacted in 1970 as part of the Public Health Service Act to promote positive birth outcomes and healthy families by supporting women's reproductive choice. To be clear, Title X does not fund abortions–rather access to contraceptives, pelvic exams, STI screenings/treatment and HIV testing. Title X bridges the gap for women that may not qualify for Medicaid and yet do not have access to private insurance. This is a critical funding stream in the ever-changing insurance landscape and utilizers are disproportionately women of color.  
In 2014 alone, clinics funded partially by Title X prevent nearly 1 million unintended pregnancies, which would have resulted in more than 400,000 unintended births and 300,000 abortions. Access to contraception and counseling is a critical preventative step in the system of comprehensive women's healthcare.
What will happen if the policy passes?
Specifically, this policy will follow through on an often used talking point of "defunding Planned Parenthood," which cares for 40 percent of contraceptive clients served by Title X funded clinics. Women's health advocates were bracing for that component, and though hugely impactful, it's the following provision that may be most harmful and more far reaching than any present-day effort so far.
The proposal states: "A Title X project may not perform, promote, refer for, or support, abortion as a method of family planning, nor take any other affirmative action to assist a patient to secure such an abortion."
Limiting referrals to abortion providers will place clinics in a dire position, as they would lose all federal funding unless they knowingly limit access to a legal, safe procedure. This will include patients whose health may be at risk because of pregnancy, specifically: women who are taking medications for cancer or other conditions that are not safe for pregnancy; and women who have experienced poor health outcomes in prior pregnancies, such as eclampsia, and for whom future pregnancies could risk their lives.
Nationwide, abortions have decreased 25 percent between 2008 and 2014, and there is no reason to believe the trend is changing. Access to long-acting reversible contraceptives, comprehensive sexual education and well-informed clinicians are credited with the substantial decrease in the procedure. However, it remains that one in four women by the time they reach 45, will have opted to terminate a pregnancy. The fact that you may not know someone who has chosen an abortion is likely because for now, she has a protected, confidential relationship with her doctor(s) and access to comprehensive family planning methods to ensure her legal choices are upheld. Altering the rules of the Title X funding stream will change this reality for millions of women, most who have limited resources to pursuing family planning services elsewhere.  
If challenged, will it be upheld in the Supreme Court?
And, therein lies the rub. The language used in the proposal very carefully reflects that which was used in a Reagan-era policy that was upheld by the US Supreme Court. That policy, however, was never implemented because President Bill Clinton rescinded it very shortly after entering the White House. Reviving the ruling of Rust V. Sullivan has been a key goal of anti-choice activists since 1991 and women's health advocates are not currently well represented in any level of government with the power to influence a different outcome.
What's next?
Given that it's a Department of Health and Human Services funding stream, it does not need congressional approval. This is not to say that you shouldn't call your member of Congress and request that they join those leaders who are speaking out against the policy and challenging HHS Secretary Alex Azar. Additionally, you can contact his office through Planned Parenthood's Action Fund or by calling his office directly at 202-690-7000.