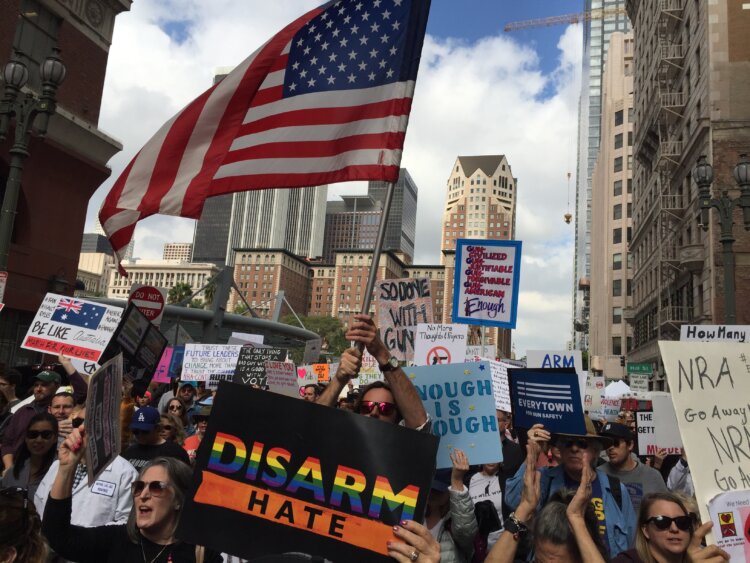 In Washington, 800,000 witnessed as Emma Gonzalez, the Parkland, FL student, stood silently onstage to mark the amount of time it took a teenager with an assault rifle to kill 17 students at Marjorie Stoneman Douglas High School on February 14. Tears streamed down her face during these powerful 6 minutes 20 seconds. "Fight for your lives before it's someone else's job," she concluded. It was the largest group ever gathered in Washington for a day of protest. The 2017 Women's March, for comparison, drew 500,000. The public has spoken, Congress: are you listening?
In New York, hundreds of thousands peacefully demonstrated for change, and Paul McCartney, wearing a  t-shirt that proclaimed "We Can End Gun Violence," remembered how his fellow Beatle died: murdered by a man with a gun. Thousands gathered in downtown Los Angeles on a gray day, while in Iowa, thousands marched in a snowstorm.
The sun shone brightly in Morristown, N.J., where 13,000 peaceful sorts marched down the well-kept Main Street and listened to stirring speeches from 7 0r 8 area teenagers. One speaker made the point that more children have been killed by gun violence since Sandy Hook than U.S. soldiers. The student-led event was capped by an a cappella rendition of Leonard Cohen's Hallelujah by a group from Montclair, N.J.
Click through below to see striking images from marches around the country, and tell us about your own experience in the comments.