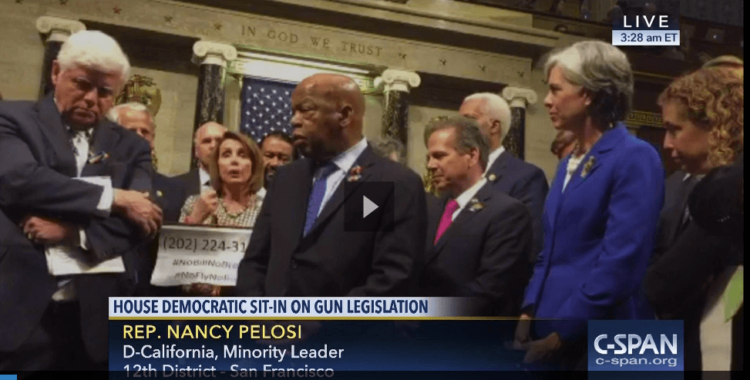 Image: Screenshot of C-SPAN coverage of the Democratic Sit-In for #NoBillNoBreak: at podium, minority leader Nancy Pelosi (D-CA); at center, Rep. John Lewis (D-GA)
Dear Abba,
I've not written you a letter since you died. It seems kind of silly since I know you're here with me all the time now; no longer bound by the earthly limits of physicality.
Still, there's something going on at the Capitol and I wanted to write about it for you.
Abba, the Democrats have staged a sit-in to call for a gun control vote, to put more limits around who can get guns. They're all sitting on the floor and it went on all night and all of the Republicans went home and the Democrats were all holding court like it was their audition for their college production of "Othello," shouting and pacing and losing their minds. I know!
You and I are die-hard liberals but we both had lost some faith in the whole political system because of the increasing bureaucracy and pandering and stupidity and also the lack of true progressiveness; you stopped voting after Kennedy was shot and didn't vote again until Bill Clinton, while I've been even more of a stubborn hippy.
Bernie Sanders – you missed that whole thing – spoke to yours and my sensibilities, but I don't think he is more qualified than Hillary.
Anyway!
The Democratic representatives all totally flipped out on Paul Ryan and staged an old school sit-in. People delivered food to them so that they could stay there all night and I don't know what's going to happen next but it's just awesome we have come this far.
In their fancy suits and ties, our Democrats acted like good old-fashioned true liberals. It made me believe again, Abba. It made me believe that 'standard issue' politics might still have some life left in it!
Remember when Cat Stevens converted to Islam and changed his name to Yusuf Islam and you got so upset? We didn't know what Islam really was then. You didn't want to listen to his records anymore. I missed Cat Stevens. Today, we are going to listen to "Peace Train" by Cat Stevens, now Yusuf Islam. Today is the day to do it, Abba.
The Democratic party has stepped up to the plate and is showing us that we can be progressive and we can even use the methods of non-violent protest you yourself championed as a young civil rights activist in the 1960s. The sit-in was led by U.S. Rep. John Lewis, who was part of the original non-violent protest/sit-in movement with Dr. Martin Luther King Jr., and one of the Big Six who organized the 1963 March on Washington. We can be awesomely rebellious even within the structure of this government.
I believe in the goodness of people today because of the Democrats from all over this country screaming at the top of their lungs to hold a vote – please – for the sake of the tens of thousands killed every year by guns in this country.
From the lyrics of "Peace Train:"
Now I've been crying lately
Thinking about the world as it is
Why must we go on hating
Why can't we live in bliss
'Cause out on the edge of darkness
There rides a peace train
Oh, peace train take this country
Come take me home again
This government is made up of us, it's made by us, but ultimately, it is made for us.
Abba, I know you are in a place where the Peace Train is always open for riders. Today, here on Earth, we are getting on board.