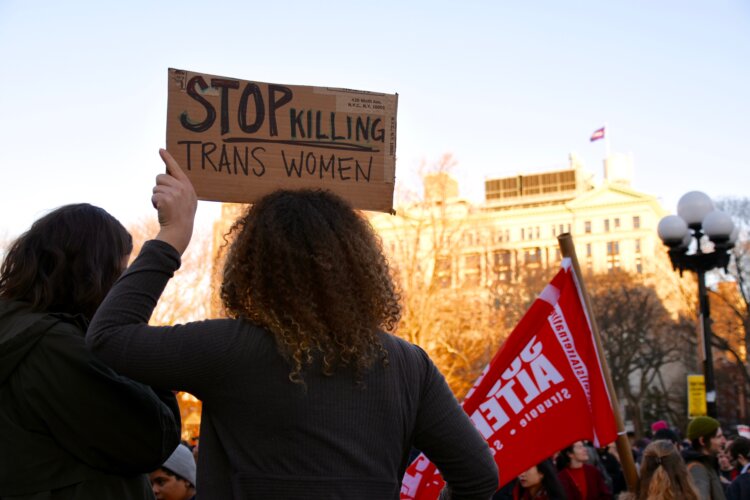 It is a frightening day to exist as transgender in America.
Over the weekend, the New York Times reported that the Department of Health and Human Services is initiating an effort to define gender as an immovable condition on the basis of sex assigned at birth. The memo released shows the Trump administration rolling back Obama-era civil rights protections on the basis of gender identity. In response to the alarming memo, transgender advocates and allies took to the streets to fight against the proposed changes that would affect an estimated 1.4 million transgender Americans.
As a nonbinary college student who has been publicly ridiculed due to my gender, I watched as this disturbing news carefully nestled itself into the pattern of civil rights abuses enacted by the Trump administration against transgender people over the past two years. Let's be clear—while these policies are blatantly exhuming anti-transgender rhetoric and deadly discrimination, these abuses are nothing new. The disenfranchisement and silencing of transgender bodies is a global phenomenon that has been occurring for decades.
Last year, in the comments section of a video I was in for Seventeen, I was berated with hateful words about my non-binary gender identity. These transphobic comments came on the back of recently enacted anti-trans policies.



Earlier this year, the Center for Disease Control banned the word "transgender" from the 2019 budget report. Shortly before that, the Trump administration banned transgender service members from enlisting in the military. This past summer, a transgender student in Oklahoma was bullied out of school by the parents of her peers. As the government continues to tighten its grip around the trans community, we've witnessed the murder and discrimination rate skyrocket. The consequences of these proposed policies do more than push transgender people back into small boxes in the back of the closet. They burn down the closet.
Violence against transgender people (and verbal hate like that used against me) is perpetuated by a government that refuses to acknowledge that we exist. These policies have tangible, deadly repercussions. According to the Human Rights Campaign, 2017 saw the most deadly year for anti-transgender murders, and 2018 has already seen 22 deaths of transgender people, predominantly transgender women of color. Without gender-based civil rights protections, violence against transgender people will persist with minimal federal consequence.
In order to challenge the anti-trans policies of the current administration, we must work to eradicate the systems that thrive on transphobia and gender discrimination. These systems tragically reflect an anti-trans bias that existed long before the Trump administration and will continue so long as this nation refuses to serve the needs of transgender people.
Health care. Despite the expanded health care regulations of the Obama administration, research indicates that 20 percent of all transgender people report being denied health care by physicians and practitioners. This number is expected to increase under the Trump administration. As a non-binary person suffering from polycystic ovarian syndrome, getting gynecological health care without gender-bias is already incredibly difficult. My gender is never an option on health forms and my illness is frequently called a "woman's disease." I cannot imagine the hurdles that await me under the new policies that will emerge based on this memo.
Systemic violence. Data from Lambda Legal indicates that transgender people are 3.7 times more likely to experience police violence. This number is disproportionate among transgender people of color. I worry for my trans friends interacting with systems of policing on a daily basis.
Homelessness and poverty. According to the National Center for Transgender Equality, transgender youth make between 20-40 percent of the homeless youth population.
Intimate partner violence. The 2015 Transgender Survey indicates that 54 percent of trans people experience intimate partner violence. My relationship with my partner (who identifies as trans masculine) has largely been affected by my previous experience with sexual violence. We must dismantle the systems of patriarchy that allow sexual violence to persist and uphold healthy and strong trans relationships.
Hate crimes. Earlier this year, the Federal Bureau of Investigation reported that LGBTQ+ people are the most likely targets of hate crimes in America. With this in mind, the current administration has taken the nation's most marginalized population and intentionally made us more vulnerable by refusing our existence. In order to fight against these policies, we must demolish systems of health care, policing, immigration, homelessness and sexual violence that have historically forgotten transgender people. These discriminatory systems disproportionately legislate transgender bodies in ways that require civil rights protections.
In order to spark nationwide change, we need cisgender allies to show up for transgender people in the streets and at the polls. We must vote for legislators who acknowledge that these systems are flawed and must be changed. We cannot elect policy-makers who refuse the existence of the transgender community.
It is a frightening day to exist as transgender in America. I am frightened and uncertain of the future of my community under this administration. I am terrified that the people who spout their hate toward me online are writing the policies that actively disenfranchise me. But one thing has always been perfectly clear—we will not go silently back into the footnotes of history. We are actively making history. Our bodies are actively writing a story of survival. We will fight with our voices, we will fight with our votes. And we will not stop until we have elected officials who see in us the humanity that has always existed.