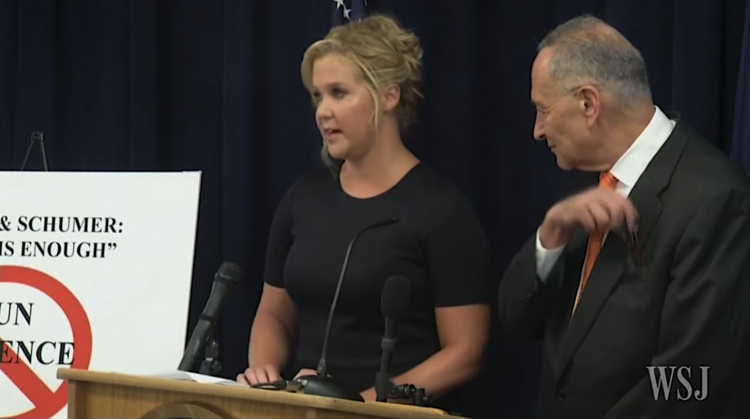 I'm a bleeding-heart liberal, and I don't make apologies for that. I am sure you can imagine how I feel about guns and war and bad guys, so I won't belabor that point.
What I will do is give props to the person I now want to have as my BFF, Amy Schumer. She is such an irreverent and brave and bold comedian who isn't afraid to push every envelope in existence. She's honest. She's wicked smart. And she's the first woman with a normal body we've seen celebrated the way women with impossible bodies are in maybe forever.
Following the tragic shooting of two women at a movie theater screening of her new movie, Trainwreck, by a man with a history of mental illness, Amy Schumer joined forces with her second cousin (once-removed), Democratic senator Charles Schumer, to bring to light two important issues about gun violence that sometimes are overlooked.
Money. There is tremendous profit to be made from the firearms industry and its strong ties to the Republican party. Money plays a role in these discussions; that's just a fact, like it or not. The calls for stricter gun policies are often halted because of the fear it brings up for the people who profit from it. It reminds me of similar conversations in which money also mixes into politics: For example, why doctors prescribe so many prescription drugs even when they are not necessary, and why the Food and Drug Administration has people on its board who are beef and dairy industry producers. Money. It's a huge factor. 
Mental Illness. Anyone who shoots people in a theater is suffering from mental illness of some kind. This man had a documented history of mental illness. While the shooter was not thought to have been under the influence of drugs, the legislation that the Schumers are proposing (according to the New York Times) includes fully funding the Substance Abuse and Mental Health Services Administration (SAMHSA), which the Senate has proposed cutting by $159 million. Bless Amy and Chuck Schumer for making mental illness and substance abuse issues part of this important discussion.
Nothing happens in isolation. The gun debate is about guns, but it's also about money. And it is about freedom, but it's also about freedom to live without being shot. Because I am a borderline pacifist, more guns for more people is never going to be my solution. Ever. And if we had a country dedicated to helping those who suffer from mental illness and helping them before they are allowed to purchase guns and run about with them, we would have a society where we show that we care more about people than about things.
I am impressed that Amy Schumer did this because it shows she's not afraid to step out of her celebrity existence to be a human being and to take action when it's relevant to her. She inspires me in so many ways as a comedian and a feminist and a woman with a normal body already. This display of her voice speaks to me on a much deeper level. It gives me hope that more celebrities will start to use their voices for important issues.