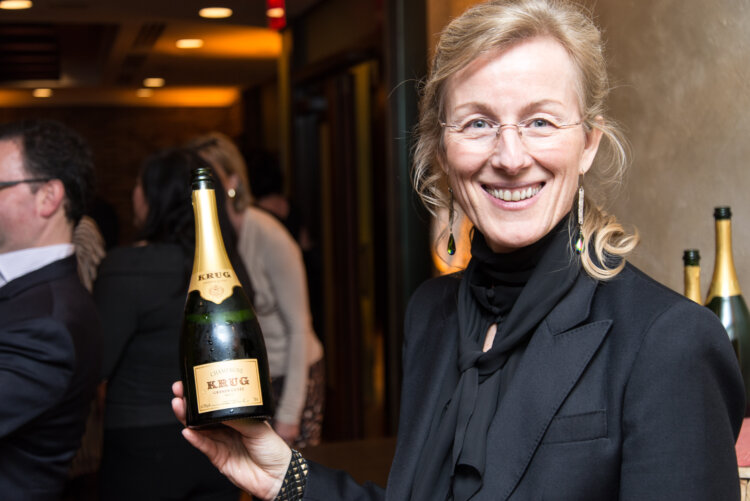 Susanne Wagner took a long and winding road from a tiny village in southern Germany to wine director at one of Wine Enthusiast's Best Wine Restaurants in 2017.
After earning a degree in Hotel and Restaurant Management School, she worked in the restaurant business and in many high-end Relais & Chateaux hotels in Europe for a decade—and yet she never got into wine. But in 2003, she found herself in northern New Jersey, where Gene Mulvihill was developing Crystal Springs Golf Resort and its high-end restaurant.
"Restaurant Latour opening was really the beginning of my wine odyssey," Susanne says. She adds that Gene had a passion for wine, which led him to hiring a wine director for a 4,000 bottle cellar of fine Bordeaux. "The wine director needed help, and I was asked to assist," she explains. "I haven't left the cellar since!"
For 15 years now, she has been learning about wine. Nine years ago she was promoted to sommelier of Restaurant Latour and six months ago she became Wine Director for the entire resort. She says working there is like "hitting the wine lottery."
Her passion for wine and education is why we knew she'd pick a smart wine for Grok Nation. Her wine of the week is … 2016 Fess Parker Winery's Marcella's Santa Barbara White.

Notes on the wine: "It is a white Rhȏne blend of Viognier, Roussanne and Grenache Blanc from California with bright, fresh acidity backing beautiful peach and apricot flavors, along with enticing spice and mineral notes that add some complexity. It has gorgeous aromas of summer stone fruit, like white peach and nectarine, sweet delicate floral notes like white flowers and honeysuckle, plus touches of citrus, vanilla and hazelnut. On the palate, you'll find peach, apricot, mandarin orange, lemon meringue and some toasted oak, all tied with vibrant acidity."
The story behind the wine: "Fess Parker was an actor who portrayed Davy Crockett. He left Hollywood in 1989 for the Santa Ynez Valley, where he bought a large ranch in the Foxen Canyon, just north of Los Olivos—now part of Foxen Canyon Road Wine Trail. He started planting vines, going from just five acres then to more than 300 acres plan in two vineyards. Named after the mother of his son Eli and daughter Ashley Parker-Snider, Marcella's White is a white Rhone blend that's quintessential Santa Barbara wine."
Why she chose it: "When I first tasted this wine I thought I'm biting into a ripe nectarine. We're all influenced by the weather—so in the middle of summer, I'm looking for something that matches the hotter temperatures. This Rhone Blend from Paso Robles is full of summer flavors."
How she'd pair it: "It's actually a beautiful sipping wine, but also pairs well with summer salads and appetizers as well as light fish dishes!"
Wines she's loving right now: "Paso Robles is an up and coming wine region and already producing amazing wines for great value. For example, the Eberle Vineyard Selection Cabernet Sauvignon from Paso Robles is delicious and you might be able to get it for a little over $20. It displays 100 percent varietal characteristics with balance and a silky mouthfeel.
A final note on tastings: "Don't take wine tastings too seriously—we have professionals for that. Start a tasting group or join one and just have fun with it."
Purchase 2016 Marcella's Santa Barbara White on Fess Parker Winery for $20. You can find Susanne Wagner at Crystal Springs Resort and on Instagram.